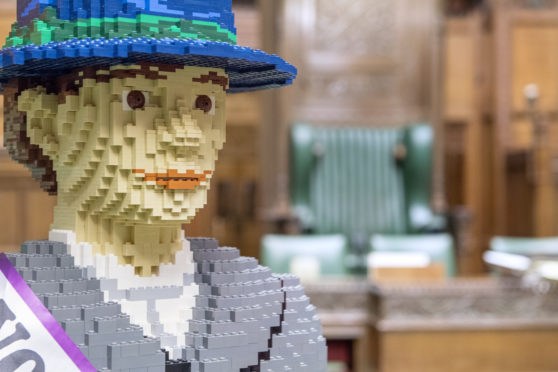 On my first day back after maternity leave, my greatest achievement was probably buying a suffragette bath duck from the Commons shop as a gift for my daughter.
I think I got it as much for me as her, the delighted reaction a welcome tonic after our first day apart.
The collection, which also includes Isambard Kingdom Brunel and Babe Ruth, has since grown, although I'm pleased to report that Emmy – as we've very originally named her – remains the undisputed favourite.
I'll refrain from reading anything into this, but jokes aside, I hope that when Maya grows up she'll be able to enter her profession of choice without fear or favour.
I've been seeing a lot of Emmy recently.
As part of Vote 100, celebrating the centenary of the first women gaining the right to vote, a Lego Sister Suffragette has been treading Westminster's hallowed halls.
A bit of fun yes, but also an important reminder of the commitment to the ongoing struggle for women's rights of those who went before – and all the more poignant on a personal level in the week I've decided to take a break from full-time political journalism in exchange for a better work-life balance.
The centenary on Wednesday of the Parliament (Qualification of Women) Act 1918, under which women were first allowed to stand for public office, marked another major milestone.
Although only women over 30 who met certain property qualifications could vote, there were no such restrictions about women being MPs, meaning they could, like men, be elected from 21.
In recognition, the palace held an Ask Her To Stand event, which Theresa May said she hoped would encourage many more women into politics, describing it as an "inspirational day" and being an MP as "one of the best jobs in the world".
But as SNP Westminster leader Ian Blackford put it: "We can celebrate success only when women are properly represented in this parliament."
He is right to point out the battle is not yet won, as borne out by the statistics.
Over the past 100 years, 4,503 men have been elected, compared to 491 women, only two of them becoming prime minister.
These numbers aren't surprising, but are disappointing nonetheless.
And it is crucial – if we are to effect change – to ask why this is?
Happily, whatever you think of their politics, there is currently no shortage of role models on the national stage, a fact eloquently highlighted by Nicola Sturgeon's flying visit to London for Brexit talks with Mrs May.
And let's not leave out Scottish Conservative leader Ruth Davidson, now mum to Finn.
At this point I should say I take issue with the expression strong women – although I'll confess I have been guilty of using it myself – because the adjective is never used to talk about men.
But that said, it's difficult to discuss this trio's achievement in reaching the top of their respective games without also making reference to their gender.
And it's possibly still fair to say they have succeeded in spite of it, although other factors like social background, ethnicity and education also clearly come into play.
While things have definitely improved, even during my short five years at Westminster (and I appreciate two of my three examples are based in Holyrood), the atmosphere – both in and outside the chamber – would make me hesitant to stand, if that was my goal.
I won't presume to speak for anyone else, but I frequently find myself changing my behaviour or language to fit in or sometimes – and I'm ashamed to admit this – appear "tougher".
Of course you can't win because the minute a woman gets angry she's branded "aggressive and hysterical", as in the case of now former work and pensions secretary Esther McVey.
So, I wouldn't blame some women (and again I won't generalise) – or anyone – for being put off by this culture.
There's also a fundamental issue related to the structure of the Westminster timetable – everything happens so late in the day.
This sometimes can't be helped – politics is unpredictable – making reporting it even more anti-social.
But scheduled parliamentary business could get underway earlier and, for the most part, end at a more civilised hour.
I understand Monday's particularly late start is to enable MPs to get back from their constituencies, but not everyone has to be in the chamber all of the time.
The recent Budget is a prime example. One of the biggest fiscal events of the year, yet the chancellor didn't get to his feet until 3.30pm.
If you are a mum – or indeed a dad – with childcare commitments, you need to be leaving not much more than an hour later to pick them up or, if your constituency is further afield, ducking out to squeeze in a quick phone call before bed.
It's anti-parent, and this is more than just my opinion. I have spoken to several MPs – male and female – who agree.
I hope I don't sound bitter. I'm entirely happy with my own decision to adapt my career.
But if the aim is to increase diversity to more adequately represent the nation, this small yet practical change could go a long way to making "this place" more family-friendly, in turn attracting people from a wider range of backgrounds and ultimately improving our politics.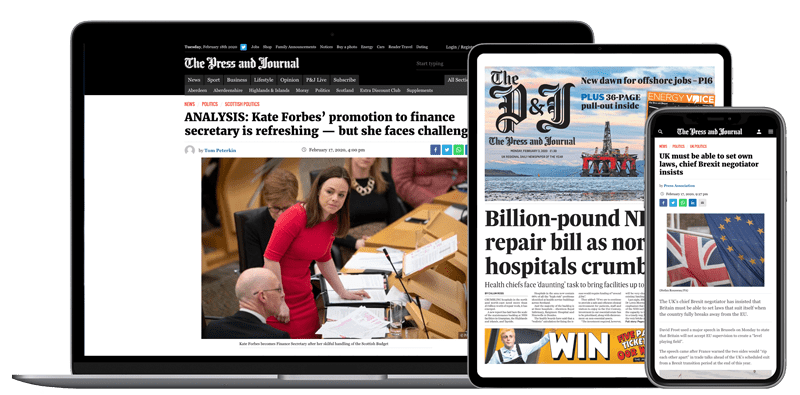 Help support quality local journalism … become a digital subscriber to The Press and Journal
For as little as £5.99 a month you can access all of our content, including Premium articles.
Subscribe