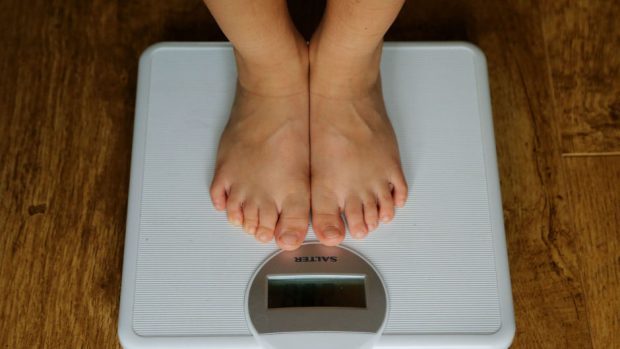 It's quiet, too quiet – always a sign Maya is up to no good.
I walk into the kitchen to find my 15-month-old helping herself to handfuls of blueberries from the fridge.
She's managed to get the door open and is cramming four in at a time.
She turns round when she hears me coming and grins, purplish juice running down her chin.
Blueberries are one of her favourites, although she'll wolf down pretty much anything and has done almost from when we began weaning her at six months.
Of course she'll become a fussy toddler soon enough – I'm reliably told they all do – but for now she is really enjoying her food.
Definitely my daughter then… (I'm such a Hungry Horace, Mr R routinely feels shortchanged if we share a course on a meal out).
Obviously the fact Maya's eating well is a good thing and I mustn't complain.
After all, many of my mum friends spend their lives worrying about their children not eating enough or only eating a few select things.
Nonetheless, as I've learned since having her – as a parent – there's always something to be neurotic about.
In this case, I can't help but be concerned she's eating too much – I know five-year-olds who eat less.
And while it's mostly good, healthy stuff, the portions are big and she would sometimes, if allowed to, carry on until she was sick.
As you've probably worked out over the past few weeks, by nature I'm a worrier.
In fact, my mum often says to me if I had nothing to worry about, I'd be worried.
The statistics show I'm right to be diligent, however.
According to a House of Commons library briefing paper from March, one in 10 children in England is obese by age five, and one in five by age 11, with, sadly, children living in deprived areas more likely to be obese.
Figures from the Scottish Health Survey show in 2017, 26% of children aged 2-15 were at risk of being overweight, including 13% at risk of obesity.
Since 1998, the proportion of children at risk of being overweight, including obese, has fluctuated between 26% and 33%.
The idea that a child might be obese by the time they start school as a result of circumstances beyond their control is heartbreaking.
It's an unfair disadvantage, while evidence shows obese children are likely to stay obese into adulthood and thus be more prone to developing health problems like diabetes and cardiovascular diseases younger.
Thankfully, politicians seem to be taking the issue seriously.
Last year, First Minister Nicola Sturgeon announced Scotland would aim to halve childhood obesity by 2030.
The SNP leader called it a "serious public health issue which cannot be ignored", outlining plans to tackle junk food promotions and the marketing of unhealthy food like multi-buys which prompt over consumption.
Additionally, there are programmes like Scotland's Daily Mile aimed at encouraging children to be more active.
Similar steps are being taken south of the border where the government is looking at reformulation of foods, following the introduction of the sugar levy on soft drinks, dubbed the Irn Bru tax, which came into force in April.
There are also plans around restricting the advertising and promotion of junk food, and calorie-labelling in restaurants.
On the face of it, these seem like sensible, workable measures that will help combat a growing crisis.
But the onus is on us parents too.
UK Health Secretary Matt Hancock sparked criticism last week when he rejected calls for obesity to be reclassified as a disease.
It's clear the reasons for obesity are many and complex and both psychological as well as physical, so for me it's less black and white than that.
There's logic to his view, however, that such an approach could create victims by making people feel "helpless".
And his point about taking responsibility, as individuals, for our own health – at least as far as is reasonably possible – is a fair one.
It's not something I thought much about before getting pregnant, although for as long as I can remember I've mostly tried to eat healthily and exercise.
But since having Maya, it's a responsibility I feel heavily.
I'm trying to cook everything from scratch, with the exception of fish fingers and beans on toast here and there.
We're also sitting down to eat together regularly so she learns the importance of having a family meal, social skills and hopefully starts to look forward to spending quality time around the table without any distracting technology.
Moreover, research has shown that having meals with a parent means a child is less likely to be obese.
In today's non-stop world, eating well has undoubtedly become harder, and expanding my not-exactly-massive repertoire of delicious yet wholesome meals is a challenge.
But knowing I'm doing right by my child is an excellent motivator.
Because the nutritional and lifestyle habits she learns now will set the course for the rest of her life and shape the choices she makes.
I have control over what I put into my body, so it doesn't matter if from time to time I fill it with rubbish.
I'm aware that eating a whole chocolate reindeer in one go (even at Christmas) isn't ideal and equally that it mustn't become too frequent an occurrence.
But Maya is reliant on Mr R and I to ensure she's getting the best possible start and we have a duty to give her that.
That's nobody's responsibility but ours.
---
Lindsay Razaq is a journalist and former P&J Westminster political correspondent who now combines freelance writing with being a first-time mum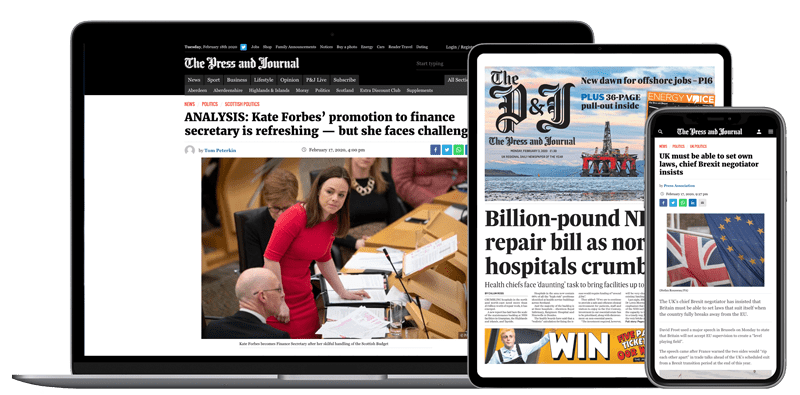 Help support quality local journalism … become a digital subscriber to The Press and Journal
For as little as £5.99 a month you can access all of our content, including Premium articles.
Subscribe