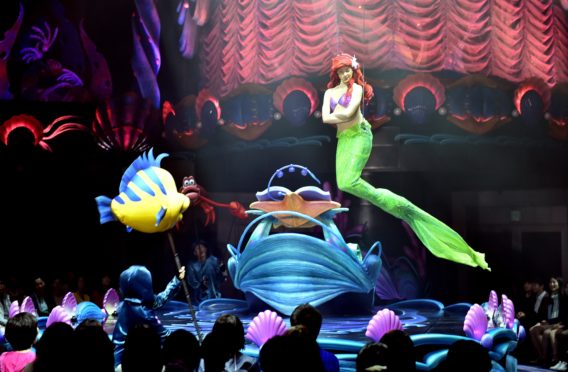 "I'll tell you a tale of the bottomless blue, and it's hey to the starboard, heave-ho.
"Look out, lad, a mermaid be waiting for you, in mysterious fathoms below…"
As the opening notes of Disney's The Little Mermaid ring out, I feel a tingle of excitement.
Maya and I are watching a film together for the first time – on VHS no less – and it's my favourite.
The picture quality leaves a lot to be desired, but this only adds to the nostalgia.
And I've enjoyed forwarding through the trailers with the tape still playing, the images lurching up and down as we skip to the "feature presentation".
It's also quite satisfying to have to put the cassette in, rather than simply press the ridiculously convenient Netflix button on our remote control.
If I'm honest, Maya is more interested in the box (another advantage of having something tangible), although she's concentrating more than I expected.
It's a moving moment as the movie holds special memories for me.
Released in 1989, it's the first I saw at the cinema, with my mum and a schoolfriend who has since sadly passed away.
In addition, I remember listening to Under the Sea, one of the signature tunes, over and over again in our living room to get all the words remembered for a school performance.
But most sentimentally, the film always brings my younger sister to mind, because at the seaside, we would invariably pretend to be Ariel, attempting (largely unsuccessfully, I might add) to recreate the scene when she's singing on a rock, a huge wave crashing down behind her.
My sister would flick her hair back dramatically, although I had to miss this bit out, as mine was short – so short that everyone in 1990s Nairobi, where we spent six years as a family, took me for a boy when we first moved there from the UK.
Needless to say, we thought we were the bee's knees.
Embarrassing to admit, I know, yet hours of fun at the time.
I was disappointed this week, therefore, to read several social media posts by parents denouncing the older Disneys – this one in particular – on the grounds they are sexist and lack a suitable female role model.
Some people I know have even banned their daughters from watching, while others won't allow them to dress up as princesses.
Clearly, it's up to individual families to raise their offspring as they see fit and I would never second-guess another parent's methods because it's hard enough without being criticised for the choices you make.
Besides, watching as a grown up, it's obvious that 16-year-old Ariel is hardly a feminist heroine in the way that Merida from Brave, for example, who came almost a quarter of a century later, might be described as one.
For while we see her throw off the yoke of her overbearing father and, driven by a fascination with humankind, take her destiny into her own hands, essentially, ultimately, she gives up her whole world – she changes species – for a man.
I don't dispute that this isn't necessarily the best message for mouldable, young minds.
This doesn't mean, however, that I'll be depriving Maya of something that afforded my siblings and I so much enjoyment when we were small.
For a start, it seems unfair to condemn the work for not living up to today's higher standards of representation.
Then there are the songs – brilliant to sing along to, especially on long car journeys with the volume up high and the windows wound down.
Moreover, as long as Maya is exposed to a balanced mix of influences – as Mr R and I will make sure she is – I'm confident she'll be able to think for herself and come to her own informed conclusions.
I did lots of so-called 'girlie' things as a youngster, including ballet until I was 18, yet still managed to end up a stout drinking, flat cap wearing tomboy with a worse daily skin care regime than my husband.
My point is that watching Ariel swim around in a skimpy bikini and chase after the handsome prince didn't do me any harm or affect my life choices.
Since having a baby, I've also discovered just how much of who we are appears to be innate anyway.
On our recent trip to my parents' house, Maya started walking around with one of grandma's handbags over her shoulder and putting her bangle on her wrist.
This isn't behaviour I've encouraged or discouraged. She just up and did it.
Meanwhile – again unprompted – among her go-to toys are a builder's tool case and set of cars.
At just 16 months old, or indeed any age for that matter, it needn't be one or the other.
And intuition – not my inevitably prejudiced views on what she should be playing with – must be her guide.
With that in mind, rather than outlaw Ariel, Snow White or Sleeping Beauty, I'll leave Maya to enjoy the films for what they are, while teaching her about the original fairytales where they exist.
Furthermore, as she gets bigger, these animations may also serve as a useful talking point for discussions around hard to broach topics such as body image and being self reliant.
Instead of sweeping history under the carpet, we should be learning from it – even when it comes to Disney princesses.
---
Lindsay Razaq is a journalist and former P&J Westminster political correspondent who now combines freelance writing with being a first-time mum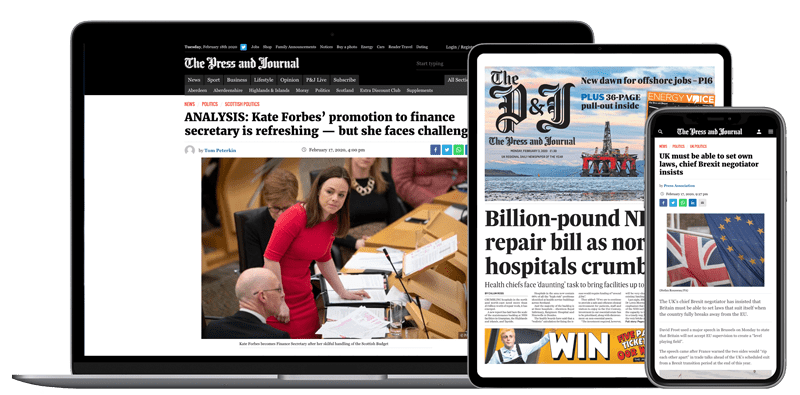 Help support quality local journalism … become a digital subscriber to The Press and Journal
For as little as £5.99 a month you can access all of our content, including Premium articles.
Subscribe