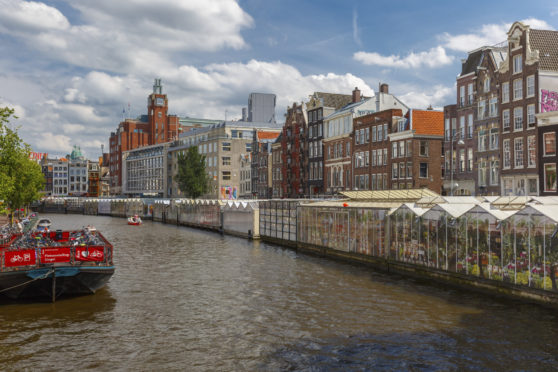 A Donald Trump bath duck, miniature porcelain clogs and a bunch of painted wooden tulips.
These are among the trinkets I managed to stop myself from buying on what should have been our 'final-hoorah-before-Brexit-Day' trip to Amsterdam last week.
I'm a sucker for this type of holiday purchase, the 'cute until you get it home' kind, when you immediately realise you don't need it or even like it that much and in fact have nowhere to put it.
That said, if I'm honest, I regret leaving Donald behind.
He would have been an excellent addition to my daughter Maya's collection, so far comprised of Emmeline Pankhurst, Big Ben, Babe Ruth and Isambard Kingdom Brunel.
The other two items not so much, although the real tulips were delightful to see of course.
Vibrant in every colour you could imagine, they stole the show, as ever, at the Bloemenmarkt, Amsterdam's world famous flower market.
As we wondered past, however, my mind was elsewhere, replaying a recent conversation with one of our local florists who gets her stock from Holland.
As you do these days, while she prepared a birthday bouquet for my mother-in-law, we ended up talking about Brexit.
What she said – close to tears – has stuck with me.
"I won't pretend I haven't lost sleep over it, I have – lots of sleep. I'm just so nervous."
The exchange really brought home to me how much is at stake for people in this exercise, people who work hard and deserve better, but who have been left in limbo for almost three years, unsure of where they stand or how to properly prepare for the future.
As British Chambers of Commerce director General Adam Marshall warned at the group's annual conference, the "gravitational pull of the Brexit black hole" has "sapped energy, investment and business confidence for far too long".
Regardless of where you stand on Brexit itself, it is hard to disagree that the waiting and not knowing must end.
Whether you voted Remain or Leave, want a soft Brexit, a hard Brexit or no Brexit at all, the ongoing uncertainty as to the UK's next steps that firms – and the wider public – have had to live with for such an extended period of time is unacceptable.
Put simply, parliament and the government – inward-facing and utterly bogged down in procedure – are letting us all down by their inability to settle this question.
Amid entrenched views on all sides of the argument – and there are many sides – a spirit of compromise, so needed on these occasions, has not been forthcoming.
Instead politicians have insisted on doggedly clinging to their ideal plans for exiting or indeed not exiting, with everyone second guessing each other's moves at every turn.
"Chasing rainbows", Marshall called it.
And all the while, people like the sleep-deprived florist have been forgotten, left to worry alone in the dark.
Speaking after the first round of indicative votes, aimed at finding areas of consensus, SNP Westminster leader Ian Blackford said it was becoming increasingly clear the Commons could not find "a way forward", declaring a general election necessary to end the "impasse".
And Theresa May, who has vowed to resign before the next phase of negotiations if her deal is passed, hinted at this after a slimmed-down version of the withdrawal agreement was rejected for a third time, telling MPs they were "reaching the limits of the process".
Clearly, we do need to break the seemingly interminable deadlock and I believe wholeheartedly that the legislature and executive need a shake-up, or at the very least a timely reminder of who they're accountable to.
But – unless party positions are unambiguously laid out beforehand – going to the polls could ultimately do more harm.
Because there's no guarantee an election would secure a majority for any course of action.
Moreover, a vote or alternatively a second referendum – an option predicated on there being some kind of deal to put on the ballot – would cause further delay, perhaps beyond what the country could stand.
The risk is that the longer this goes on, having to participate in EU elections for instance, the deeper the divisions get and the harder the wounds are to heal when we finally emerge the other side of wherever we end up.
As evidenced by some of the behaviour at the rallies in Parliament Square, as well as in the Commons chamber, we no longer seem capable of respectful, civilised debate, opting rather to shout each other down – or in my case to avoid the subject entirely with friends and family for fear of relationships suffering.
If not brought in hand, the long-term damage to the fabric of our already polarised society could be irreparable for a generation or more.
With that in mind, I desperately want the whole sorry mess to be over.
Overwhelmed with Brexit fatigue, and I doubt it's only me, I'm almost past caring what happens anymore.
Not a good place to be.
What I refuse to stop caring about, however, is how we treat one another, how we conduct ourselves as we work it out, how we eliminate the ugliness that has emerged and threatens to consume us.
Because, once we are free of this millstone, whenever that glorious day arrives, whatever side we were on, we will all have to live and move on together.
---
Lindsay Razaq is a journalist and former P&J Westminster political correspondent who now combines freelance writing with being a first-time mum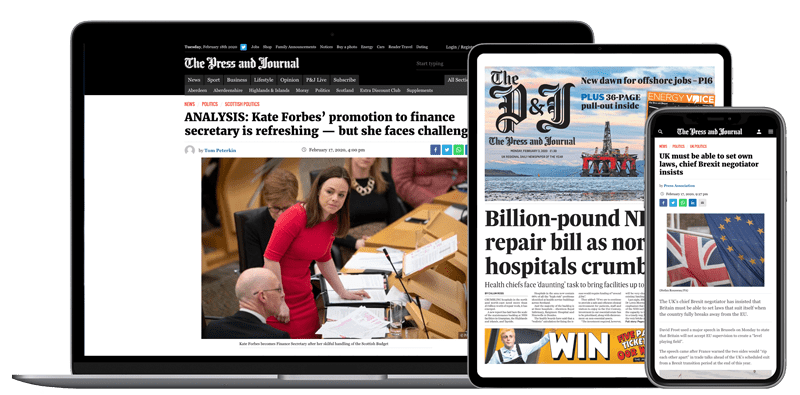 Help support quality local journalism … become a digital subscriber to The Press and Journal
For as little as £5.99 a month you can access all of our content, including Premium articles.
Subscribe