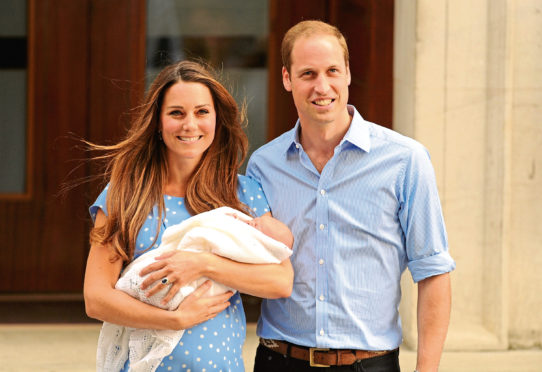 "Are there any toilets nearby?" I ask the huddle of photographers. It's 2am and I'm sitting in my Nissan Micra on the road outside King Edward VII's Hospital in Marylebone, desperate for a wee.
The place is deserted apart from them and a handful of pitiful reporters covering the night shift. It's a mind-numbing gig, but our newsdesks are insistent we stay put.
Because inside, the Duchess of Cambridge – pregnant with her first baby – is being treated for hyperemesis gravidarum, severe morning sickness. Unfortunately, no one knows of anywhere open, leading one of the snappers to helpfully suggest he and some of the others stand round me in a circle while I squat and go.
"I don't need that badly," I reply, although with another three hours of the stakeout left, I do need to find somewhere sharpish.
Thankfully, soon after, I discover there's a pub being renovated not too far away.
And despite site safety guidelines dictating that a workman must escort me in and out of the ladies, at least I'm able to pee with my dignity (sort of) intact.
Fast-forward a few months and I'm back on the watch-and-wait brief because Kate has gone into labour.
The excitement is palpable among the international press pack and Union flag-clad well-wishers, this time outside the Lindo Wing.
It feels special to have a front row seat for such a historically significant moment – the birth of an heir – but another shift comes and goes with no baby, so I make my way home.
And of course, in true sod's law fashion, Prince George is presented to the world while I'm on the Tube. All those hours invested and I'm gazumped by my fresh-faced, well-rested colleague who's been there all of five minutes.
With speculation mounting about when the Duchess of Sussex will give birth, I've been reminded of those cold winter stints back in 2012 and hot days the following summer.
Such was the thirst for even the smallest of details that no newspaper or TV network could risk not being there.
Looking back, however, perhaps because I've since become a mother, it seems absurd.
Our interest in the royals is entirely justified – they play an official role and are subsidised by the taxpayer so their highs and lows alike should be properly reported on, but we also all have a duty to recognise there is a line.
Just because they are public figures doesn't mean we have a right to know the colour of their underwear or to be party to every intimate moment. Predictably, Meghan has been under a bright spotlight since her pregnancy was announced last year, even though her child, who will be seventh in line to the throne, is unlikely to ever become monarch.
Marrying into the British royal family, she, like Kate before her – and maybe even more so because she's known in her own right – would have expected constant media attention.
But the Suits actress could hardly have anticipated the vicious vitriol she's been subjected to online, and on some occasions more widely.
As well as rumours of a rift with her sister-in-law and feud with her father and half-sister, she has also faced comments about the colour of her skin, claims she is faking her pregnancy and calls for her to leave Britain under the vile hashtag "Megxit".
I know what it's like to be hurt by the occasional nasty comment on social media or underneath one of your stories. There's a wonderful quote for these occasions, often attributed to Eleanor Roosevelt.
"No one can make you feel inferior without your consent." But it's hard not to be affected, no matter how thick-skinned you are. And I don't recall feeling particularly thick-skinned in any of my trimesters.
Why we can't simply be happy for Harry and Meghan, as you surely would for any expectant couple, is beyond me. At this juncture, I feel I should say I'm no ardent royalist.
If I was, I think I would have known my daughter Maya weighed the same as Prince George when she was born, a cuddly 8lb 6oz, a fact I only discovered during my research.
I admire the Queen's sense of duty and can see, particularly at present amid the endless Brexit turmoil, the advantages of the constancy a monarchy brings.
But I've also always been bemused by those who camp for days for the chance to shake a minor royal's hand, for instance, and uncomfortable at how much it costs to maintain them.
So none of this is coming from any misguided sense of admiration or me affording them undue respect.
I just think that – regardless of how any of us feels about the institution itself or its individual members – it's important to remember they are not characters in a play.
They are real people, human beings with feelings, like you and me.
In that spirit, I hope the Earl and Countess of Dumbarton, to use their Scottish titles, can be allowed space and peace to enjoy the mum and dad moments as they embark on parenthood.
Lindsay Razaq is a journalist and former P&J Westminster political correspondent who now combines freelance writing with being a first-time mum.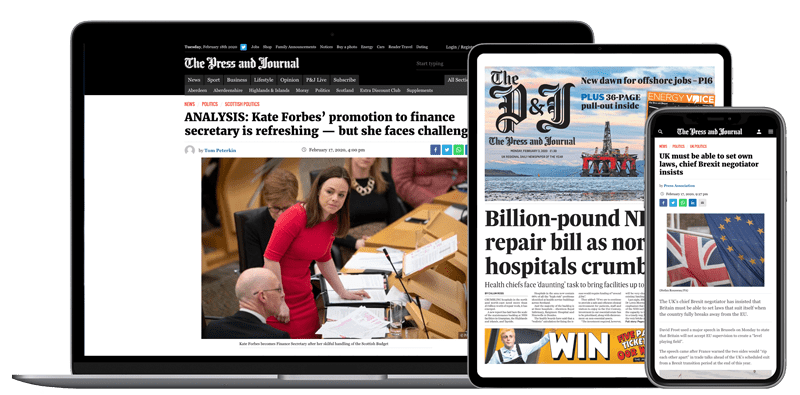 Help support quality local journalism … become a digital subscriber to The Press and Journal
For as little as £5.99 a month you can access all of our content, including Premium articles.
Subscribe