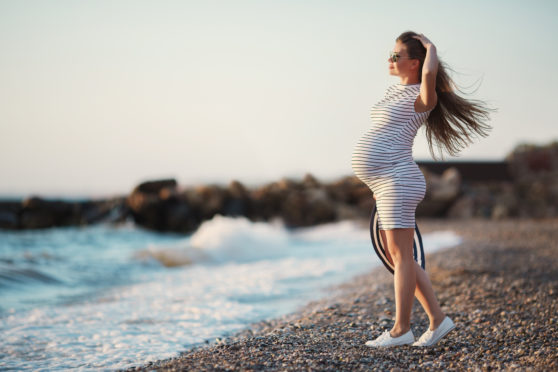 Strangers touching my bump. It was one of the worst things about being pregnant and happened more than a handful of times.
On the Tube, at the bus stop, at a wedding…
Obviously no-one would approach a non-pregnant woman and give her tummy a little pat. Yet, somehow, when it comes to an expectant mum, the usual social taboos don't seem to apply. And although people surely mean well, it is a major invasion of personal space.
As well as the belly brushers, I also struggled with the "you must be ready to drop"-type comments.
Worse still, on one awkward occasion, a politician looked me up and down several times, before adding: "You're coming along."
Again, I suppose they were trying to be friendly, but really the last thing you need when you're already feeling self conscious about your size is someone remarking on exactly that. Even a doctor – without taking any measurements – once came out with: "You're on the small size aren't you?" This was sleepless nights-inducing.
For while it's easy to discount the woman in the street's opinion, it's infinitely harder to forget the words of a medical professional.
In fact, this particular episode left me feeling anxious for days as I waited for my next midwife appointment when I was reassured all was fine.
Clearly, mothers come in all shapes and sizes. It follows therefore, that so do our bumps. Everyone's body is different and there's no way your bump should or shouldn't look. Or so I thought…
Perhaps naively on my part, I had always assumed the women advertising pregnancy-wear were actually pregnant. This week, however, I read about a model believed to be Love Island contestant Arabella Chi modelling maternity clothes for Asos using a fake bump.
Following a backlash on social media, the brand confirmed it does use prosthetics.
And apparently it isn't the only retailer with this policy, although the situation does appear to be evolving, with Next and Marks and Spencer among a number of chains understood to hire pregnant women for their maternity ranges.
Absolutely staggered by this revelation, I was horrified at having been potentially duped into buying maternity clothes modelled by a size 8 with a padded stomach.
I accept it might not always be practical to hire only pregnant models for pregnancy advertising shoots, to get a woman at the right stage of pregnancy for the time of shooting.
I'll also give Asos the benefit of the doubt that prosthetic bumps may make it "easier for customers to compare fit".
But its other given reason – that it doesn't want pregnant models to be on their feet all day – sounds like a handy excuse.
Let's not beat about the bush: the reality is that, all too often, labels continue to want their models in the same generic mould – sadly, it seems, even when it comes to maternity-wear. Because, while carrying a child is hard, it isn't an illness, and plenty of women with active jobs – or roles where they are on their feet for long spells – carry on working until the latter stages.
For me this is straightforward: casting fake bumps over real ones is wrong.
Firstly, it's misleading, unethical and puts unnecessary pressure on expectant mums to maintain a certain figure. Non-pregnant models won't have any of the other body fat or swollen ankles that come with pregnancy in many cases.
Secondly, a model might want – indeed need – to keep earning throughout her pregnancy. After all, these babies don't come cheap, and many models are freelance, so don't get paid if they aren't working.
Most importantly, there's also the issue of discrimination.
It can't be right that pregnant models are being refused work as pregnant models because they are pregnant, as some have claimed is common practice. I would quite legitimately have felt discriminated against if, upon unveiling my baby news to my employer, I'd been told I shouldn't expect to carry on working.
Under the Equality Act 2010, an "employer" must not "demote or dismiss an employee, or deny her training or promotion opportunities, because she is pregnant or on maternity leave", with pregnancy listed as a so-called "protected characteristic".
Although models are generally self-employed, and so not in employment as such, if they are being actively excluded, these specific circumstances should be investigated to see what can be done to level the playing field.
One idea definitely worth considering is forcing retailers to include disclaimers stating whether the model pictured is pregnant. This might make consumers think twice about buying from a firm that prioritises non-pregnant women, while also leading to a more accurate depiction of pregnancy.
Additionally, businesses could be incentivised to book a pregnant model rather than automatically opting for one who is not.
Ultimately, however, the wider challenge we face is to reset society's perception of beauty.
We have been taught – by the very same companies hoping to sell us their products – their definition: that skinny is pretty, thin is better. And so the toxic, self-perpetuating cycle continues.
It's bad enough having to contend with highly edited, unachievable images of the non-pregnant female body day in day out. The notion that brands are setting unreasonable expectations about the perfect bump too – putting pressure on women during what should be a sacred period – is beyond the pale.
It's time we had a long, hard look in the mirror.
---
Lindsay Razaq is a journalist and former P&J Westminster political correspondent who now combines freelance writing with being a first-time mum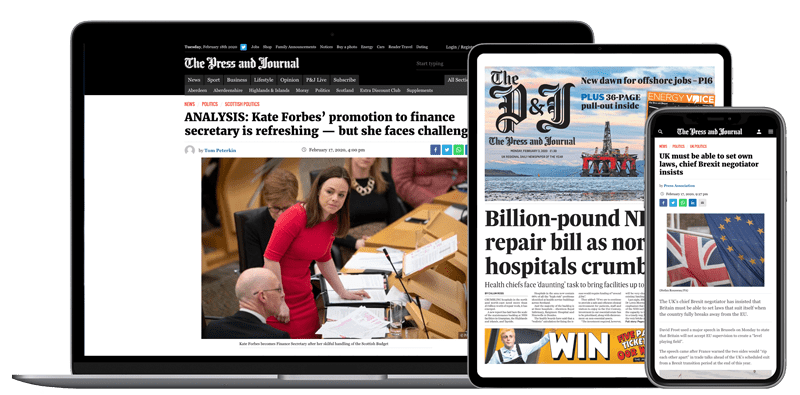 Help support quality local journalism … become a digital subscriber to The Press and Journal
For as little as £5.99 a month you can access all of our content, including Premium articles.
Subscribe