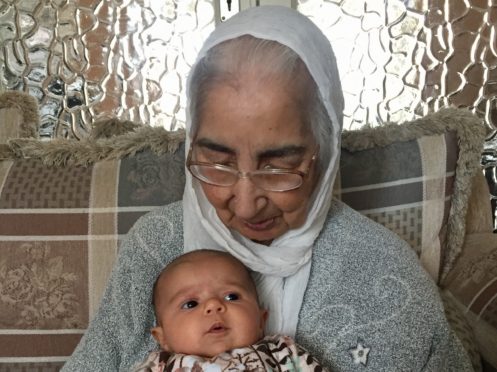 Not everyone has the chance to know a great-grandparent, so I count myself lucky.
My maternal grandmother's mum, her mind as sharp as a needle until the end, lived to 94. I was only five when she died, but can remember her very clearly.
An absolute cracker, great-gram, as we called her, used to hide coppers around her house, and if we found them all, she'd give us a pound. She also made delicious pancakes and had a wicked sense of humour.
Ill-tricket, to use one of my favourite Doric phrases, was how everybody described her. Mischievous.
Maya was fortunate enough to have a great-grandparent as well – Mr R's paternal grandma, mam. Sadly she passed away last year, not long after Maya's first birthday, the crossover of their lives lasting just 13 months or so. But, happily, they met on several occasions and were delighted by each other's company.
Although mam wasn't well before her death, she always had a smile for Maya or a few words of English, a language she used less as she got older. And whenever we went to stay, she made a point of getting up and dressed so she could spend time with the "choti", which is Urdu for little one.
I witnessed similarly heart-warming interactions this week at a tea party fundraiser hosted by the local Jewish community centre as part of Jewish Care's Great Jewish Bake Day. Toddlers and schoolchildren decorated cupcakes that were then distributed among the older revellers before we all mingled and enjoyed a good, old-fashioned knees-up to an eclectic soundtrack that included both Que Sera Sera and Frozen's Let It Go.
Maya, often shy in big groups, couldn't have been less clingy and relished the attention bestowed on her so copiously by all the grannies and grandpas. And in like manner, the children's presence was manifestly a source of pleasure for them.
The afternoon left its imprint on me too. One lady, Anita, who didn't stop dancing, reminded me of my own gram, bringing back happy memories of family get-togethers. I also felt enriched by the experience, which made me think of Channel 4's Old People's Home for 4 Year Olds, the series that documented the introduction of a nursery into a retirement community.
Established in Japan in the 1970s, this system – known as inter-generational care – is widely regarded as mutually beneficial. Studies have indicated it helps engage and push older people and delay mental decline while boosting children's literacy skills, confidence and self esteem.
In January, for instance, a report by think-tank United for All Ages concluded that children who regularly mix with older people see improvements in language development, reading and social skills, with the elderly less likely to suffer loneliness.
Moreover, surely, when the bonds between those who make up a society are strong, we all reap the rewards because mixing with different groups within a community engenders an awareness of the lives and needs beyond one's immediate circle. This is invaluable, especially in today's much bigger world when families aren't necessarily round the corner from each other.
Returning to the examples of great-gram and mam, the former lived down the road from her daughter, while the latter stayed with Mr R's mum, her daughter-in-law, as is customary in Pakistani culture. Such proximity is less and less common, however, with people often moving away for work and relatives sometimes living thousands of miles apart, even in different countries.
In such circumstances, inter-generational ties can – to some extent anyway – simulate those familial relationships. They can also be therapeutic in cases where a parent has died or someone who wanted children couldn't have them. I met one such lady at the fundraiser, who – unable to start a family after a hysterectomy – told me how much she had enjoyed watching Maya run around.
With so many obvious positive outcomes, and if we are to meet the challenges of a growing ageing population, we'd be foolish not to encourage this kind of twinning going forward. I also believe tax breaks for families who look after older relatives at home, as suggested by Tory leadership contender Jeremy Hunt in recent days, are worth serious consideration.
It wouldn't work for everyone. Indeed some relatives might prefer to live in a retirement community, others to receive care in their own house. Plainly, there will always be situations too where an elderly relative's medical needs can only be met in a nursing home environment. But assisting people to adapt their property to accommodate extra family members via tax relief could be a preferred solution for many.
However we do it, the bottom line is that ensuring dignity in old age, ensuring people continue to feel valued, must be a priority. We frequently hear how great a country Britain is, yet on this important benchmark, we need to do better.
That quote about a nation's greatness being measured by how it treats its weakest members comes to mind.
In my research, I uncovered various versions of it, but like American Pulitzer Prize-winning novelist Pearl S. Buck's best.
"Our society must make it right and possible for old people not to fear the young or be deserted by them, for the test of a civilization is the way that it cares for its helpless members."
---
Lindsay Razaq is a journalist and former P&J Westminster political correspondent who now combines freelance writing with being a first-time mum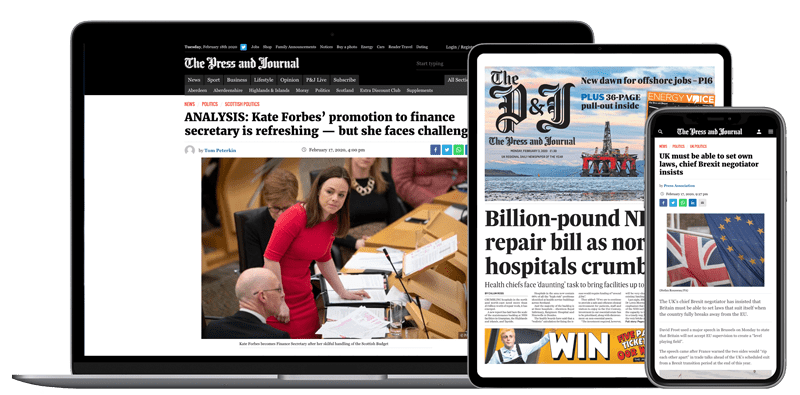 Help support quality local journalism … become a digital subscriber to The Press and Journal
For as little as £5.99 a month you can access all of our content, including Premium articles.
Subscribe