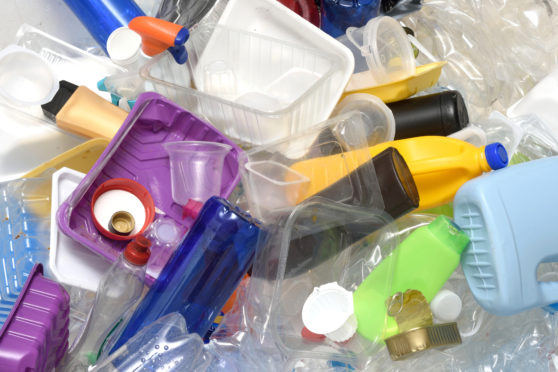 It's been unusually quiet in our flat this week.
Not because my toddler has suddenly grasped that talking doesn't mean shouting. I'm delighted to report her cheerful babbling remains the joyous soundtrack to my days.
But because the seemingly endless roadworks right outside our block – ongoing for months – have finally finished.
The "tractors", as Maya was calling the diggers, and the "men" have moved on to the next phase of their project. As well as the relative peace (as much as you can get in any city), the other upside is that our recycling bins have finally been emptied as the lorries can get access again.
Crammed full, the cupboard where we keep our recycling bag had been overflowing, to the point where we were left with no option but to drive it to the tip or simply chuck it out with the rest of the rubbish. One neighbour joked that her hoard had moved into her spare room.
It's a big relief, as the bursting communal containers were smelly and hardly pleasant to look at. And Maya can now resume her Peppa Pig-inspired chore of taking out the recyclables with Mr R.
The experience was, however, in one sense anyway, a beneficial one. It served as a frightening reminder of just how much plastic we get through. And that's with us actively taking steps to reduce this amount reasonably successfully. Not to mention that the plastic mountain didn't include the single-use stuff that can't be recycled.
The problem is that plastic, so convenient as a form of packaging and more generally, is utterly embedded into our way of life, whether we like it or not.
Having introduced several basic measures to try to limit our plastic waste, it's obvious how hard it would be to live plastic-free, especially on a tight budget. However, that's no excuse for ignoring the issue. We need to tackle it, and fast, for a host of reasons, most plainly the environmental impact it has.
There's also the risk of leaching, namely the transfer of potentially harmful chemicals into our food, with some scientists warning young children are most vulnerable to such exposure. What a terrifying thought. Thankfully, most people do seem increasingly clued-up about the need to decrease our reliance on plastic.
New research commissioned for Selfridges found strong support for retailers ceasing to stock or supply single-use plastic items. Seven out of 10 respondents in a poll of 2,000 said there should be a complete ban. Two-thirds of the 18-24 age group questioned were more concerned about climate change and sustainability compared with a year ago. At the same time, however, one in 10 said it was "too hard" to buy products made from recycled materials and refillable beauty products.
And therein lies the dilemma at the heart of this conundrum. I don't know about "too hard", but you do often have to pay a premium and it isn't always as practical. There's a difference between wanting to effect change and actually being able to do it, being able to afford to do it, or having the time to do it.
It's worth noting, too, that banning something doesn't always have the intended or expected consequence.
Two years ago, Kenya outlawed plastic carrier bags, a move that meant anyone found manufacturing, importing or selling one could be heavily fined or imprisoned. Although widely hailed as a success, there have been reports of small plastic bags being smuggled into the country.
The authorities also discovered that manufacturers were reducing the quality of polypropylene bags – which had become a popular, recyclable alternative – so they could no longer be recycled. With all this in mind, it's obvious to me the long-term solution has to be plastic substitutes that are biodegradable, but – crucially – similarly convenient and cost-effective.
Of course, it's one thing to say this is what we need to do. Quite another to make it happen.
Clearly, there's complex science involved and reaching this goal – to the point that biodegradable alternatives penetrate the mainstream market – is probably years off.
Happily though, there are amazing brains focusing on this area, including Lucy Hughes, announced last week as the winner of the UK section of the 2019 James Dyson Award. Her entry, MarinaTex, is a home compostable material made from sustainable algae and fishing industry waste headed for landfill.
"Stronger than low-density polyethylene 
at the same thickness", it could ultimately replace the plastic films used on sandwich packs and bakery bags, for example. I've said this before, but I'll keep saying it until I'm blue, or indeed green, in the face. Making the environmentally conscious choice shouldn't be a privilege. We shouldn't have to pay loads extra or go out of our way to do the responsible thing, the right thing. It has to be an easy part of a daily routine, since, if this is to work, it'll require our collective effort.
So let's all of us – the public, politicians, ministers, investors, manufacturers – get behind those trying to make this possible. I refuse to condemn my daughter, her daughter, future generations, to a world in which our oceans contain more plastic than fish.
---
Lindsay Razaq is a journalist and former P&J Westminster political correspondent who now combines freelance writing with being a first-time mum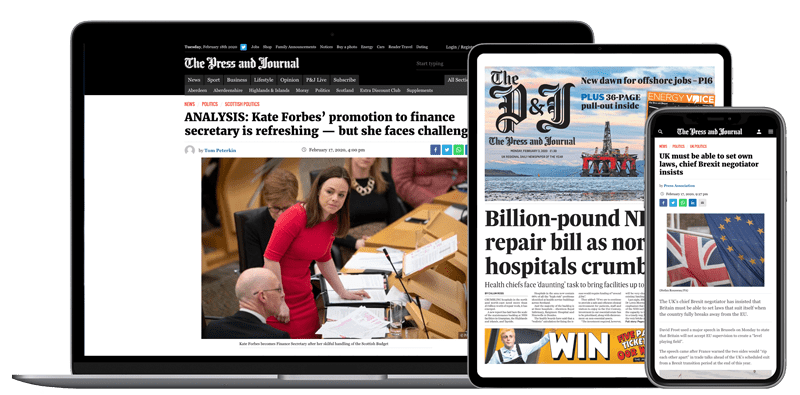 Help support quality local journalism … become a digital subscriber to The Press and Journal
For as little as £5.99 a month you can access all of our content, including Premium articles.
Subscribe