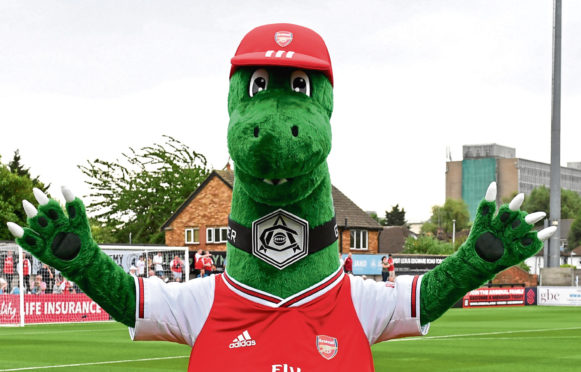 "When I grow up, I'd like to be…"
My friend waits with bated breath as her four-year-old, who has just started school, reveals his plans for the future round the family dinner table.
"Mummy, when I grow up, I'm going to be … a robber," he finishes triumphantly.
There's a confused pause before she and his elder sister burst into giggles.
"You can't be a robber. That's not a job – robbers are criminals," she explains after the laughter has subsided.
"Oh, OK," he replies. "Then I'll be a T-Rex."
Cue more chuckling.
I won't rain on his parade, however, as another friend's dad is the Gunnersaurus, Arsenal Football Club's official mascot, so this path could yet become a reality.
And, if that fails, there's always stand-up comedy – or maybe children's literature.
I'm so glad my friend shared this story with me. Not because it's funny, although it clearly is and has kept us smiling for days.
But because it gives such a wonderful insight into her son's imagination which, happily, is very much alive and well.
Moreover, it's a super-sweet reminder of the innocence of youth, which regrettably ebbs away as we get older and become cynical.
The anecdote popped into my head as I read about a warning from the Organisation for Economic Co-operation and Development (OECD) this week that children's career ambitions are already limited by age seven.
A new report, produced jointly by the OECD and careers charity Education and Employers, found that too often young people consider only jobs familiar to them through friends and family.
It additionally concluded – and I was stunned by this – that there are only minimal changes in attitudes towards career options between seven and 17.
Andreas Schleicher, OECD director of education and skills, said talent was being wasted because of deep-rooted stereotypes about social background, gender and race, with children beginning to make assumptions about the type of people who will enter different professions while still at primary school.
With that in mind, he stressed the importance of keeping children's horizons open by ensuring a wider understanding of the jobs available.
And to that end, he has thrown his weight behind a campaign by the charity to bring role models from the world of work into schools, with the aim of building up a UK national network of 100,000 volunteers.
The long-term goal is to hold 10 million face-to-face meetings with pupils.
I know from personal experience how good – and bad – careers education can be. I once quizzed my adviser about the reasons for her choice of job and she came out with: "Well, I wasn't sure what career I wanted to pursue."
I also remember answering bizarre questions on a computer that then generated a list of appropriate jobs.
Most unfortunately, neither robber nor dinosaur featured…
On the flip side, however, my first job post-university, before training to be a journalist, was organising exactly this kind of work-related learning at a school way ahead of its time in developing links between the classroom and real world.
The programme was hugely valuable and, going forward, I'd want this depth of provision for my own daughter whose "careers education" thus far has consisted of Mr R suggesting she work in the "towers" we can see in the distance from our flat windows – otherwise known as Canary Wharf or "Nary Wharf" as Maya pronounces it – while her parents enjoy a glamorous retirement.
I believe wholeheartedly in informing young people about the full range of opportunities on offer, providing them with information they might not have had access to, telling them that – as long as they work hard – it doesn't matter whether they are a girl or a boy or where they come from.
This is surely an essential ingredient of a decent education and thus I would thoroughly encourage any efforts to improve youngsters' access to varied role models.
But – and this is a ginormous caveat – we must simultaneously take steps to level the playing field and make sure the advice we are giving – that you can get there on merit alone – is actually true.
Because we can't talk about barriers to social mobility without acknowledging the role that class still plays in our society.
It pains me to say it, but mightn't another reason that children are making assumptions based on stereotypes be the fact that certain fields do indeed remain populated by people who look and sound alike?
Sadly, who you know – instead of what – and accent can be significant factors in determining a person's fortune.
Even geography can be a hurdle, with many professions requiring a move to parts of the country where living costs are prohibitive.
Not to mention the appalling expectation in some of the more competitive sectors, that a person will work for a pittance – or free – rendering entry positions inaccessible to anyone unable to rely on parental support.
Perhaps naively, I was taken aback upon arriving at university in Durham to be repeatedly asked what my dad did – never my mum incidentally – as if it had any bearing on who I was or, more sinisterly, whether I was worth getting to know.
So yes, let's inspire youngsters to broaden their horizons.
But let's also strive to ensure they have a fair chance so that when they go after their dreams, we aren't setting them up to fail.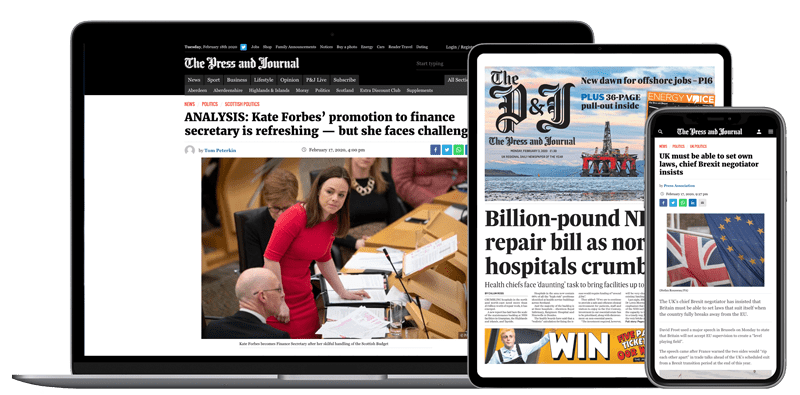 Help support quality local journalism … become a digital subscriber to The Press and Journal
For as little as £5.99 a month you can access all of our content, including Premium articles.
Subscribe