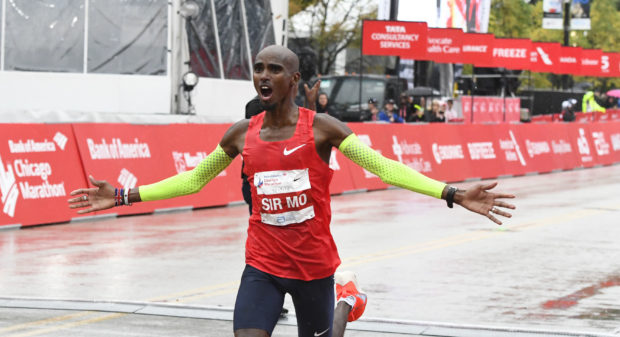 "This my daddy," my two-year-old declares proudly with an appropriately theatrical accompanying gesture.
Our group, composed entirely of family, who unsurprisingly know exactly who Mr R is, suppress giggles. He on the other hand is beaming from ear to ear.
It's a lovely moment in itself, but also because, for a spell, Maya was getting a little muddled up.
Much to my bemusement – and initial amusement – on one occasion, Mo Farah, pictured inside his children's book Ready Steady Mo, was "daddy". On another, he was American comedian Dave Chappelle, whose photo she saw on a DVD sleeve.
Perhaps she couldn't get past the shaved heads?
But then, in a particularly embarrassing incident, when our neighbour – also of Pakistani heritage – knocked to find out whether we too had been affected by a power cut, Maya pointed at him and cried: "Daddy!" He has a full head of hair…
In typical first-time parent fashion, we started to panic.
"She's never made this type of mistake when it comes to her white relatives…"
"Surely our daughter doesn't think all black and brown people look the same?"
"I thought children were blind to colour?"
"How do we approach this?"
Thankfully, the phase didn't last long and by and large, she seems to have worked it out, for now at any rate. Phew.
It's certainly a big relief as I hadn't anticipated having to navigate this kind of conversation with a toddler, although – as with basic manners and behaviour – I guess it's never too early to teach a child right from wrong on any subject.
I was reminded of Maya's recurring faux-pas as I came across a damning new report – "Tackling racial harassment: Universities challenged" – published by Britain's equality watchdog, exposing the scale of racism at universities across England, Scotland and Wales.
The Equality and Human Rights Commission (EHRC) has warned that many higher education institutions are not only unaware of the extent of the problem, but also "overconfident in their ability to handle" it, with many incidents going unreported. According to the findings, around a quarter of students from an ethnic minority background – 24% – said they had experienced racial harassment since starting their course. Examples uncovered included physical attacks as well as racist name-calling, insults and jokes, and exclusion from group activities.
The inquiry, based on a range of research methods, also concluded that while in most cases students said the person targeting them was a fellow student, a "large number" said it was their tutor or another academic.
Black students reported the highest rate of racial harassment, with 29% experiencing some form of abuse, while among Asian students it was 27%.
The publication follows a report by Universities UK earlier this month that found institutions have been prioritising sexual harassment and gender-based violence, with less standing given to race-based incidents.
Such widespread evidence of on-campus racism is extremely disturbing.
Clearly, racism is horrifying wherever it is unearthed. But to discover it is prevalent in our places of learning, where people go to broaden their horizons and prepare themselves for adult life, is astonishing. Moreover, that academics – those we trust to guide our youngsters and help shape their minds – are sometimes the perpetrators is downright despicable.
The EHRC's intervention is therefore undoubtedly welcome in terms of shining a much-needed and unforgiving spotlight on an uncomfortable truth. Sadly its impact might be limited, however, because of a bizarre decision to include – alongside the ethnic minority statistics – incidents against white students.
Nine per cent said they had experienced racial harassment since starting their course, the inquiry reported on the first page of its executive summary. Meanwhile, the report itself refers to evidence of "anti-English sentiment at Scottish and Welsh universities and offensive comments about Gypsy and Irish Traveller students".
An EHRC spokesman said it had used the Equality Act's definition of race, which includes race, ethnicity and nationality. They also insisted that while the report was clear that racial harassment "predominately impacts Black and Asian students", it would have been wrong to ignore the other examples.
But this seems misguided at best; at worst careless or dangerous even.
Of course all prejudice is deplorable and should never go unchecked. There is indeed no place for xenophobic attitudes or behaviour on campus – or anywhere else in our society for that matter.
It's crucial, however, not to conflate these two things or suggest they are on a par. And including harassment based on nationality in a report about racism risks doing just that. It also risks diluting its impact by undermining the watchdog's credibility.
Because, if these bodies are to wield any power or be able to effect any sort of change, people need to have faith in them.
Let's not beat about the bush: there is a distinct and important difference between discrimination based on a person's skin colour and the country from which they hail.
If we are to tackle these issues properly, we need to do so with honesty and precision.
It's very tempting to want to categorise your victimhood if you've been unfairly targeted based on who you are. As someone who hasn't always fitted in easily, I understand that.
But we must be mindful not to trivialise the issue by watering down the definition.
---
Lindsay Razaq is a journalist and former P&J Westminster political correspondent who now combines freelance writing with being a first-time mum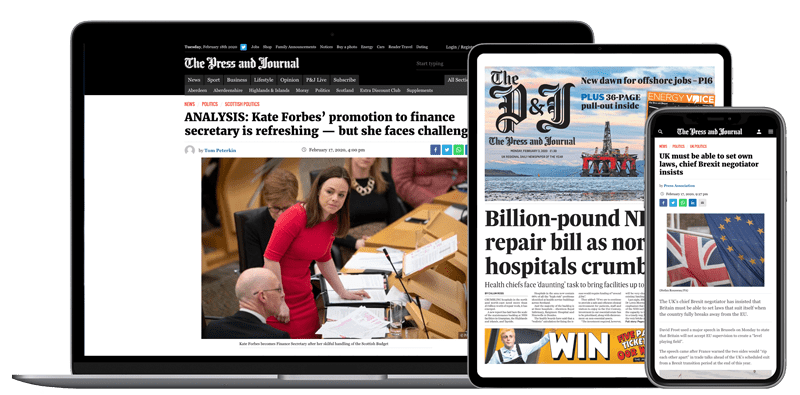 Help support quality local journalism … become a digital subscriber to The Press and Journal
For as little as £5.99 a month you can access all of our content, including Premium articles.
Subscribe