 Once bitten and twice shy…
I can't get this lyric from Wham!'s festive classic out of my head at the moment. Probably because the shops have begun playing their Christmas mixes on repeat. But I think it's also to do with reaching the half-way mark of my pregnancy.
Now 19 weeks, I've suddenly realised that come the new year, there'll be a mere four months until my due date. It's hardly surprising then that the reality of having to go through labour again has crept back into my mind.
Obviously, it goes without saying that I can't wait to meet Baby R junior. Maya's excitement at becoming a "big sister" is infectious.
In the wake of such a traumatic experience last time, however, I'm dreading the bringing him or her into the world part. I'd always thought that the second take would be easier, that – knowing what to do – I'd be infinitely more confident.
But, unfortunately, the opposite seems to be true.
With my daughter – now two – I was blissfully ignorant, having deliberately done minimal reading. In contrast, this time, I'm acutely aware of the risks involved, of what can go wrong and accordingly very anxious. Like George put it: once bitten, twice shy.
Nevertheless, in spite of everything, there's one thing I feel I can rely on as we prepare to welcome baby number two: the kindness, compassion and dedication of NHS staff.
In fact, it's already been forthcoming. Having voiced concerns at my latest midwife appointment, a meeting with a consultant is being arranged to discuss birthing options.
Nothing went to plan with Maya's arrival. She inhaled a large amount of meconium – the baby's first poo – and had to spend her earliest days in an incubator in the special care unit. A terrifying sucking noise was the first thing we heard, as the team worked to clear her lungs before she was whisked away. She had a lumbar puncture at two days old and a cannula in her tiny hand for over a week.
Although it's not lost on me that families go through a lot worse, the circumstances were far from ideal. But the commitment of those working calmly and efficiently in the initial seconds – I believe I counted 12 doctors, nurses and other medics between the two of us – was never in doubt. The support of my midwife in the long run-up to delivery was similarly overwhelming.
As I recalled in a personal blog shortly afterwards, the episode was "truly humbling".
Of course, sadly, not everyone can say the same and it would be remiss not to acknowledge that sometimes patients are failed with disastrous consequences.
I've read with horror over the past few weeks the shocking details of the inquiry into mother and baby deaths at Shrewsbury and Telford Hospital Trust and about water contamination at the Royal Hospital for Children in Glasgow.
Clearly, I've no wish to play down these tragedies, or the grief of any other victims left devastated by – in many cases – avoidable mistakes. What they have had to go through doesn't bear thinking about.
I can only relate my encounter, however, and at the other end of the spectrum there are tales of bravery too, of NHS staff going above and beyond. Just last week, we were brutally reminded of what they can find themselves in the middle of at a minute's notice following the London Bridge terror attack.
So, even though the NHS isn't perfect, we are lucky to have it and mustn't take it for granted, as I'm certain many would agree. Indeed, a recent Ipsos Mori poll found the health service has passed Brexit as voters' top priority.
Inevitably then, during any election, the topic quickly turns into a key battleground. This occasion is no different, with debate raging over whether the service would be at risk under a post-Brexit US trade deal amid claims by Jeremy Corbyn – denied by the Conservatives – it is "up for sale". Meanwhile, the SNP's manifesto proposes an NHS Protection Act to "guarantee that trade deals will not undermine the founding principles of the NHS, nor open it to profit driven exploitation".
Undoubtedly, this is a hugely significant question we need to get to the bottom of and the NHS shouldn't be off limits in political debate. But, in the context of the electoral race, it is hard not to query motives. And, amongst all the cat-fighting, we can't forget that for NHS employees the day job continues unrelenting, with the added pressures that winter brings. We must be careful not to undermine their efforts.
I've never felt so lonely as I did during the seemingly endless nights in the week after Maya was born, stuck on the post-natal ward, worrying about her progress and – when she'd joined me – petrified that in my fatigue I'd drop my baby.
But, in the words of the Michael Jackson song playing in special care one night as I expressed some milk: "You are not alone."
I wasn't. We weren't. A team of professionals was looking out for us round the clock – for them, simply another day at the office. They went home to potentially do it all again on their next shift.
It's this bit of the last experience that I must focus on and take with me, as we move towards April 28.
---
Lindsay Razaq is a journalist and former P&J Westminster political correspondent who now combines freelance writing with being a first-time mum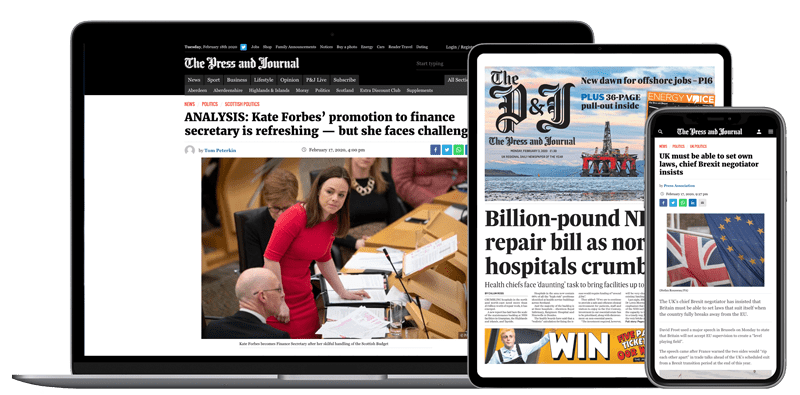 Help support quality local journalism … become a digital subscriber to The Press and Journal
For as little as £5.99 a month you can access all of our content, including Premium articles.
Subscribe