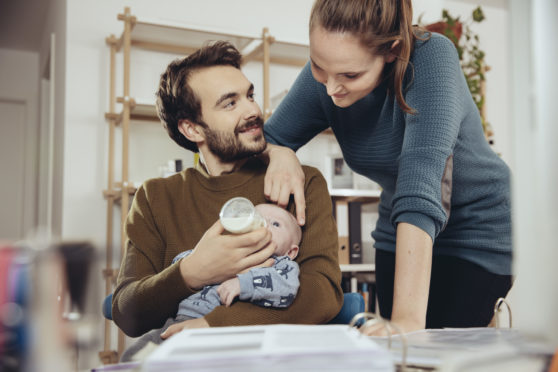 "Go and make dinner, mummy," Maya orders, pointing to the living room door as if to shoo me away. "I'm playing with daddy."
Mr R tells her to stop being a bossy-boots, that it's his turn to cook. But his words – like most we utter at the moment – go in one ear and straight out the other.
"You go into the kitchen," she reiterates forcefully.
I get a sinking feeling, uncomfortably aware that she's already developing views about "boy jobs and girl jobs" as former prime minister Theresa May once said.
Don't get the wrong idea – Mr R consistently helps out around the house and is a hands-on dad. But, more often than not, because I'm at home with Maya full-time, it's generally me that she sees doing the chores. And whereas she understands her father comes back from work every night, I can only get on with mine during her nap or when she's gone to bed.
So – while her inner tyrant needs taming and her tone in this example is plainly unacceptable – it's hardly surprising my two-year-old has reached such conclusions.
Nonetheless, the remark – along with others like "mummy will clean up the mess" – weighs heavily on my mind.
I don't for a minute regret the decisions I've made, but am bothered that this is her perception of me and – more widely – of what a mum is and does.
I recall a conversation with one of my choir friends in which she told me that when her daughter was asked at school what mummy did, she replied: "Nothing." Meanwhile, a child-free meal-out for Mr R's recent milestone birthday (I'll leave it to you to guess which), provides a valuable reminder that I mustn't allow myself to be solely defined by motherhood, even if Maya's needs do dominate most of my waking life.
An obvious point, you might think, but also one incredibly easy to lose sight of amid the relentless routine.
These scenes were at the forefront of my mind as I read this week of a new book about the Scandinavian style of child-rearing by two Swedish doctors Agnes Wold, renowned for her work in women's health, and paediatrician Cecilia Chrapkowska, a specialist on vaccinations. In Parenthood the Swedish Way, they recommend equally dividing duties "down to the last second", arguing that when one partner ends up doing it all, resentment can smoulder and lead to separation.
They also encourage both parents to keep working and to share parental leave evenly, as is common in Scandinavia. And they reject the notion that mums are biologically more predisposed to care for their offspring, insisting that both men and women have to "practise being a parent" as with other skills, like riding a bike.
Hear, hear.
Mr R absolutely finds it harder than me to remember what to put in the nappy bag, but only because he doesn't do it day-in, day-out. I didn't know my derrière from my elbow at the start either. In fact, although it's worth noting that Sweden's generous parental leave offering is a key factor in enabling women to maintain their careers, not to mention wage inequality around the world regularly prohibiting such an approach, it isn't difficult to see merit in much of what the authors advocate.
In the scenario where one parent works and the other stays at home, it's easy to be jealous of the other's apparent freedom, whether that be the freedom not to have to work or indeed the freedom to be able to. Unquestionably, if one parent becomes overburdened or feels taken for granted, it can cause bitterness in the other party, which if stored up over time can explode with upsetting consequences.
I've learned this the exhausting way.
There was a period, at the beginning of this journey, when I felt like I'd somehow failed if I didn't manage to juggle everything myself. Inevitably, this prompted an unhealthy, woe-is-me attitude on my part. Until, that is, it hit me that being the best parent you can be isn't about martyrdom or control freakery, both of which I am prone towards.
Quite the opposite …
And since this most liberating of epiphanies, since grasping that there's more than one way to tackle a task, that in being resistant to sharing the load I was my own worst enemy, I'm infinitely calmer and less likely to lose my temper over something insignificant.
I wouldn't go as far as to suggest that egalitarian parenting must always mean splitting responsibilities exactly 50/50, however, unless of course both parents are working similar hours and dividing childcare, as per the Scandinavian model. For me, rather, it should be about playing to each other's strengths.
So in our flat, for instance, if it's DIY you're after, then I'm your guy. If you need something ironed, ask Mr R. And alongside that, of even greater importance when it comes to building a happy family, is valuing what each person brings to the table, acknowledging that neither's contribution is more or less worthy.
Or to put it another way, having the ability – and humility – to recognise that just because one of us has had a testing day doesn't mean the other hasn't, to accept that although the grass will invariably seem greener on the other side of the fence, it rarely is.
---
Lindsay Razaq is a journalist and former P&J Westminster political correspondent who now combines freelance writing with being a first-time mum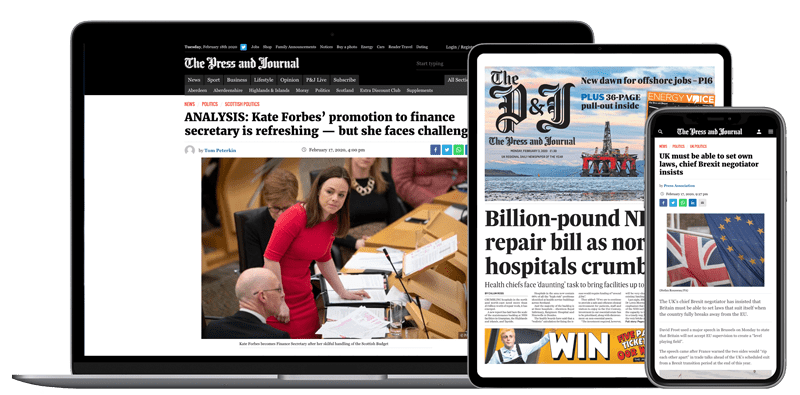 Help support quality local journalism … become a digital subscriber to The Press and Journal
For as little as £5.99 a month you can access all of our content, including Premium articles.
Subscribe