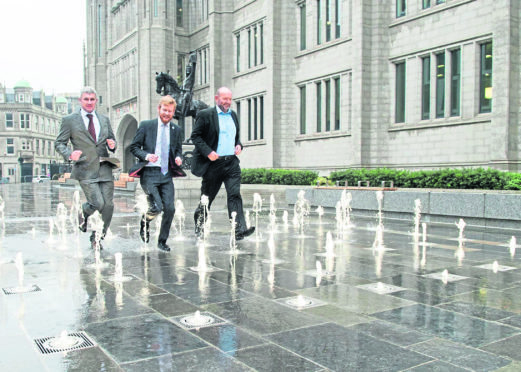 View from the midden – rural affairs with MTV (Meikle Wartle Television) presenter Jock Alexander
It been an expressive wik in the village. The news Dundee V&A has jist welcomed its 100,000th vees'tor in jist three wiks has caused a lot o' excitement, as his the story o' the celebrated Banksy artwork Girl With Balloon fit wis rigged tae self destruct fan it wis selt at auction.
The instant some quine wi' mair money than sense bocht it at Sotheby's, it fell through a specially adapted picture frame wi a built-in shredder. A snip at only a million quid.
Of course, a' this has got Feel Moira a' fired up tae be Meikle Wartle's "artist in residence". Banksy his shown that art can be made oot o' the destruction o' property.
Something for which Moira has a particular talent. Her first installation is entitled 'Athin' Fae My Bin', the contents of which she has nailed tae her living room wa'.
One look at the resultant Tracey Emin-style collage certainly maks a bold statement aboot the value of contemporary art.
She didnae stop there, of course, and inspired by the twa lassies in Manchester fa sat on a bench wearing nithin' but strawberry jam in the name of art, Moira then attempted a very similar stunt on a bench in the village square, in spite o' the inclement weather and the considerable ootcry fae ab'dy else.
I blame the W.I. for allowing her access tae that quantity o' bramble jeely. So we set up a cordon aroon the square and sent Skittery Willie in tae talk her oot o' it. Sadly, the twin effects of extreme caul and the famous viscosity of the Meikle Wartle WI's preserves (fine on a buttery, grand on a pancake, and magic for mending a drystane dyke) meant she couldnae unstick hersel fae the bench.
We fear she may hae to remain there until the weather turns milder – so expect her back to normal roon aboot July. Cheerio!
Ron Cluny, official council spin-doctor
A proud day for burghers of Aberdeen has just arrived with the official switching on of the "Dancing Water Fountain" on that handy bit of flooded pavement just outside Marischal College.
This exciting new city-centre feature forms an important part of the exciting project to pedestrianise Broad Street, which is now, excitingly, complete. Very nearly.
And most impressive it is, too. Its designers claim its 60 illuminated jets of water make it capable of "limitless patterns and sequences", though presumably that limitless number is divisible by 60.
Now, the uncharitable might say that Aberdonians can look at any amount of water bouncing off the pavements, thanks to the unique combination of perpetual rain and blocked gutters so what's so special aboot this?
To them, I say they should give it a chance. After a hectic day's public service looking up other fountains on YouTube, I consider myself quite the expert, and can say without fear of contradiction that Aberdeen's new fountain compares favourably with the likes of those of Barcelona or the Fontaine du Trocadéro in Paris, particularly to the very many people who have never actually seen either of them.
Cava Kenny Cordiner, the football pundit who concedes that the conflict over the settling of the left bank is geopolitically complex but whose sympathies currently lie with the Palestinians.
Oh, woah Esmé! Our national team hut a new low on Thursday night when they got turned over by Israel. When I seen the result, I texted my pal Dunter Duncan and I texts to him, I texts "Is is real? Israel? it isnae real, is it?" I can tell Dunter was just as speechless as what I was because he texts back, he texts "?"
When they first announced this Nations' Cup thing, old Kenny was all for it. I seen it as a chance for Scotland to qualify for something for the first time in donkeys, by sticking teams we had a chance against.
Now we get egg on our plates against international mintoes like Israel and Albania instead. Maybe losing to Israel is part of McCleish's mastermind plan.
If we keep losing, we'll end up facing worser and worser opponents until we are in a group with Gibraltar, San Pellegrino and Yorkshire.
Old Kenny was never crash hot at geometry but I never even knew Israel was in Europe. But when it comes to football they is very like Scotland in that they is mince and they hardly never qualify for nothing neither.
But when I looked them up on Google Earth, I was amazed to see there is one big difference.
Whereas The Suits at the SFA has pulled their nomination of Paul Gascoigne for the Scottish Football Hall of Fame, in Israel he is treated like a hero – they've even named a whole bit of the country after his kit!
Unbelievable.