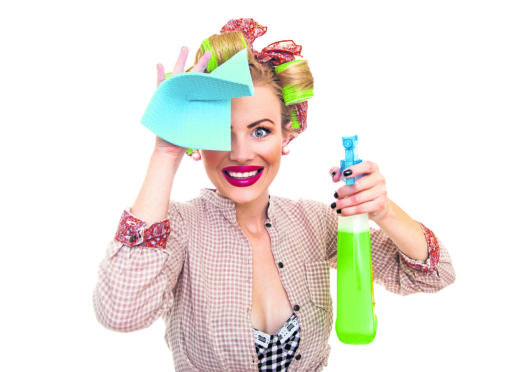 Tanya Souter, Lifestyle Correspondent
I da ken aboot youse, but I ayewiz find masel running oot o' cash at this time o' year, fit wi a' my kids' birthdays being in September (Weird 'at, int it?).
Then next there's Christmas on the wye fan a' my credit cards jist get maxed oot. I've got nae cash coming in ' til ma Universal Credit comes through, and fa kens fan 'at'll be, Eh?
So I wis keen tae hear aboot my pal Big Sonya's latest moneymaking scheme. She came running in tae my hoose a' in a fluster efter getting her hair deen yesterday (and nae jist cos the lassie had tried tae charge her £60 for a cut and blow-dry), but also because she'd read a news story aboot a new cleaning firm doon in Edinburgh fit supply folk tae dae yer hoose-work in the scud.
Noo, Sonya's nivver been a fan o' uniforms in the work place. She eence worked a shift in TGI Friday's but hid tae pack it in because the stripy shirts they hiv tae weer made her look like a mint humbug. But fan she seen that the company's only operating in the central belt, a plan began tae form. They're nae gaan ony further north than Fife, presumably that extra twa degrees of caul' is the clincher, if ye'll pardon the expression.
Noo, as those fa hiv heietered o'er a jagged pile of Lego in my lobby, or got their foot
stuck in an auld KFC bucket files enjoying
a bit o' a 'Netflix and chill' wi' me on my
sofa (Cooncillors – you ken fa you are!) will attest, I am nae a fan of cleaning my ain
hoose, never mind ither folks', so I wis quick tae turn doon the offer. But Sonja wis nae tae be pit aff.
Fair play tae her, the hourly rate they're charging is £80. £80 an hour!
That's the kind of pey ye wid get in the professions, like lap dancing and drug dealing.
Still, I canna say I'm confident Sonja's is
a viable business plan, under current conditions.
I ken there are some funny people aboot, but I struggle tae think there's onyb'dy fa wid pay £80 for Big Sonya tae dae their hoovering in the buff.
I mean, I'm nae being funny, but I canna look directly at her fan she's in her leggings. Plus I canna stop thinking aboot fit could happen if she went onywye near a hot iron.
Shelley Shingles, showbiz correspondent and Miss Fetteresso 1983
O. M. Actual. G!!! Life as your showbiz correspondent is often totes glam and mega hectic, but even I didn't expect my diary for November 2020 to be filling up already.
But when Mister Elton John announces that he's playing a Friday and Saturday at our spleet new exhibition centre… here's me!!!
Apparently it's his farewell concert tour; which, if the Rolling Stones are anything to go by, means we'll only have 10 more chances to see him before he finally retires.
Whatevs, Wild Horses couldn't keep me away (unlike a Rolling Stones gig – I can't stand that song!).
I'll probably go on the Friday night, as
that's when the true fans will be there, and because I hear Saturday nights can be a bit rougher.
I can't wait, I just hope he doesn't spoil it by playing any of his new stuff – stick to the hits, Elton!
Of course, me and Elton go way back. I first met him at Pittodrie in 2004 when he was playing to a crowd of 26,000 and I was working as a spokesmodel for Kentay Catering.
I'd laid down my over-the-shoulder selling tray backstage to enjoy a hard-earned cigarette, when he walked past with his entourage on his way to the stage. I'll never forget what he said to me:
'You want to pack that in, love. They stunt your growth'
Wise words from a true gent.
Kevin Cash, money-saving expert and king of the grips
I seen in the papers the other day that Ryanair had had a plane seized by the French authorities ower an unpaid bill.
Still, in view of the goodwill that the brand has built up wi its exemplary customer relations, I'm sure naebody will be gloating or harping on about it at all.
An embarrassing situation a'thegither and will tak some explaining, a bit like the time I pawned the missus's eternity ring for beer money and forgot to redeem it afore the shop selt it.
I got around it by telling her I'd been mugged on the wye it to hae it polished at Finnies.
I even got my pal, Mick the Pill, to gie me a keeker to mak it look mair authentic. A sair een, but worth it.
I'm nae sure if the mannie fae Ryanair wid get awa wi that een.
But I'm pretty sure there'd be nae shortage o' Ryanair passengers willing to help him try.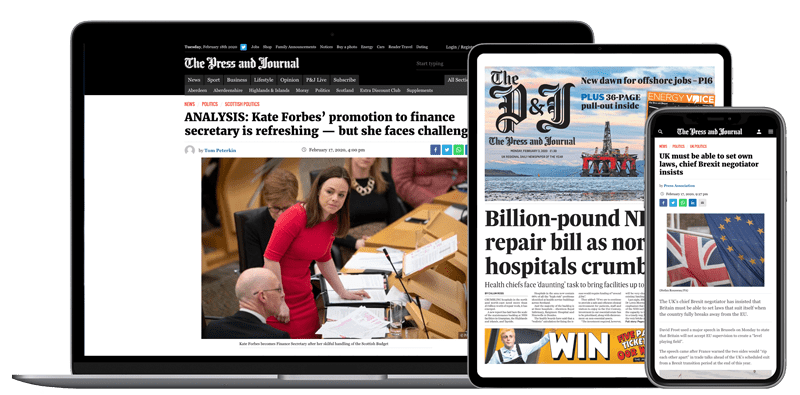 Help support quality local journalism … become a digital subscriber to The Press and Journal
For as little as £5.99 a month you can access all of our content, including Premium articles.
Subscribe