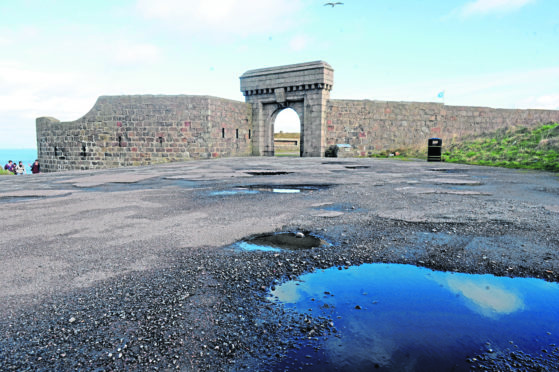 Ron Cluny; official council spokesman
As chief spin-doctor for a local authority, I'm no stranger to having to polish the proverbially unpolishable.
But I don't envy Theresa May this week, whose Brexit plan debuted to what might politely be called mixed reviews.
I understand that there's a retired poulterer from Aberdour who thinks it's a winner; otherwise it's had universal condemnation. We live in fractious times.
Like a drunk man who's bought a white pudding supper and is going to eat it come hell or high water, she knows, in her heart of hearts, that no good can come of this, but is determined to see it through.
Her persistence is admirable; her pig-headed unwillingness to look facts in the face, perhaps less so.
Meanwhile, Jacob Rees-Mogg, the unwanted answer to the question 'What if Anne Widdecome had been a man?", has delivered the predictable vote of no confidence in an attempt to press his own candidacy.
What a comforting thought it is, as we approach the precipice, that we might soon have an old Etonian at the wheel. When have they ever let us down before?
Shelley Shingles, Showbiz correspondent and Miss Fetteresso 1983
O. M. Actual. G! I thought Aberdeen couldn't get any more cosmopolitan after they opened that second branch of Dr Noodles, but this week it was time for the city to go La La Land!
Edinburgh may have had the Avengers filming, and Glasgow had The Fast & The Furious 6, but Aberdeen now has its own claim to celluloid fame with a movie called The Marionette filming in places like the city's glittering Rosemount Viaduct.
Even though I've not heard of the director, it's totes legit. They closed roads off like proper films do and it's got Harry Potter baddie Peter Mullan, her out of The Thick Of It and Bill Patterson from everything on telly with a Scotsman in it since 1980.
I even think I might be able to add The Marionette to my own list of movie credits. No spoilers, but let's just say you'd better not take your eyes of the screen when her out of The Thick Of It walks down a garden path in Craigiebuckler Avenue, because you might miss a familiar face behaving perfectly naturally in the window of the passing number 15 bus!
Highlight of my day on the shoot was bumping into Peter Mullan himself. I'd looked him up on IMDB, just in case, so I was able to tell him how much I'd enjoyed his famous role as Mother Superior and ask him if he'd ever do another sequel to Sister Act. I'll never forget what he said to me:
"That was Whoopi Goldberg."
Wise words from a true gent.
Cava Kenny Cordiner, the football pundit who likes an old-fashioned toss-up
It fairly cheered me up this week when I seen a headline that said "ref suspended for 21 days"–Dave McNamara was reffing a women's game that was on the telly, but when he got out to the middle he realised he'd left his coin in the dressing room, so he had the captains play Rock Paper Scissors to see who took the kick-off.
Fair play to the lad, if that was me, I'd have got them to have a game of slappy or peanuts, like what we did at Kincorth Academy. I think suspending the whistler for 3 weeks is harsh in the circumferences – I got less than that for lamping Mintlaw's winger. I done it twice as well, once on each lug.
But I'll bet I know what that ref was thinking when he stuck his hand in his hipper and realised he never had his coin–"Where is Neil Lennon's coupon when you need it?"
Jimmy Hollywood–Sandilands' Most Eligible Bachelor
The problem wi' being the north-east's top Lothario is that efter a while ye run oot o' places to take a blonde on a first date.
There's only sae mony times ye can tak lassies tae Soul (if she's fae Cults), The Grill (Kittybrewster) or The Torry Battery (Tilly, Logie, ony-wye in the 'Shire).
So imagine my delight fan I opened the paper this wik and saw that some bright spark has a vision tae construct a cable car that'll tak folk fae the new cruise ship harbour right into the city centre.
This wid be a truly transformational development for the city and wid improve my life significantly.
An attraction like this will be sure to bring tourists flocking to the city, like seagulls dive-bombing for discarded chip-wrappers fae the Ashvale.
And I'm looking forward tae the cruise ships bringing a sudden influx of my type of lady; in toon for jist a day or twa, and for whom English is a second language.
But just think foo romantic it wid be, o' sailing ower the Aiberdeen skyline in een o' that cable cars. Gazing oot ower the North Sea as the dolphins crash through the surf, silhouetted by the light o' the teenagers tabbing awa ootside Codonas.
They think that the journey fae Nigg tae Union Street wid tak about 5mins. That's long enough for the magic to happen, twice!
Ken fit I mean?'