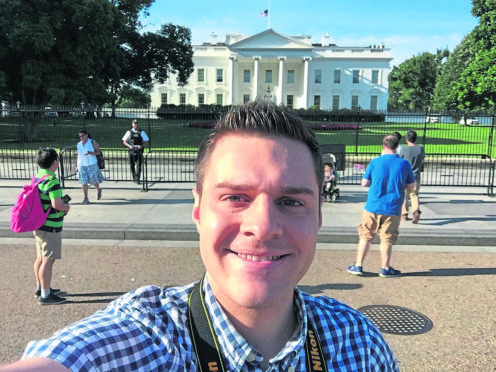 Ron Cluny, Official Council Spokesman
As the chief spin-doctor for a local authority, you'll appreciate that nothing gladdens my heart like seeing a local political PR disaster unfold when it isn't my problem.
So imagine my delight this week when MP for Aberdeen South, Ross Thomson, managed to make a right gype out of himself on national TV.
One would think the local press had better things to report on than this sort of thing, especially when our chief executive has racked up £7,500 in hotel bills, and the Music Hall renovation is £2 million over budget. But hey, I'm certainly not complaining! Poor Ross fell foul of that most tricky opponent of po-faced politicians, the TV prank show.
Now, I'm not going to cast up previous occasions when young Ross's judgment has got him into "a situation", like those holiday snaps of him sitting on Saddam Hussein's golden throne channelling his "inner dictator", or the way he clung to Boris Johnson like they were doing the Gay Gordons as they bowled past reporters at this year's Torry Party Conference. These are nothing but gladdening examples of the enthusiasm of youth, and make a pleasant change from the stuffy old decorum, respectability and self-effacing public service of, say, Dame Anne Begg.
Ross was conned by Channel 4 show Ministry of Justice into denouncing a new smartphone app called InstantGrammes that purported to allow you to arrange the delivery of illegal drugs through your mobile.
Well, I think we all know where our sympathies lie there, don't we? And it isn't with the disciples of Beadle and their tired old subterfuge.
It's hardly spaghetti trees is it? I mean, have you seen some of the apps out there that young people use? It's all virtual reality, instant takeaways, swipe left to date and catching Pokemons. Who can keep up? InstaGrammes will be real in a month or two, if it isn't already. It's not Ross's fault. He can't be expected to be au fait with what's happening on the streets – he's the MP for South Aberdeen, not South-Central LA
I'm not suggesting that he lacks the common touch, but he represents a constituency where you're never more than 50 feet from a latte.
Instagrammes is a perfectly believable idea. Especially when you've made it up yourself, as Ross did about six months ago, when he appeared on Question Time and claimed that in Glasgow was it was easier to get cocaine delivered than pizza. Admittedly, there was no evidence for that at the time and, indeed, there still isn't. But I think we can all agree that it's very easy to get tricked into believing daft things when you already believe them to begin with.
And let's face it, there's some pretty implausible news stories out there at the moment. There are some folk around here who genuinely believe that they're about to open a major section of the AWPR!
Tanya Soutar, local lifestyle guru
I dinna ken about yous, but I jist love my phone. I dae a'thing on it. Tak selfies, share selfies with ither folk, judge ither folk's selfies –a'thing. Which is why it wiz such a nightmare on Thursday fan the hale O2 data network went doon. The only thing my phone wiz good for efter that wiz playing Angry Birds and making phone calls – and fit kinda loser diz that?!
I wiz especially dreading the evening time because I kent that wi'oot ony hand-held internet enabled devices in operation I'd hae tae resort tae something I've nae daen in years – actually spikking tae my bairns. But, ye ken 'is? It wiznae as bad as fit I thocht. In fact, it wis right fine tae hiv a good blether with them wi'oot a phone glued tae wir hands or wir faces bathed in the flicker o' a screen. Apart fae the telly, obv. Ken fit? It turns out they a' hid homework. Apparently that's nae unusual, but it was news tae me and since they couldnae jist look up the answers on Google, they hid tae consult the ither source of knowledge in oor hoose – their mither! Weel, I'm glad they did!
My Jayden is sure tae get top marks fae his maths teacher fer his probability homework. Especially the question fit said "Spencer is going to the school disco, and he wants to pick a date out of Anna, Amy, Beth and Carol. What is the probability that he will take a girl with whose name starts with an A?" The answer is simple. Nae chunce – because fan that lassies fin' oot he's 3-timing them, he'll be gaan tae the disco as a Norman nae mates!
And Beyonce-Shanice has totally aced her English homework. "Name the two warring families in William Shakespeare's Romeo & Juliet." Easy – Montego and Copulate. "What was the proper name of The Man of La Mancha?" Pimpers – Wile E. Coyote.
And Tyler's History essay wis a scoosh, but it's a good job I wis there tae help him. He niver even kent Rosetta Stone wis the lady fa niver gi'ed up her seat on the bus.