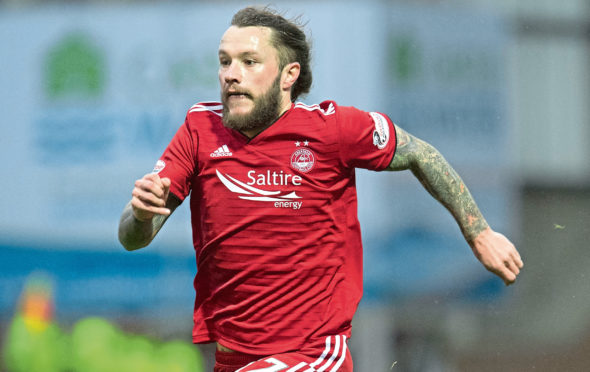 Cava Kenny Cordiner, the football pundit who takes no bull
As 2018 nears its contusion, the Dandy Dons' fixture list has never not been so busy. My old club has got an inedible 9 games in December, which is mental. It's at a time like this when the media have to get behind the team, which is why I was sipping feathers when I seen the headline "May to face no-confidence vote". My heart sunk.
I phones Dunter Duncan and says to him, I says "That's bang out of order that is. I know the lad missed a sitter against St Johnstone, but this won't help him find his yo-yo." Then the next headline comes up saying "May survives no-confidence vote to cling on to Number 10".
Thank goodness, I thought, but Niall McGinn wears number 10, not Stevie May. Mind you, journalists makes mistakes all the time – the P&J once said I'd earned my 5th red card of the season for swearing at the ref. Well, they was dead wrong, and I phoned up the sports decks and made them print a confection. In fact, I got that red for sticking the head on some boy. And it was my 6th.
Anyway, the headlines got stranger and stranger, as next morning they says "May heads to Brussels to renegotiate deal". I says to myself, I says "the cheeky wee nyaff. After his team mates back him up he's away seeing if he can join some Belugan outfit?!" I was so raging I poured my apple juice in my coco pops by mistake.
My Missus, the lovely Melody, comes in the kitchen and says to me, she says "Kenny, what's your views on Brexit now?". I says to her I says, 'well, this one definitely not going to work out. I think it'll need changed to something a bit more palatable' 'You mean without the backstop?' She says. 'No,' I says, 'I mean without the apple juice in my coco pops.'
'No Kenny', she says, 'Brexit, not breakfast' And then it hut me. These headlines wasn't about Stevie May – they was about Theresa May.
What a relief! Here was me thinking it was something important.
View from the midden, rural affairs with Jock Alexander
It's been an extraterrestrial wik in the village. It's a sair fecht oot here in the depths o' winter ye ken. Wi' the nichts drawing in and the air getting iver caulder, we've hid nithin else tae dae but huddle thegither for warmth, and nae news fae the outside world save for fit we can pick up on short wave radio sets, watch on TV or, since I ran a' that cables fae the exchange at Pitcaple, stream for free via high speed broadband.
Fit wi' the Tories in chaos and the US President in het watter, it's getting ever trickier tae separate truth fae parody oot there. It does say something when een o' the mair believable stories of the wik was aboot an Irish wifie getting a divorce fae the ghost o' a 300 year old pirate.
Skittery Wullie fair perked up at this particular piece o' news and has been trying tae fin oot her address so he can offer himself up as a replacement. He's nae an 18th Century buccaneer, nor is he, technically, deed, but he still feels he is in wi' a chunce, because as a pig fairmer, he his a similar smell aboot him, and looks good in great muckle beets. Additionally, fit he may lack in swashbuckle he can mair than mak up for in sausages.
Onywye, it seems appropriate, fan we have been wondering if some MPs were on the same planet as the rest of us, to read the news that scientists fae Aiberdeen's James Hutton Institute hiv found that data sent back fae Mars by the Curiosity Rover indicates that the Reed Planet his the same kind of soil as some pairts o' Scotland.
Specifically, it's the Isles of Skye and Mull. Noo you may nae ken this, but Mars has a history o' links tae Scotland. Steenhive wis the birthplace o' the deep-fried Mars Bar. And michty, if that's fit Martians ate, it's nae wonder they a' died oot.
Onywye, this discovery has caused a lot o' scientists tae get affa excited by the prospect of coming tae Scotland tae study 'Martian soil conditions'. Which in turn has seen Feel Moira get affa excited by the chance tae bolster wir local economy, by making Meikle Wartle a global centre for soil science. We certainly hae plenty soil for scientists tae look at – it is, perhaps, oor maist abundant natural resource, efter sharn – and she's made it attractive tae the scientific community by erecting a geodesic dome. Although, on closer inspection, the dome is less the marvel of 21st century engineering it first appears, and mair the climbing frame nicked fae Old Meldrum Pleasure Park and covered in cling film.
Nevertheless, Moira remains, in spite of the very obvious deficiencies of her plan, entirely committed tae it, and determined tae press on. Some cry her 'tennacious', ithers 'deluded'.
Michty, she could be Prime Minister!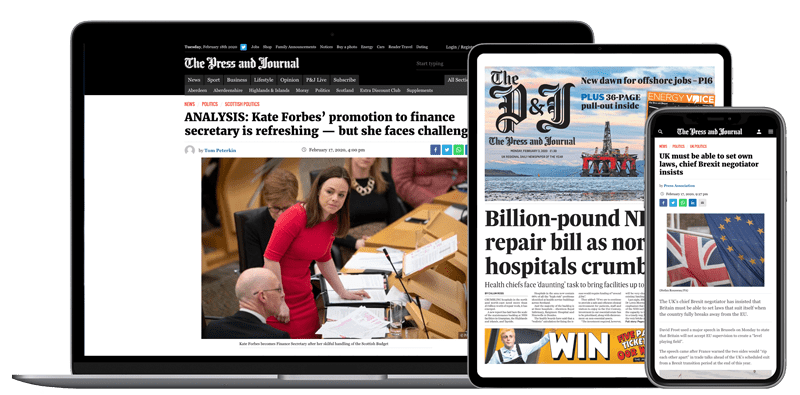 Help support quality local journalism … become a digital subscriber to The Press and Journal
For as little as £5.99 a month you can access all of our content, including Premium articles.
Subscribe