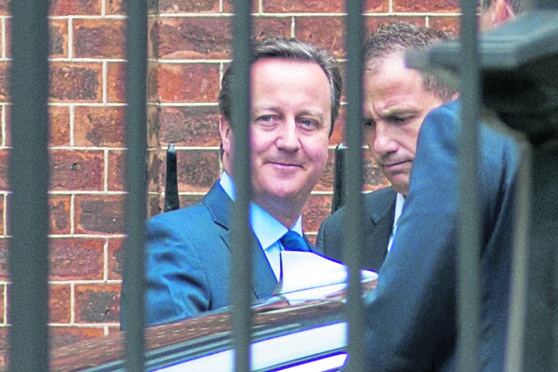 Tanya Souter – Local Lifestyle Guru
I da ken aboot youse, but I wiz affa impressed tae see that Meghan and Harry hiv taken the plunge and set up their ain Instagram page.
Noo if yer over 30, you may not ken aboot Instragram but basically it's like Facebook but for fowk that dinna like words.
It's jist lovely photos, though ye do hiv tae pit on aboot twa dizen "hash tags" for a reason fit I hiv nivver been able tae work oot.
My pal Big Sonya has been banned from it, cos a' her hash tags were very literal and were a' aboot where ye can go tae buy that very thing. But I'm still on "Insta" masel.
Nithin gives me greater joy after I've spent twa hours tiring oot my youngest twa so they fall into a photogenic doze on the sofa, than commemorating that precious moment – wi a big close-up of masel' neckin' a celebratory bottle o' Sambuca!
Wi Instagram it's a' aboot the number of followers ye can get, fit Harry and Meghan must noo be well aware, having got o'er twa million of them in less than a day.
Though it is a bit of a cheek cos they only hiv twa photos up, and Meghan's nae done a pouting selfie in either of them. Pretty amateurish, ken?
And they need mair photos of their hoose and funcy furniture, or they'll lose a' those followers jist like 'at.
Spiking of losing followers, I wiz ragin' this week cos Aiberdeen's Scottish Slimmers has gone bust, and a' my classes hiv been cancelled wi immediate effect. I wiz so distraught that I went straight tae the fridge and ate three packets of jaffa cakes.
Mind you, this was also my usual reaction fan I wiz celebrating if a class had got pit off for a wik. But I think this permanent cancellation has hit me hard, mainly cos I'd jist forked oot six months' membership in advance and there's nae refunds.
Pit it this wye, it's my Beyonce-Shanice's birthday next Tuesday, and I dinna expect her cake tae survive to see the day.
I feel affa sorry for Scottish Slimmers staff, though, who are oot of work and must noo join me in the desolate trudge tae Ebury Hoose, so I've pit the call oot that ony of them are welcome tae come tae mines and hiv cake.
It's the least I can do. But of course a' this means is that I shall hiv tae choose my angles even mair carefully fan taking ony mair Instagram photos – the camera adds pounds to ye, so ye've to tilt it tae a 45-degree angle and get yer pout on files using the longest selfie-stick you can find.
It's a minefield, and there's only one wye tae stop worrying aboot it – mair cake and Sambuca!
Shelley Shingles, showbiz correspondent and Miss Fetteresso 1983
O. M. Actual. G! Just when the unrealistic-body-image world of showbiz needed a hero, my old roly-poly pal James Corden struck a note for us normal folk!
Jamesie hit the headlines when he was mouthing off about puddocks like him not getting any raunchy sex scenes in the movies.
He said they were reduced to being cast in the role of a lovable-but-funny chubby sidekick, rather than occasionally being cast as a colossal larger-than-life lothario.
I know what you're thinking. Big Jim was just using an otherwise meaningless interview to try to score himself some cheap on-screen thrills with a hot Hollywood A-lister but underneath that, he does raise a valid point.
If we think of real life, where tubby folk is getting off with each other in the doorways outside Wetherspoons right, left and centre, it is very much removed from the image of the toned and tanned enjoying classy dalliances that the silver screen so frequently portrays.
Of course, me and James go 'way back. I first met him back at the National Theatre in London, when he was starring in The History Boys and I was promoting Ginsters' steak and onion slices.
In between the Saturday matinee and evening performances, Mr Corden used to spend a lot of time front of house mingling with the crowd. One evening he comes up to me, and I'll never forget what he said.
"Two more of them, please, love, I'm wasting away here".
Wise words, from a true gent.
Ron Cluny, Official Council Spokesman
With the schools on holidays and a lot of folk even more angry with Flybe than the cooncil, a lot of my time over the last week has been devoted to sitting in an empty meeting room eating stale rowies left over from the last infrastructure committee meeting and following the latest on Brexit.
So Theresa May has finally decided to try to build bridges with Jeremy Corbyn in an attempt to get her Brexit deal through.
After months of trying to put party unity first, she has changed tack, presumably on the basis she had about as much chance of unifying her party over Brexit as Rangers' Alfredo Morales has of going a whole season without an early bath.
Seeing her on the news setting out her new plan, I felt a little pang of nostalgia for the
pig-headed stubbornness of her former approach.
Because irrespective of our political views, I am sure we can all agree that Theresa May's brand of pig-headedness is less objectionable than David Cameron's.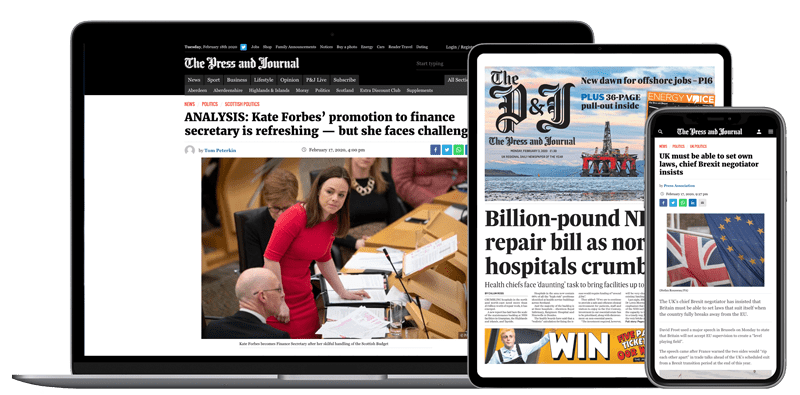 Help support quality local journalism … become a digital subscriber to The Press and Journal
For as little as £5.99 a month you can access all of our content, including Premium articles.
Subscribe