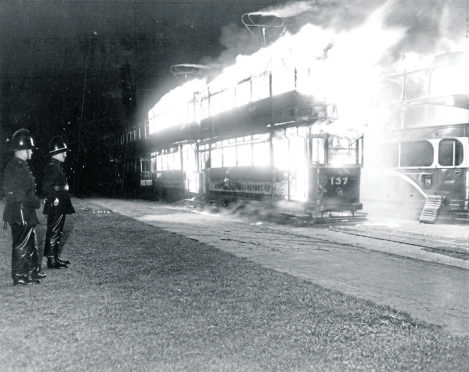 View from the midden; rural affairs with Jock Alexander from MTV (Meikle Wartle Television).
It's been a perambulatory wik in the village.
Wi' summer noo upon us, and the beasts left tae their ane devices happily eating girs, we dae fit we ayewis dae in Meikle Wartle: get the hell oot and ging somewye mair interesting.
Of course, oot here fower mile past the back o' beyond, that generally means using' public transport.
Public transport is a hot topic in Aiberdeen of noo. The toon has long been a byword for far-sighted transportation policies, of course, ever since the glorious day they drove a' the trams up tae the beach and burnt them in a joyous pagan ceremony.
It wis a peety that naen survived the conflagration. These days, there's some placies mak a hale tourist attraction oot o' bits o' auld tram (nae looking at naeb'dy in particular – Alford). But noo FirstBus is looking tae sell aff its bus business.
Fit will make the company name a bittie confusing, but there ye go.
Aiberdeen City Council hiv been sniffing aboot, and are absolutely fully committed tae haein a wee look into it to see if it's worth taking it on.
Noo there's nae question FirstBus his hid a difficult year, fit wi' strikes and driver numbers dropping and so on.
Some might say onyb'dy else may as well give it a go, they canna dae ony worse than the current lot. Nae doot that's a challenge Aiberdeen City Council are weel up for!
Perhaps efter a fact finding mission tae scope oot foo such things hiv successfully worked in other placies. Like Houston, or the Maldives or sic like.
They could dae worse than tae check oot the village as their model.
Of course – here in Meikle Wartle we already hiv wir ain locally-owned bus service.
And have had iver since last year fan a Stagecoach een got stuck in yon sinkhole at Drum o' Wartle and the driver climbed oot the windae and went feral.
As a native of Eastern Europe, he hid learned his trade on the weel ordered thoroughfares of post-war soviet brutalism, and he just couldnae cope wi' the uppy-doony twisty-twosty country roads aroon here.
And neither could his suspension. So we took the bus service o'er and noo run an ultra-cheap and cheerful service of wir ain.
Of course, as wir local roads are sae uneven, we dinna use an actual bus – we use Feel Moira's turbo-powered Massey Ferguson 8700 wi a flatbed hooked up tae the back.
Fit an excitement fan ye ging for a day oot on the "Wartle Wanderer".  And let me tell ye, in the days of summer, so called as it usually lasts less than a wik, it is absolute heaven tae hae a bus service fit is open top.
And open sides as well. Oh aye it's usually packed wi' happy smiling kiddies hinging on for dear life.
We usually lose aboot 20% of the passengers roon aboot that particularly holey stretch of the B999 outside Tarves but ab'dy lashed tae the back is usually ok.
So we're a' for Aiberdeen taking a leaf oot o' oor book and freeing up the bus service fae the pressures of making a profit, and aiming instead for a tremendous publically owned loss.  Cos there's nae getting aroon getting aroon. Cheerio!
Struan Metcalfe, MP for Aberdeenshire North
The life of an MP is a busy one. What with votes, Divisions and Tequila Tuesday in the Strangers' Bar, it's absolutely non-stop public service, so there aren't many hours in the day that one can put aside for oneself.
My day typically involves arguing in the House, arguing with journos and then coming home to lob a nice relaxing glass of wine all over the couch and arguing with the mistress. Sorry, missus.
Look here, I am a typical bloke like you, like Gavin "the Gavster" Williamson, Rossco Thompson, Jeremy Hunt or any other normal chap, and we all need to let off a bit of steam now and again.
Some tremendously normal blokes play 4 a side football, some other very normal blokes go to Mike and The Mechanics gigs.
Other entirely normal blokes enjoy dancing the Lambada. Everyone needs a hobby, and they are all completely normal and definitely true.
Me? I am more the arty -crafty type. "What?' I hear you cry 'That's not the Struan we know and love!" you say.
And I know, but underneath this oafish, posh, entitled exterior I am actually very deep and sensitive, no one ever really sees that side of me. I am a conundrum wrapped inside a riddle enveloped in prosciutto and finished under the grill.
So, when I have some down time I like to take the boxes in which I have my Waitrose quails' eggs delivered, tear them up into tiny pieces, mix them with wallpaper paste and make papier-mâché models of the Cabinet.
Don't judge me; if you think that's weird you should see Michael Gove's 1922 Committee Puppet Theatre!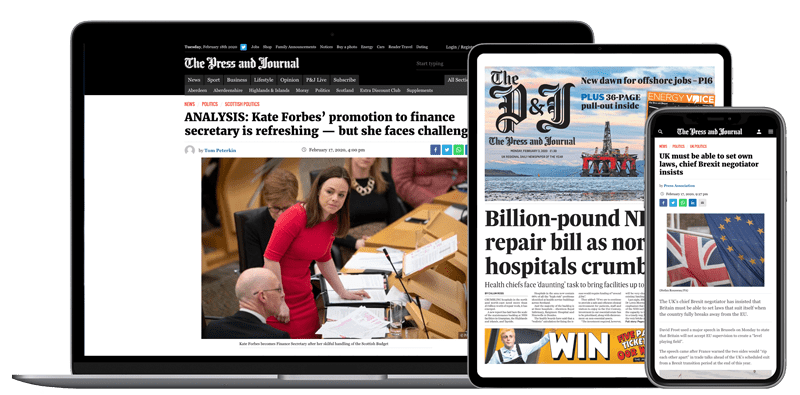 Help support quality local journalism … become a digital subscriber to The Press and Journal
For as little as £5.99 a month you can access all of our content, including Premium articles.
Subscribe