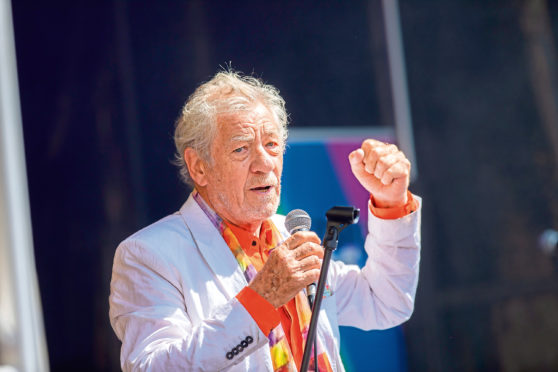 Shelley Shingles, Showbiz correspondent and Miss Fetteresso 1983
O.M. Actual. G! Just when I thought Aberdeen had reached "peak celeb" – what with Rod Stewart coming twice, Keifer Sutherland's band playing the Beach Ballroom and the new TECA about to host Bricks Live (come and see me there, I'll be body-painted like a wall and handing out samples!) – it turns out that an even bigger star was out this week.
That's right, I'm talking about the legend, Sir Ian McKellen, best known as Mr Magnets from X Men (I hear he's amazeballs in it, though TBH I was a wee bit surprised that an actor of his stature had done adult films).
You may have seen he was in town this week doing his one-man show at the Tivoli, especially if your Facebook feed was anything like mine on Thursday morning – that is, full of blurry photos of Sir Ian with a yellow bucket outside the Sainsbury's local on Guild Street. Someone should have told him he didn't need to have a whip-round for his bus fare home. At his age he can get on the Gold One for free!
Anyway, I was impressed to hear he did a three-hour set without so much as a loo break. I never knew he did theatre stuff too but it turns out he's done all sorts: Shakespeare, Chekov, Coronation Street, the lot.
Apparently as an encore he gave the audience a bit of his Twankey, which was typically generous of the man, though I hope it didn't leave him feeling peckish after the performance.
Sadly, I couldn't make it to his Tivoli show, on account of not getting a ticket, or knowing anyone who would take me. But that's OK as I'd had my very own close encounter with the great man the day before.
I was at the Vue cinema on Shiprow with my wee niece,Tallulah, giving it some welly singing along to Hakuna Matata in the brilliant new Lion King remake (how did they train all those animals to do that? It is literally incredible), when who should lean over but the man himself, Sir Ian, sat in the row beside me. "Excuse me," he said, with that deep, rumbling, plummy voice we all know and love and the mischievous twinkly eyes of an 80-year-old national treasure.
I couldn't help it – I'm not normally star-struck but I don't mind admitting that I gushed, and heaped him with praise for remaining so grounded and humble that he'd pick the cheap cinema, and told him how absolutely brilliant he had been as Dumbledore.
I'll never forget what he said to me.
"It's 'Gandalf', love. And would you mind? That's my popcorn you've been eating out of for the last 10 minutes."
Wise words from a true gent.
Cava Kenny Cordiner, the football pundit who's always trying to overturn a two-goal deficit
Oof! It's been a roller-disco of a start to the football season! With the Dandies starting off so well in Europe and snatching three points off the Jam Tarts in the opening week, Old Kenny was on Cloud 99! (that's like cloud 9, but with a Flake in it).
But our two defeats to Rijeka and away at St Mirren have brung me crashing back down to earth with a blimp.
Thursday night was a shocker to the system. It was a big axe, but I was sure that with a little bit of luck we could take the unfancied Creationists on our home turps.
But instead we got the rub of the green up the wrong way.
The Dandy's performance on Thursday night can be summed up in one word – total mince.
They conceded early, got a boy given his marching powders and then got hut with a sucker punch bowl before half time.
They looked nothing like the team what stuffed Shakira 5-0 a fortnight ago, even though it was the same boys what was playing. My pal Degsy McInnes is going to have to roll up his kid gloves and take off his sleeves to whip that shower into shape.
I usually back our fellow Scots teams in Europe, but I'm not ashamed to admit I had a wee chuckle when I seen Celtic's Champion's League result on Tuesday night.
You know your European dreams has disappeared down the pan when you get turfed out on your rear by a team called Cludgie! I'm sure if I look deep enough I'll find some sympathy for their gaffer, Neil Lennon. Though I've been looking since Tuesday and I've not found any yet, like!
So, with the Dons' defeat, Celtic crashing out to the Romulans and Killie losing earlier this season to some Welchers, I could have done without The Rangers being the only flag bearers for Scottish football.
They definitely seem to have got the soft end of the stick fixture-wise when they got drawn against Scandanavian outfit, Midgetland. Those lads must really struggle with high balls lumped into the box! Mental.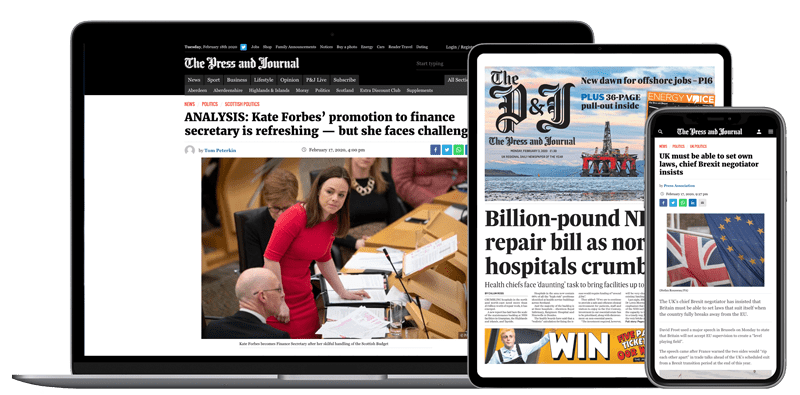 Help support quality local journalism … become a digital subscriber to The Press and Journal
For as little as £5.99 a month you can access all of our content, including Premium articles.
Subscribe