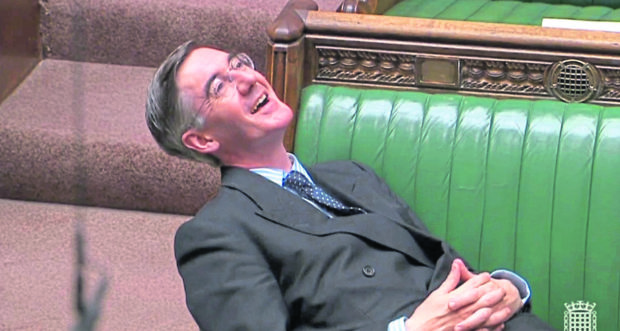 Ron Cluny, Official Council Spokesman
As the spin doctor for a local authority I am accustomed to having to defend people who have found themselves in a tricky position. Willie Young, during wall-gate; the roads department for never resurfacing any roads; the roads department again, for resurfacing 50% of the roads all at the same time. But I have never had to defend a politician for getting himself into a recumbent position during the course of a debate, as Jacob Rees-Mogg did this week.
So relaxed was his disposition that I half expected him to produce a sleeping mask and a flask of Horlicks. And now he finds himself flashing around the web as a metaphor for the privileged insouciance that characterises Mr Johnson's administration, although some tweeters have put it less delicately than that.
Many have wondered what was going through his head, did he not realise how it would appear? My guess is that having made his own contribution to the debate he settled down to rest, secure in the knowledge that, the great Rees-Mogg having spoken, all that would follow was at most the petty objections of the hoi-polloi, but most likely, a murmur of parliamentary assent. So he will have woken with a start to the news his contribution had fallen on rebellious ears, and Parliament had wrestled the initiative back from his somnolent grasp. Talk about taking back control.
Now, in the greatest case of sibling rivalry since Cain and Abel, or possibly the Gallaghers, Boris has been unable to persuade his own brother of the virtues of his premiership.
A tricky situation for all, except Jo Johnson's communications director, for whom the press release will be a doddle: "He's resigning in order to spend less time with his family".
Professor Hector J Schlenk, Senior Researcher at the Bogton Institute for Public Engagement with Science
As a scientist, people are always asking me questions, questions like "what will be the long-term environmental impact of the fires currently raging in the Amazon basin?" and "Are you looking for singles in your area?"
But this week, they've mostly been asking me about plesiosaurus. "Yes," I tell them, "I'm pleased you saw us too!" Classic.
A plesiosaurus, of course, is a long-extinct marine reptile of the Mesozoic era that many crypto-zoologists (the scientific name for people who aren't satisfied with the wondrous profusion of animal life on Earth and insist on making up their own) have theorised might, in fact, be the Loch Ness Monster. Of course, the very idea of a dinosaur, or family of dinosaurs, surviving in the icy cold waters of a Scottish loch for millions of years is preposterous, but how to prove otherwise – draining the loch? That would spell the end of settlements like Fort Augustus, Drumnadrochit and Inverness – and I'm sure there'd also be a downside.
This week, however, a team of eminent marine biologists from New Zealand have attempted to resolve the mystery by analysing DNA extracted from Loch Ness to try to identify all the life forms present.
They found no trace of plesiosaur, Greenland shark, sturgeon, catfish or any other large aquatic species. In fact, the only creature present that could in any way be mistaken for our mythical monster was the humble European eel; and then only in a bad light and after half a bottle of Glenmorangie.
That answer seems a little underwhelming; so what is the Loch Ness Monster? Well, cynics (the scientific name for people who can tell the difference between a unicorn and a narwhal) suggest that Nessie is an invention of the Scottish Tourist Board, created to drive up visitor numbers to otherwise desolate territories, like The Kelpies, or "the Scottish Summer".
Tanya Souter, Lifestyle Correspondent
I da ken aboot youse, but this wik I've been glued tae this amazing TV show ca'ed "BBC Parliament". I've nae noticed it afore cos it's awa up in the 500s, but my youngest found it fan he wis channel hopping efter Octonauts. Luckily, it's jist a short conceptual leap fae a posh pink octopus wi' a monocle tae Parliament's main character, "Boris". He's like a sweaty, blond Mr Tumble; but wi' nae sae mony freens. Ken 'is? It's the best soap since they cancelled Albion Market. It's edumacational, an a', though the kids hiv been screchin' "ordah ordah" and noo say "neeurrghhhh" instead of "thank you" fan I gie them their coco pops.
There wis a major plot twist a few days ago fan 21 MPs, including some really auld mannies, got binned, jist like 'at, for voting the wrang wye. It wis like Mike Reid's Runaround for toffs.
Course, I ken fit that feels like. Fan I got the dunt fae Iceland for helping masel tae the occasional stock item they marched me out there and then. That wiz humiliating; especially fan I passed oot fae hypothermia in the car park fae the frozen chicken doon my Juicy Coutures.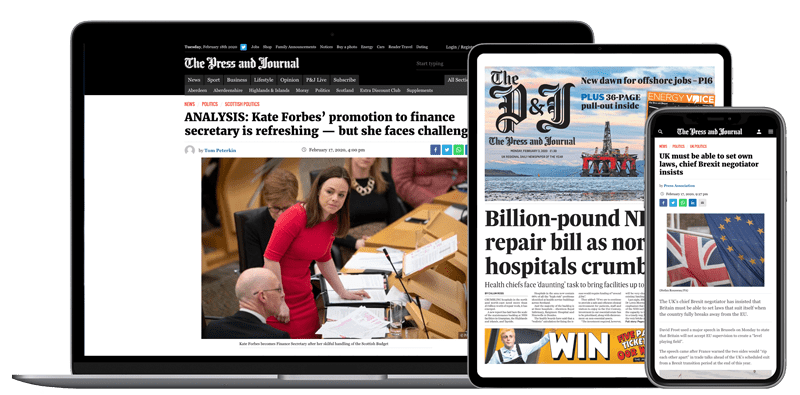 Help support quality local journalism … become a digital subscriber to The Press and Journal
For as little as £5.99 a month you can access all of our content, including Premium articles.
Subscribe