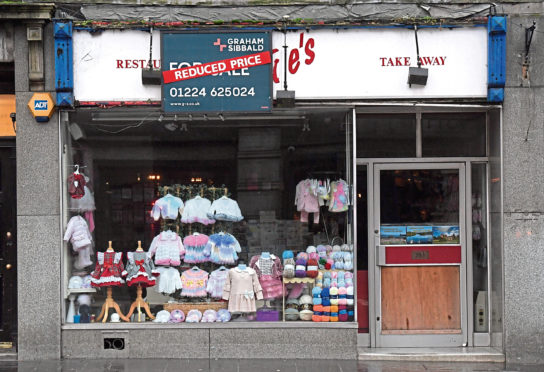 I da ken aboot youse, but I'm sick o' folk bad-moothing Union Street. The latest moaning is aboot the front o' number 25, fit is a shop cried "Inspiration".
I niver kent fit it wis cried afore, cos instead o' the name the only sign they've got up is a "For Sale – Reduced!" sign. It's minimalist, ken?
Onywye, they've been telt by the cooncil tae fix their broken lighting, sort out their signage and pit new gless in their door tae replace the panel that someb'dy's kicked in, a' things fit the cooncil reckons add up tae "significant disamenity" to the area.
I've nae noticed ony disamenity masel, nae that I wid ken a disamenity if I found een floating in my jager bomb.
As it happens, I often pass at shoppie, cos it's jist doon fae the sherrif court, far I occasionally spend an efterneen waiting for my aul'est, Tyler, tae be released on his electronic tag.
Ye ken the een – next tae the bright yella pawnbrokers, and on the ither side o't is Aberdeen's tourist information cupboard – fa kent we still hid een o' them?
Nae doot the real reason they've been telt tae get cleaned up is concern about a minky-looking shop like that pitting aff the tourists fa wid itherwise be flocking tae the fun-sized festive fair on Broad Street.
Incidentally, that place is a godsend – there's nae better wye tae get yer shopping daen in peace than tae strap yer kiddies in tae that bungee trampoline thingy on strict instructions tae bounce awa fae the mannie fan he tries tae catch them. Twa hale oors. Magic.
Onywye, Inspiration's owners are haeing neen o' it and hiv telt the cooncil that the surrounding district hisnae been "adversely affected" by the condition o' their premises. In ither words, "Fit wye are ye singling us oot? The hale street's a midden".
Noo, OK, I ken the word on the street. I hiv heard folk say that these days Aiberdeen's main drag is exactly that.
Weel, hud the bus. I am here tae tell ye that Union Street his still got fit it takes. In fact, it is a unique and vibrant location.
Like a lot o' folk, I da hae much o' a gairden masel, so I ayewiz enjoy seeing the diverse variety o' plants fit grow oot o' the roofs and gutters.
It's difficult tae find the time tae fit exercise in tae wir busy lifestyles, so it's aye a bonus tae get that wee workout crossing the road or dodging into the Trinity Centre tae avoid the "Fa dis yer gas and electricity?" brigade, or the Teenage Mormon Missionary Elders.
But maist importantly, it jist so happens that wi' it's wide selection o' budget superstores, unbranded mobile phone repair facilities, cash for gold shops and vaping emporia, Union Street has absolutely a' thing I need.
So come on, ab'dy, stop bad-mouthing Union Street! Ye hiv tae use it or things'll get a lot worse (fit, incidentally, is also fit I tell my Tyler fan he's trying tae prise off his electronic tag).
Cava Kenny Cordiner, the football pundit who's out with the old and in with the new
Like all football fans, when Old Kenny reads the paper he skips past all the doom and groom and goes straight to the back where all the sporting action is at.
Well, I must compress, I maybe have a sly look at the comic strips!
But this week, there's been stuff about Aberdeen Football Club all over the papers. The big news is there's been some changes in the board game at Pittodrie.
If you is asking me, fans shouldn't not never know the identikit of a club's chairman. They're not out on the pitch scoring goals, and they're not in the dugout shouting at the players neither.
But everyone that follows the Dandies knew fine our chairman was local property typhoon Stewartie Milne.
Well, not any more he's not. The Dons has got a new man in charge in Dave Cormack, and thanks to his contacts we've formed an allowance with an overseas club, Atlantis United.
Old Kenny was pretty surprised to hear that, to be honest. Last I'd heard Atlantis was underseas.
Stewartie's decision to stand down to spend more time with his money come as a surprise, but it wasn't nothing next to the shock I got when I seen that former Dons' goalie Derek Stillie is a candidate in the forth-crossing General Electric what is coming up shortly.
I seen in the paper that he's standing for the Conversatives down the road in Ayrshire.
I don't fancy the lad's chances much, though, if memorex serves, he was never much good at collecting crosses in the box!