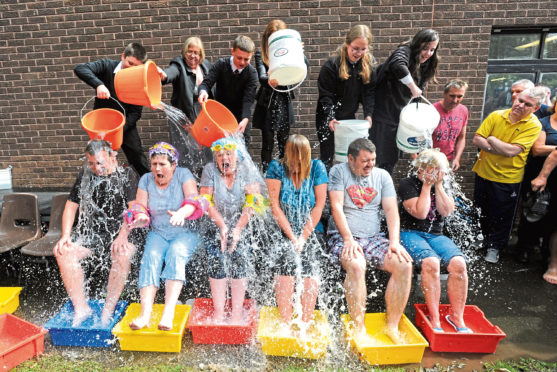 Kevin Cash – money-saving expert and king of the grips
Ken this? These past few wiks, I hiv become something o' a theatrical connoisseur, fit is like an expert and a greedy guts at the same time.
Aboot a month ago, I wiz trying tae cadge free drink in a few o' the pubs doon at the Green using the old "I'm fae the cooncil weights and measures and I need tae check yer optics" routine, but I took a wrong turning, and stumbled intae the Tivoli by mistake.
And in so doing I discovered the wonderful world of panto. Oh yes I hiv!
And I'll tell ye fit else, I canna get enough o' it. The singalongs, folk creeping up behind each ither, food fights and mannies dressed as wifies.
A' things ye can also get in a few o' the pubs doon at the Green, but wi' the benefit o' a comfy seat.
Luckily, there's loads o' pantos in Aiberdeen, and during the festive season I wint ti them a' a pucklie times each.
I hiv been right royally entertained, and seeing as I've been oot the hale time, my heating hisnae been on since November. But fit aboot the expense, I hear ye exclaim?
Nae hass. I jist figured oot far each venue's stage door is and pretended tae be in the stage crew. True, ivery nicht I ended up humphing heavy scenery till the early hours, but I regard the aggravation of my lumbago a small price tae pay for a free show and a heat.
But it turns out some folks pit on pantos at ither times o' the year and nae jist Christmas. I thocht my luck wiz in the ither day fan an upcoming show pit oot an online code for ye tae get very cheap tickets – excellent, I thought, for that is ayewiz an effective barometer o' a quality production.
And then my pal Mick The Pill telt me that the online code could be used tae get tickets for the same ootfit's shows in March and April an a', but this time – for free!
I'm nae quite sure how that works – I'm nae a theatrical impresario masel (nae yet, onywye) but I've seen yon movie far Wolverine rins a circus, and I'm pretty sure getting folk tae pey for their tickets is a fundamental, but I'm nae een tae look a gift pantomime horse in the moo, so I wiz straight in there.
On reflection, booking 60 tickets may hiv been excessive, but I wiz thinking o' the touting possibilities nearer the time. Onywye, it turns oot mair than 200 ither folk hid the same idea.
Weel, the production company wiznae happy, cancelling the show and decrying us – the punters – for taking advantage.
They even said it made them question if they can pit on shows in Aiberdeen only mair, far so mony folk can be "disloyal and unhonest".
Weel, fit a chick. I, for one, am proud o' the number o' tech-savvy Aiberdonians oot there fa seen a chance tae get something for nithin and went for it, caring not a jot that they were reviving the auld stereotype.
And onywye, "unhonest"? I hiv tae say, I've been cried some things in my time, but niver "unhonest". I wiz pretty unappointed by that, let me tell you. Also unmayed, untressed, ungusted and uninclined tae get tickets for their next production.
Even the free eens!
Tanya Soutar – local lifestyle guru
I dinna ken about yous, but I jist LOVE a social media fad. Ice Bucket Challenge, Neck Nominate, Mannequin Challenge – I did 'em a'. Actually, I did 'em a' at the same time by sticking a bottle o' Aftershock in the ice bucket, necking it and then passing oot.
I wiz gan tae tak part in the Make-up Free Selfie, but fan my pal Big Sonya done een, and posted a photie o' hersel withoot ony foundation, concealer, blusher, mascara, lippy, eyeliner or eyebrows on, folk jist thought it wis a picter o' the lunar eclipse!
This week, all my feeds hiv been awash wi' fowk posting their "10-year challenge" images. This challenge had folk finding a picture o' them looking rough as onything in 2009, and a carefully selected snap fae 2019 that maks them look like they hinna aged a day.
Of course, at wiz easy fer me, because 10 year ago I was pregnant wi' my youngest, Jayden, and still feeding my second youngest, Beyonce-Shanice.
So all I hid tae find wiz a 2019 photie where I didnae look the size o' a bus wi' some little vratch clamped on tae me!
Sadly, 2019 didnae end up so positively for Darren, the lad I've been seeing.
Dazza got a bit excited at the bells and got involved in some traditional Hogmanay capering wi' a couple o' likeminded lads ootside the Broadsword Bar.
Twa charges o' aggravated assault later, and wi' his record he might manage his own version o' the 10-year challenge!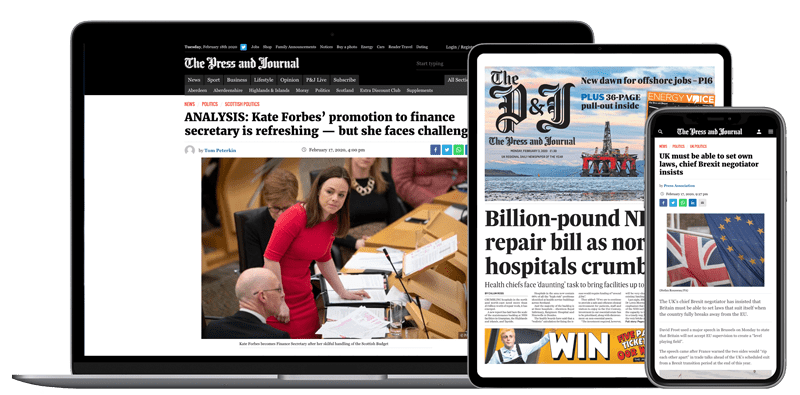 Help support quality local journalism … become a digital subscriber to The Press and Journal
For as little as £5.99 a month you can access all of our content, including Premium articles.
Subscribe