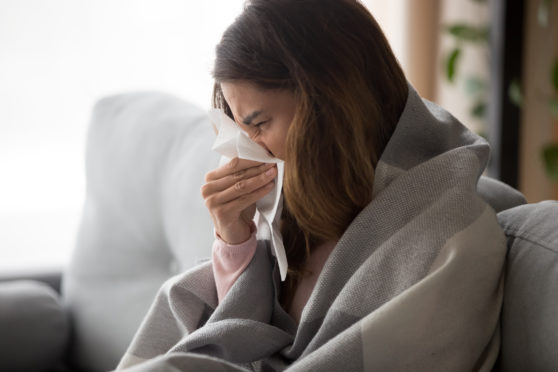 It's been a communicable wik in the village. We've been seeing an affa lot o' frenzied reporting aboot yon coronavirus, fit is a' o'er the press like a dose o' something infectious, which is fit it is, so fair play, I suppose.
Here in Meikle Wartle, we've a'ready hid tae edumacate Feel Moira on her error efter she chucked a' that bottlies o' a popular Mexican lager intae the burn.
I fished maist o' them oot again and can confirm that they are perfectly safe tae drink. Assuming, o' course, that Moira disnae fin' oot that I've hid them!
However, there's a lot hysteria abroad, and at hame. Lily Grant's Chemist Shop-cum-Distillery his completely selt oot o' face-masks, and a lot o' the villagers hiv quarantined themsel's in the pub.
The media a' over the place is nivver happier than fan they're reporting big on something like this that maks folk buy their papers (if yer nae terrified, they're nae daein their job richt) – so I thocht we could dae wi' a sober laying oot of the simple facts about the threat posed tae us by this potential pandemic.
The virus is a lung disease fit started in China and in a few short weeks has travelled tae mair than 30 countries, including the UK, Italy and Iran.
So in mony wyes it is the diametric opposite o' a typical native o' Meikle Wartle, as in a lifetime we rarely ging mair than 30 mile in ony direction, and it is transmitted by human tae human contact, fit we try tae keep tae an absolute minimum at the best o' times.
Of course it gets a' the press because it's new and exotic, like vegan burgers and K-Pop, but it's worth minding that the vast majority o' patients fa contract the virus experience mild symptoms; or fit we wid cry "smoring wi' the caul"; and it becomes life threatening in just 5% of cases and fatal in tween 1% and 2%. So it's bad, but as epidemiologists wid say: "It's nae the worst."
So far there is nae evidence of it here in the frozen north, and I hiv my doots that the virus could survive the sub-zero temperatures currently affecting the village – balmy though it is for a February.
Here in Meikle Wartle, we are hardy sons of toil fa dinna let illness haud us back. Plus if we can live richt next tae the sewage works wi' nae ill-effects, fa kens fit we're immune to by noo?
And so fit precautions can we tak tae prevent contracting it, wi' oot panicking and losing the plot?
Weel, in a' the press coverage, perhaps nae noticed in ameen a' the big scary heidlines is the recommended guide tae prevent the spread of the virus.
This basically amounts tae washing yer haunds, nae sticking yer fingers in yer moo, and covering yer neb fan ye sneeze. So, in ither words, nae being a fool brute.
Noo, this common sense approach tae personal hygiene is second nature tae moist folk (but perhaps nae entirely universal given the sort of states I've seen Skittery Wullie in).
In summary, folks – dinna be manky, use a hanky!
Cheerio!
Cosmo Ludovic Fawkes-Hunt, 13th Earl of Kinmuck
This recent round of inclement weather our great nation has been enduring hasn't half made me proud to be British.
Whilst Mother Nature keeps chucking these infernal storms at us, we Brits meet them head on with a stiff upper lip and some good old fashioned gumption!
The Kinmuck estate didn't escape Ciara or Dennis unscathed, sadly. One of our magnificent banyan trees, situated near the south croquet lawn, fell foul of the gales and toppled on to the bronze effigy of my great-grand-pappy, the 10th earl.
Luckily, we had placed our gillie on night watch, so he was able to save the statue with some judicious chainsaw work, which, it transpires, can be quite tricky to execute safely in the dark – poor chap!
And so, this weekend, the estate braces itself for a meteorological mauling once more, but this time at the hands of some Johnny Foreigner storm, named "Jorge".
What tommy rot! "Jorge" should be back in its own country, blowing off sombreros and knocking over jugs of sangria.
This proud nation neither needs nor wants these immigrant storms coming over here causing damage!
This is not the Brexit I (and on threat of dismissal, all of my staff and their families) voted for.
If our departure from the EU delivers nothing else, it should at the very least ensure that 2021 and beyond sees our shores battered by good, stout-hearted British storms, with proper British names, honouring the architects of our golden tomorrow.
Thus, I'm keenly awaiting the glorious day that we start hearing about the devastation wrought by "Nigel", "Gove" and "Boris"!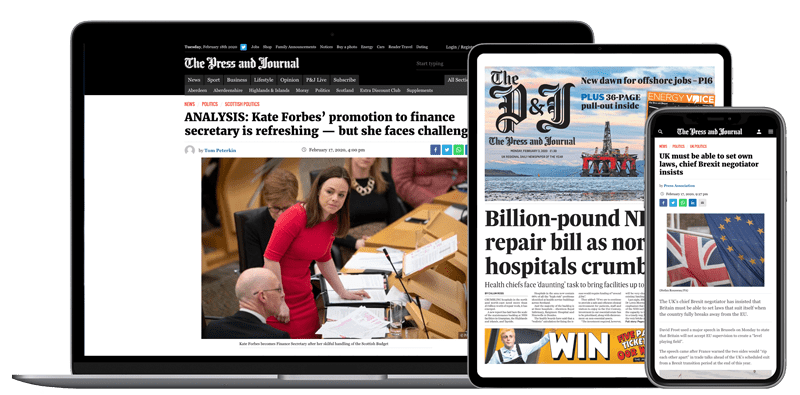 Help support quality local journalism … become a digital subscriber to The Press and Journal
For as little as £5.99 a month you can access all of our content, including Premium articles.
Subscribe