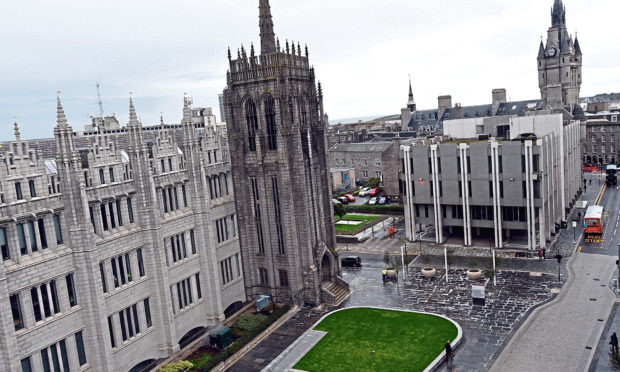 J Fergus Lamont, arts critic and author of "That's Not My Passport" – A post-Brexit book for children
I was stunned this week by a superlative piece of Shakespearean drama in Aberdeen. A number of new venues have opened up in recent times offering performance spaces for immersive theatre, and to such locations as "The Craig Centre" and "The Anatomy Rooms" we can now add the impressive "Town House Council Chamber".
You will not have been aware of it – it has received little if any publicity – but this ornate auditorium is home to "Aberdeen City Council Full Meeting", the most devastatingly satirical piece of ensemble acting I have ever seen, and I include in that the searing "Take The High Road: The Musical".
Monday's performance featured a number of local, non-professional actors, who, though somewhat hesitant and stilted in their delivery, entirely convinced in their performances as underwhelming elected officials taking a Pinteresque approach to approving the "Local Development Plan and Delivery Programme".
I was particularly impressed with the performer in the role of "Lord Provost", who winningly combined impish petulance with an absurdly slavish attention to procedural detail.
Such was the labyrinthine nature of the script I must confess I had difficulty following the main narrative and dropped off on a few occasions, but these slumbers simply underline the immersive naturalism of the piece – it really did feel like I was attending an actual local authority meeting in all its Kafkaesque glory.
The highlight came on the two-hour hour mark when a number of the ensemble stood up to declaim their wish to "register dissent" because of the participation of a particular individual in the voting proceedings.
This character, "Councillor Donnelly", was a pariah, part of the group yet apart from it, invoking other smooth-pated icons of isolation, such as Yul Brynner's King of Siam or Donald Pleasance as Blofeld.
The "Lord Provost", began an impassioned Orwellian speech – the other characters could not express dissent at the thing they were expressing dissent at, but should instead reserve their dissent for something else, his dissenting voice from the chorus of dissent sparking more dissent. These simmering tensions made for gripping viewing, and all the while the silent Councillor Donnelly sat like Banquo's ghost – implacable, unwanted, but seemingly impossible to remove. Like the small tub of elderly egg mayonnaise at the back of my fridge.
I wouldn't hesitate to recommend this production, but please be aware that the actor who appeared in the role has now been written out of future performances. He will be difficult, nay impossible, to replace. Perhaps they shouldn't bother. I wept.
Struan Metcalfe, MP for Aberdeenshire North and surrounding nether regions
Woop woop! I must rush out and buy myself a hat! Joy of joys, our illustrious leader Bojo has announced that he is to be marrying his girlfriend Carrie Symonds next year. And not only that, they are expecting.
Boris is going to be a dad. Again. And he will become the first British prime minister in 250 years to get married in office. I'd have thought they would want to get married in a church. Or maybe somewhere like the Winter Gardens, but each to their own.
Now, what the party faithful have been wondering is: "Who is going to run the country when BJ is on his paternity leave?".
Personally, I hope it's Priti Patel. I like Priti because she's called Priti and she is also pretty. And she is also pretty terrifying. But I suppose that terrible oik Scruffy Cummings is kind of running things as it is, so he'll have it covered.
Given a fortnight's free rein he could probably dismantle the civil service, the NHS and the BBC, but that's a small price to pay for ensuring Boris and Carrie can spend two weeks at home staring at a baby while it sleeps. Or possibly on Mustique, while the nanny does it.
I can't help noticing that, yet again, Boris appears to getting a rather tame time of it from the press. I'd have been have been hauled over the coals backwards in just my Y-fronts amid deep exposes of past love children and jolly cross ex-wives.
Not so for Boris, who has become engaged to be married to one person while actually still married to someone else. Poor form at best, one would have thought, and at worst the plot twist in a Jane Austen novel.
Yet not a hint of opprobrium in the Telegraph or the Mail. Maybe I am being unfair, after all the right wing papers are famously easy-going on unmarried expectant parents with multiple previous failed relationships who refuse to answer questions on how many other children they might have.
Four of Boris's other kids (that we do know about) go by the exotic names of Lara Lattice, Milo Arthur, Cassia Peaches and Theodore Apollo. I wonder what they'll call this one?
Dominic if it's a boy and Dominique if a girl I'll wager, if Scruffy has anything to do with it.
And to be honest, based on current evidence, he definitely will.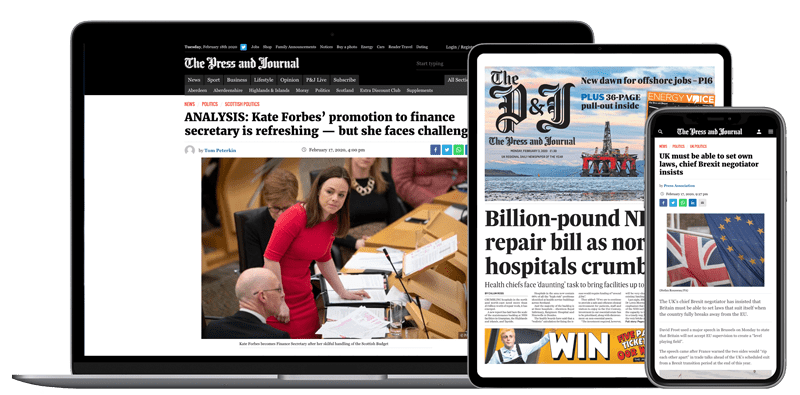 Help support quality local journalism … become a digital subscriber to The Press and Journal
For as little as £5.99 a month you can access all of our content, including Premium articles.
Subscribe