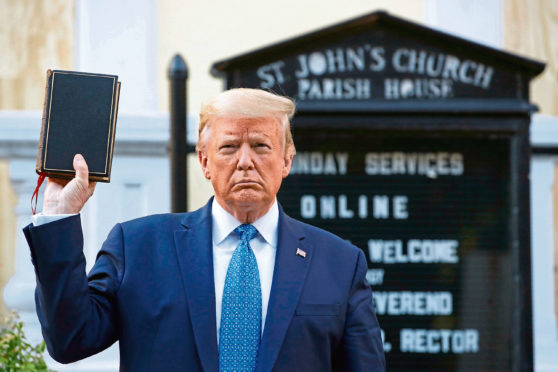 Tanya Souter, lifestyle guru
I da ken aboot youse but in these confusing times I hiv found it useful tae hiv a routine I can stick til ivery day.
In my case 'at means staying in ma onesie, nae gan oot unless it's properly sunny, and sleeping till noon, or as we cry it in our hoose Bargain Hunt.
But change is happening, even though it's lockdown week I-da-ken-fit, here in Scotland we're noo in a cautious phase one.
The hope is that we will eventually work oor wye up tae phase four. In contrast, England is on their equivalent of oor phase one which is level four, and they're hoping tae eventually count doon the wye tae level one fit will be the same as oor phase four, fit is normality, fitever the hell that is.
I hiv been taking advantage o' the easing o' restrictions by socialising on the drying green wi' one ither hoosehold, namely my pal Big Sonya.
I hid her over at the wikend, social distanced of course, and fit rare tae be able tae hear her in person. I couldnae see her o' course cos the grass oot oor backie is noo five fit high.
Also providing much needed respite fae my lang days in the kitchen slaving over a hot Breville toastie-maker, McDonald's his re-opened its drive-thrus!
Weel, I wiznae aboot tae let the fact that I canna drive prevent me from taking advantage, so it's a huge "chee-ars" tae my youngest, Beyonce-Shanice, for selflessly sitting in the three-hour queue for mummy's Chicken McNuggets in her wee pink pedal car.
Looking even further ahead, there is talk noo of pubs possibly reopening this month, maybe jist haein folk enjoying a tinnie files sitting oot in the car park.
Tae be fair, 'at sounds like me and Sonja's Sunday efterneen afore a' this cairry on sterted!
Cava Kenny Cordiner, the football pundit who's starved of his raison d'etre
I can't take much more of this. There's not been no Scottish football for months and the season is now officially Kerplunk. Old Kenny is desperate to provide expert dialysis but with hardly any sport on the go I've found myself well out of my compote zone.
At least it looks like the English football is going to kick off again in a few weeks, with a crowded mixture list to get the season finished. It means the matches will be played behind clothes doors, without no fans or singing – that just isn't going to not feel not like normal football at all. Although, I once went to a midweek game between Livingston and Ross County which wasn't far away.
And now the Codona's virus is subsidising, we can go back out and play golf again!
I couldn't get a tee time at Kemnay on the first day but I'd missed it so much I nipped along to the first tee to do a spot of sociopathic distance commentating for the boys.
Things got a little heated when Dunter Duncan topped his first tee shot, then he topped it again, and again, and again.
I says to Dunter, I says "Dunter, you're standing too close to the ball!" So Dunter changes his stance and looks back at me and he says to me, he says "Is that better?"
"No" I says. "I meant AFTER you hit it!"
The Reverend Edmond Redmond, minister of Holburn North-North East
Boarded-up churches have been much in my mind this week. My own church remains locked and beyond the reach of my parishioners, a situation which may continue beyond the present crisis if plans for a rationalisation of church buildings come to pass.
But more recently my thoughts and prayers turned to events on the far side of the Atlantic, where the president of the US saw fit to have the police forcefully clear away protestors so that he could have unimpeded access to St John's Church – not for prayers or reflection, but for a photo opportunity.
Trump wishes to be seen as a man of law and order and a man of God, and in truth he is a Biblical figure.
But then, so too was Herod.
In front of St John's, he held a holy Bible in a manner I have not seen before.
After a moment's doubt, caused, perhaps, by his being unsure of what was in his hand, he held it up as if it were some sort of cudgel.
At least we were spared the spectacle of seeing him trying to place it over his heart. Perhaps, in his angry dotage, he had a moment's uncertainty as to where that was – or whether he had one at all.
Of course, the concept of people of no real faith using churches as picturesque backdrops for a photograph is not a new one for a minister in contemporary Scotland.
At least, in our case, the occasion is usually a wedding, and the tears are prompted by joy, not CS gas.