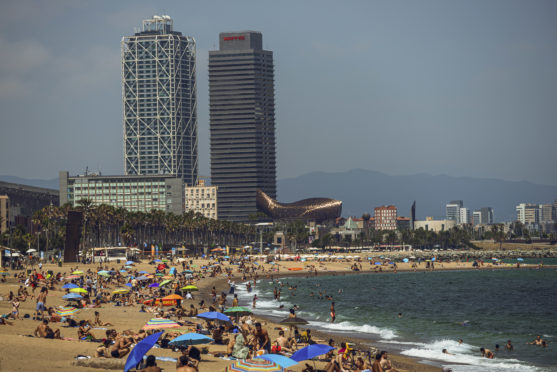 Kevin Cash, money-saving expert and King of the Grips
Fit a cairry on this wik wi' folk moaning they canna ging gallivanting aff tae Spain wi'oot quarantining for twa wiks fan they get hame. Travellers is unhappy cos the government advice changed suddenly efter they'd a'ready booked.
Excuse me files I get oot my tiny violin (and play "Viva España" on it). I dinna see the attraction in swanning aff tae Benidorm in the middle o' a global pandemic masel, but then I am naturally cautious. I dinna leave the hoose tae get ma paper if it looks like it's aboot tae rain.
Fit's the panic aboot gaan tae Spain of noo onywye? OK, it's summertime and the weather is fine, but it'll still be there next year, and if the Spanish economy tanks in the meantime it'll be cheaper, will it?
So tak my advice and dinna ging – ye winna enjoy it onywye, fit wi a' the extra stress o' trying tae stay twa metres awa from ab'dy else – tricky at the best o times, nivver mind fan ye've been at the sangria in the Tiki Tiki Bar in Fuerteventura.
Plus, ye'll end up wi' a massive tan line straight across the middle o' yer face fae keeping yer mask on at the beach. So, unless ye wint tae look like Adam Ant, it's jist nae worth it.
I'm chuffed tae see that the idea o' the "staycation" is catching on this year. Ye dinna need tae leave this country tae hae a good holiday, it's mair responsible fae a public health perspective and I canna be accused o' being grippy for nae booking abroad.
There is much tae appreciate in staying local. In fact, if ye really wint tae follow my lead and mak savings, there's nae need tae leave yer ain hame.
So ye need a tan and ye want the experience o' haein a heat on a Spanish beach? Dinna bother wi dodgy tanning parlours, get into yer dookers and sit in front o' a table lamp. A' ye need is a big bulb. 100 Watts or mair, an' sit real close, nae hass.
If ye wint tae recreate that authentic beach-side vibe, get yersel some sand tae sprinkle aboot. If ye dinna hae a sand pit in yer gairden, ye winna hae tae stray far fae yer front door afore ye find some roadworks fit wis abandoned in lockdoon.
Spread oot yer towel, spray suncream aboot the place and complete the seaside ambience by leaving yer wheelie bin open tae attract the seagulls.
If yer mair intae seeing the sights than sitting on the beach, I've a solution for that an a'. There's nae a foreign holiday destination ye canna visit for free wi' the magic o' Streetview on Google Earth.
It's nae just for checking if next door's extension matches his planning permission. You can use it tae visit fitiver attractions ye wint. Imagine – the Eiffel Tower wi' oot the smell o' drains, the canals o' Venice wi' naeb'dy trying tae sting ye for a hunner notes for a ride in a dolled-up pedalo, and the Leaning Tower o' Pisa free fae American tourists taking photos o' themselves pretending tae hud it up.
Happy holidays!
Ron Cluny, official council spokesman
As a spin doctor for a local authority, I always tell councillors that before they speak, they should have a picture in their minds of what they are trying to communicate.
Over the last few months, I have wondered what tortured image has been in Jackson Carlaw's mind as he has thrashed about like a ragdoll in a washing machine. Something by his namesake Jackson Pollock perhaps, or Picasso's Guernica?
Still, he has at last shown clear-headed leadership and united the nation behind him, albeit only by deciding to quit.
But knowing when you are taking a beating and having the good sense to bow out gracefully is not the least of the political virtues.
Carlaw's resignation has the whiff of integrity, or at least pragmatism and self-awareness, so he's right – he's definitely not cut out for the job.
Now the time comes for a fresh-faced young contender to emerge so that they too can be chibbed by Nicola Sturgeon after being hobbled by their association with Dominic Cummings and Boris Johnson. Or to give them their superhero names, Nosferatu and The Eton Mess.
Still, British politics remains a model of decorum compared with what is going on across the Atlantic.
Recently, President Trump has taken time out from his busy schedule of sending in the Secret Police, boasting about being able to correctly remember some words, pushing unproven virus cures and saying a clear and unequivocal "No, but yeah, but no, but yeah" to masks to get on with the serious business of undermining democracy.
He's floated the idea that maybe they shouldn't have an election just now and it would be better for everyone if he just stays in power a little while longer. Of course, he hasn't totally made up his mind on that idea.
He's just Putin it out there.
Watch the latest performances by The Flying Pigs on YouTube.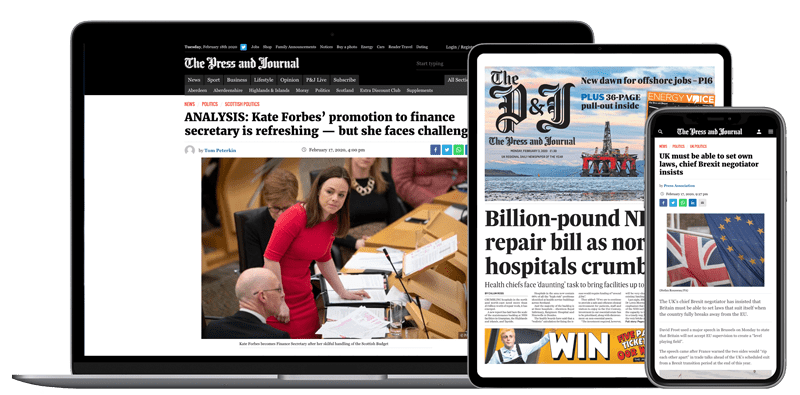 Help support quality local journalism … become a digital subscriber to The Press and Journal
For as little as £5.99 a month you can access all of our content, including Premium articles.
Subscribe