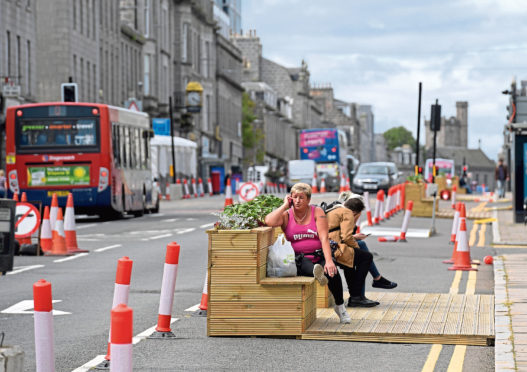 Kevin Cash, Money Expert and King of the Grips
It's dark days for those of us nae "in the office". Cos fan yer nae working, saving yer cash becomes a full-time job.
And I'm running oot of fit little I hae, cos fit wi the lockdoon and empty streets lately I hinna been able tae stand on street corners flogging ma wares; weel nae efter I selt a' that napkins and elastic bands as self-assembly face masks.
So, fit tae dae? Weel, it struck me as I wandered aboot the toon fit a lot of wid there is a'wye these days.
I can mind fan getting a decking in Union Street meant something entirely different. But noo there's a yon seat things.
I've read they cost the cooncil a pretty penny, fit is quite something fan naeb'dy is entirely sure fit the hell they are. They're being described as "parklets", though ye'd hae a job taking yer dog a walk in een.
And fit are the ither, littler thingies meant tae be? The eens like a square table wi' a bittie o' board sticking up?
I'll tell ye fit they are – 350,000 quid tae some lucky beggar fa's supplying a' that wid.
Fit a packet they're making. Apparently, cos the cooncil needed them made quickly "they did, of course, come at a cost".
Noo I'm nae saying nithing, but my pal Mick the Pill his a van load o' timber fit he chanced upon file Ben Reids wiz shut, and he's jist the kind o' boy I can imagine sucking his teeth and saying "cost ye" tae ony cooncil wonks seeking 136 wooden structures for Tuesday wik.
If I ging round there and he's suddenly got gold taps, a hot tub and a massive telly, I winna be happy. Mainly 'cos I niver thocht o' it first.
Struan Metcalfe, MSP for Aberdeenshire North and surrounding nether regions
Now, look here, life is never going to be fair.
Is it fair that English private schools still came out on top, even when the shambolic grade-deciding algorithm was reversed? No, it isn't.
Is it fair that baby boomers had a state- funded university education and bought their massive four-bed homes for thruppence and a rusty knife while millennials whose degree came with a tonne of student debt get only a debilitating lack of hope for the future? Not in the slightest.
Is it fair that I, Struan Metcalfe MSP, have miraculously held on to my marriage and career despite a string of affairs, an aversion to work and a substance misuse problem that would fear Robert Downey Jr? Forget that last bit, you take my point.
So the difference between the type of Covid-19 lockdown that Glasgow gets compared to Aberdeen's was never going to be fair, either, was it? I hear the term "central belt bias" being used a lot up here and, by Gove, it makes me chuckle.
Look, let me be absolutely clear on this, you can't be fair to everyone. It's not fair to expect that of your politicians.
Whatever they do, someone's going to end up with the feculent end of the baton. That doesn't mean they're biased against you, it just means that they don't think you're going to vote for them so they don't care about you.
Think about it, what alternative did La Sturgeon have? Tell Glaswegians they can't go to the pub in an election year? Be fair!
Pip pip!
Shelley Shingles, showbiz correspondent and Miss Fetteresso 1983
Oh. Em. Actual. Gee! Don't get me wrong, I take this whole pandemic stuff as seriously as the next showbiz correspondent, but would it kill us to have some good news now and again?!
It's all "increased R number" this and "excess death rate" that! Thank Instagram, then, for news that always puts us in a good mood – the patter of tiny celeb feet!
First of all, American songstress Katy Perry announced that her and actor hubby Orlando Bloom have welcomed little Daisy Dove to the world! Daisy Dove is such a lovely name for the wee toot – and also two of the costumes Katy wore on her California Dreams tour!
But the celebosphere wasn't done yet! Ginger megastar Ed Sheeran revealed that he'd just become a dad to little Lyra Antarctica Seaborn Sheeran.
They are eccentric names, but after he cried his albums things like "Plus", "Multiply" and "Divide" the little cherub will just be glad she's not called "Square Root"!
Me and Ed go way back. I first met him at Burger King in Union Street in 2012. He had nipped in for a bacon double cheeseburger before his gig at the Music Hall and I was between modelling jobs, helping out a pal, by working in Burger King.
It was before his global success, of course, but I knew who he was from the Queen's Jubilee concert.
I'll never forget what he said to me; because I kept his till receipt.