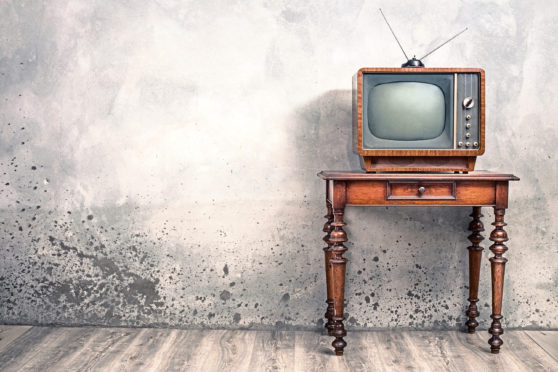 View from the Midden with MTV's Jock Alexander
It's been a mingle free wik in the village, but we're sanguine aboot the new restrictions. As a rule, we dinna let een anither in wir hooses onywye. It saves on the hoovering.
Noo, if they'd banned large groups of aminals fae meeting inside, we'd be in trouble. So it's good news for Skittery Wullie, fa widna wint tae lose the central heating benefits he gets fae gi'eing a dizen pigs the run o' his kitchen.
But onywye, I hiv found news aboot ither kinds o' transmission of mair interest this wik – like in the Welsh village fit lost its broadband every morning at 7am.
Efter 18 months of investigations, they finally sent in a crack squad o' engineers fa discovered that some auld boy's telly wiz affecting the signal, and the problem wiz instantly solved by turning the damn thing aff.
Though presumably they had tae wait until the valves hid cooled doon and the wee white dot hid gone awa afore they unplugged it.
As I've said afore, here in the village wir broadband is nae reliable, and we've hid a succession o' baffled mannies in Open Reach vans poking aboot tae nae avail in the intimmers of the green metal box full o' wires fit maks wir electricity go.
So this story had me pondering the possibility that the culprit might be Feel Moira's telly.
Having been passed doon fae her mither's mither, it is a gigantic mahogany-panelled monstrosity, like the eens ye used tae get on Sale O' The Century wi' Nicholas Parsons.
The height o' sophistimacated modernity fan Mary Berry wis a quine, it squats in the corner o' her scullery fizzing and popping, wi' a cathode ray tube the size o' a Fiat Panda, and dial for manually changing the channels ye need twa hands tae turn.
Pit it this wye, I dinna think it's digital.
Noo, apparently the auld boy's TV set fit wiz cancelling out the broadband signal wiz emitting something cried "single high-level impulse noise".
Fit is a fairly accurate description o' the sounds ye get fae Moira's hoose, usually featuring a mix of welding, sawing and barking. Which we tend tae ignore, especially as she disnae hae a dog.
So a' the evidence points in her direction. The question is, fa's ga'an tae tell her?
Cheerio!
Shelley Shingles, Showbiz Correspondent, Miss Fetteresso 1983
Oh my actual G! I don't usually follow the football headlines, not since Becks retired and John Terry went back to his wife, but there's been an exciting and unexpected development that might just get me looking at the back pages of the papers again!
Movie star and all round hunk Ryan Reynolds has made a bid to take over a Welsh lower division football club! Yes – you read that correctly.
Hollywood comes to Holyhead! From Deadpool to Pontypool! The headlines write themselves, as long as you've got both IMDB and Google maps open.
I have to say, I didn't even know where Wrexham was, and it took me ages to find it on the map (most people don't know this, but the W is silent).
I just hope for the Wrexham fans, all 300 of them, that Ryan Reynolds is in it for the long haul.
Celebs can have a very short attention span and can quickly get bored of their playthings.
Like Amal Clooney and her role as the UK Government's special envoy on media freedom, or the time Wet Wet Wet sponsored Clydebank.
I've never had the pleasure of meeting Ryan, or Amal, but me and Marty Pellow go way back. I first met him in 2013 when he was playing Cheesy Guava in a touring production of Evita and I was working as a make-up consultant.
I got to apply Marty's Leichner Number 5 every night for a fortnight. I'll never forget what he said to me as he sat down in the make-up chair before the second performance:
"Go easy with the lip-liner, this time hen. Last night I went out there looking like Melvyn Hayes in It Aint Half Hot Mum!"
Wise words from a true gent.
Jimmy Hollywood, Sandilands most eligible postie
Ah, Freshers' Wik! Jimmy minds it fine. It used to be een o' the highlights o' Jimmy's calendar – Fit a mental wik it wiz back in the day.
Swicking intae the Union wi' a fake student pass and chatting up intellectual type lassies files drinking Snakebite and Black fae a plastic pint gless.Magic.
But this wik, Jimmy is affa gled he is too aul for a' that. The 'Rona wiz ayewis gaan tae be rubbing its spores thegither at the prospect o'hunners o' randy teenagers getting awa fae hame for the first time.
So it's nae surprise that there his been ootbreaks at Glasgow Uni, Parker House Halls in Dundee and noo Hillhead in the 'Deen.
Jason Leitch, Scotland's national clinical director, issued some top Freshers' Wik tips for the students.
He telt them: "Stay in, stay apart, sleep alone, keep cleaning". Good advice, but it's a bittie naive, is it?
I mean, Students? Cleaning? Wise up!