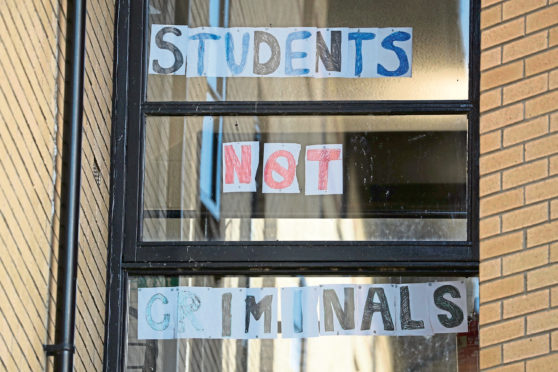 Tanya Souter, Lifestyle Correspondent
I da ken aboot youse, but I'm thinking this year can jist swivel, can it? Watching a' yon MPs on telly shouting at each other jist minds me on breakfast time fan I'm trying tae get my youngest tae stop sticking Coco Pops up the dog's nose.
Although tae my surprise I think I might funcy Keir Starmer a bittie. It's probably cos unlike the rest o' that shower o' chuncers, he can spik in coherent sentences. Plus he looks like he could be the prime minister, if nae in reality, at least in a romcom.
But ony problems I might hae are as nithin' next tae those o' the peer students. It's a richt shame for them, is it? I didnae ging tae the varsity masel. Only time I ever spent on campus wis as a lookoot for my ex Darren fan he wis trying doors on The Chanonry.
But look fit's happened – mair than 750 students in Scotland hiv tested positive for the virus, and there's thoosands currently forced tae stay in their tiny wee rooms, locked in a'hind massive metal gates patrolled by security guards.
Weel my pal Big Sonya kens exactly fit at's like, seeing as she spent some of her youth similarly detained, but wi'oot the Ikea bedding and posters o' Che Guevera.
And at least she didnae hae tae pay rent files she wiz in there. Understandably, the students are nae happy and are using post-it notes tae write messages on their windaes.
Sonya did something similar in her cell fan she wis protesting but I'm nae gaan intae details, cos it's gadsy.
Onywye, I wiz nae surprised tae read aboot a' the student perties that police hiv hid tae brak up – hunners heain a late-night rave in Coventry? Weel, fit else are ye gan tae dae wi yersel' in Coventry?
And there wis perties in student halls in Edinburgh and here in Aiberdeen, so some folk are moaning aboot that.
But hiv they forgotten fit it's like tae be young, and free, and fit enough tae down 12 Bacardi Breezers in a nicht without chundering? Fair play tae them, I say. If it wisnae for hangovers, kids, and a 9am interview at Ebury Hoose, I'd still be daen it the day.
All in all, I widna want tae be a student of noo. Cos even after a' this is over and they let them oot, there winna be nae jobs. So it's jist lucky that my twa hivnae shown ony aptitude for higher education.
Unless they stert offering degrees in joyriding cars or shoplifting, of course. Mind you, they might. Cos fan the hale economy is in the sludge, those are traditional skills fit will be very much in demand.
J Fergus Lamont, arts critic
As my penchant for savouring the performing arts enters its seventh month of enforced abstinence, I have continued to plumb new depths in attempts to satiate my thirst for a cultural fix. Ashamedly, the gogglebox was once again my makeshift stage.
After sifting through several dozen channels of insufferable bilge, I chanced upon an enthralling piece of small-screen satire that kept me up well into the wee small hours!
You won't have heard of it – it received little in the way of advance publicity, but the wonderfully anarchic "The Presidential Debate" may be the most gripping piece of dystopian drama I have ever seen.
Set in a dystopian version of the present day US, the piece cast a pair of septuagenarian gentleman as protagonist and antagonist in a mock televised debate between the incumbent president and his challenger.
The actors were sensational, and beyond convincing in their roles.
I truly believed that the "Joe Biden" character really was the exasperated leader of the opposition, bemused as to how on Earth his opponent, the verbally-incontinent conman "Donald J Trump", could possibly have risen to power in the first place.
The actor portraying the Trump character had what can only be described as a triumph. He took the director's vision of a petty, self-aggrandising despot and brought him to sputtering, petulant life.
I haven't seen an actor so effectively portray such a straightforward personification of villainy since Derek Lord's chilling Sneddon in Take The High Road. The title, of course, was a deliberate misnomer – like Bombay Duck or "The Right Honourable Boris Johnson" – as the conduct on display could hardly have been less presidential, and it wasn't a debate in any true sense, rather the squabbling of infants arguing over whose turn it is to be cop or robber.
After 90 minutes of this exhausting drama, I was spent, and went to bed reeling at the chaos of it all. Ultimately, overcome with gratitude that we don't live in the horrific dystopia depicted in "The Presidential Debate", I wept.