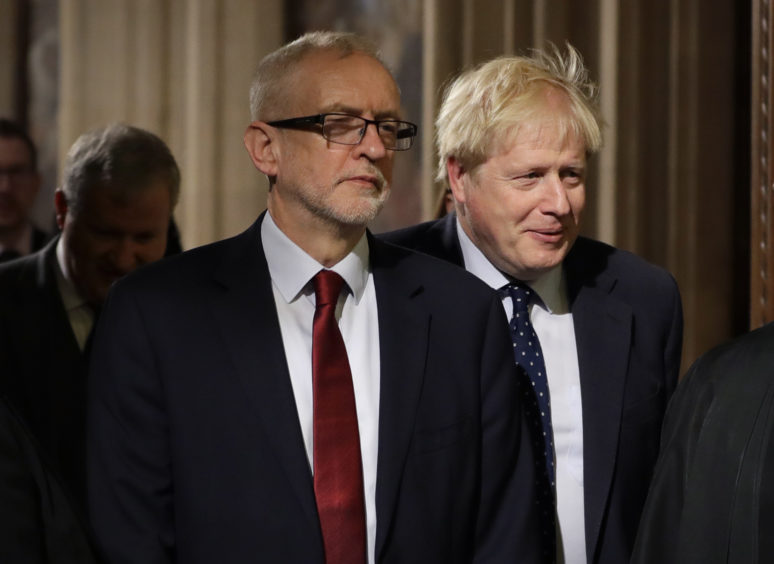 "We live on an island of 60 million people yet this election has come down to a choice between these two," was how one world-weary member of the Holyrood press corps characterised tomorrow's vote.
The scorn dripping from his voice could not be disguised. How come the race to become prime minister had amounted to a contest between two such deeply flawed individuals as Boris Johnson and Jeremy Corbyn?
That question will be asked by similarly exasperated voters as they troop to the polls in a few hours' time for a winter election that few people wanted and from which the Christmas spirit has been entirely absent.
Unfortunately this has been a campaign marked by some pretty unedifying "highlights".
On the one hand voters have witnessed Mr Corbyn being forced into an apology for anti-semitism, his indecision on Brexit and Scottish independence as well as confusion over Russia's potential involvement in the release of documents used by Labour to attack the government.
On the other, there has been Mr Johnson's refusal to be grilled by Andrew Neil on the question of trust, his thoughtless reaction to the plight of a young pneumonia sufferer and a senior civil servant accusing the government advancing misleading arguments about Britain's EU negotiations.
No wonder there is a feeling of frustration about the choice on offer. Another person to profess exasperation at this election has been the SNP's Nicola Sturgeon.
Throughout the campaign she has described the Johnson versus Corbyn battle as a choice between "the devil and the deep blue sea".
Of course, it is in Ms Sturgeon's interests to talk down the leaders of the UK's two biggest political parties given that the SNP is locked in battle with them in Scotland.
But the SNP leader hasn't been simply referring to the suitability of Mr Johnson or Mr Corbyn for high office when she has delivered her verdict on their characters. She has used the phrase when discussing the dilemma of who the SNP would actually put into government in the event of a hung parliament.
The possibility of the SNP acting as kingmakers at Westminster has brought an intriguing dimension to recent general elections.
Given that one of her key campaign messages is to "block" Mr Johnson from getting to Number 10 and her party's traditional antipathy to the Conservatives, it is no surprise to anyone that Ms Sturgeon has ruled out working with him.
But her distaste of the "devil" in the form of Mr Johnson means she is prepared to dive into the "the deep blue sea" through her proposal for a progressive alliance with Mr Corbyn.
So although she disapproves of the way Mr Corbyn has handled Labour's anti-semitism issue and is unimpressed with his "Aberdeen tax" for the oil industry she is still prepared to do business with him.
Factored into the SNP's conclusion that Mr Corbyn happens to be the lesser of two evils is his flexible attitude to the Scottish independence question.
In contrast to the Conservatives' outright refusal to contemplate a second vote, the variety and number of positions Mr Corbyn has adopted on independence is Karma Sutra-esque.
Therefore Ms Sturgeon has good reason to believe that her drive for indyref2 is far more likely to succeed if she can help Mr Corbyn on his way to Downing Street.
But propping up Mr Corbyn is not without risk. Even if Mr Corbyn were to play Santa and give Ms Sturgeon the independence referendum she says she wants next year, it would not be plain sailing for the SNP.
With Labour in charge, Scottish voters would suddenly be facing re-runs of both the 2014 independence referendum as well as a re-run of the 2017 EU vote.
Quite how political events of such magnitude could be squeezed into the next few months without more chaos ensuing is difficult to see. The SNP still faces difficult questions about the economics of independence, Scotland's future relationship with the EU and a potential border with England.
A weekend poll by YouGov suggested support for Scottish independence has fallen, moving from 49% to 44%. Clearly more work has to be done before Ms Sturgeon is in a position to fight a second referendum and be confident of winning.
Moreover there is the risk that hopping into bed with Labour will not play well with moderate voters, who are yet to be persuaded of the merits of independence.
On the other side of the equation, there are some crumbs of comfort for the SNP if Mr Johnson does emerge, as the polls predict, emerges with a majority on Friday morning.
For starters the SNP would maintain the purity of isolation and be spared any damaging fall-out from working with Labour.
And if Mr Johnson does make it to Downing Street Ms Sturgeon would simply plough her energy into winning as many seats as she can at the Scottish Election in 2021 in the hope of returning a pro-independence majority. This would give the SNP more time to build a more convincing case for independence.
In the meantime, the election has proved an almighty distraction from the exceptionally serious domestic problems plaguing the SNP – the Queen Elizabeth University hospital scandal, Edinburgh Sick Kids hospital delay and education failings identified by this month's PISA report.
Perhaps the best thing that can be said about the polarising and unpleasant election of winter 2019 is that very soon it will be over.