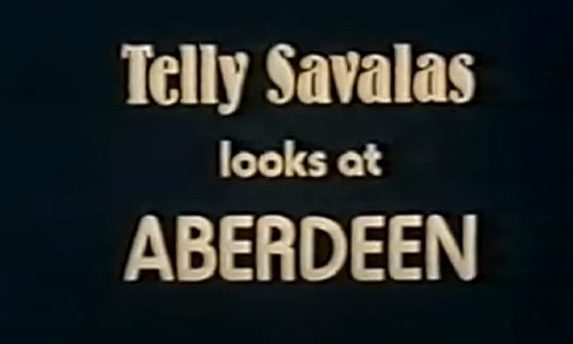 Who loves ya, baby? Well, Kojak loved Aberdeen.
Or so Telly Savalas, who played the iconic lolly-pop sucking detective, told the world in a short film made 40 years ago.
In fact, the actor – who reigned as the TV detective in the 70s –said in the travelogue he'd been "captivated by everything I saw" and concluded "I'll be back, that's for sure".
Which is ironic, considering he never actually set foot in the Granite City at all. In fact, he recorded his voiceover for Telly Savalas Looks At Aberdeen in London in 1980, part of a series of short films the actor was signed up for, including him looking at Birmingham and Portsmouth. They were shown in cinemas the length and breadth of Britain as fillers before the big movies of the day.
Telly's whistle-stop tour of Aberdeen offers a fascinating glimpse into the city just as the oil boom was exploding. It starts with the actor sonorously declaring "with a past both romantic and turbulent, Aberdeen is one of the most fascinating places in Europe," before viewing the harbour through the arch of Torry Battery.
"Black gold is much in evidence in the docks of Europe's offshore capital," he intones alongside footage of traffic heading for the harbour, helicopters taking off and pipelines being laid outside the city.
"Time has overtaken Aberdeen's first suburb" he says, as a resident walks along a Fittie street in the shadow of giant silos – although Telly does carefully pronounce it Foot-Dee.
"The residents don't say 'tanks' for the memory anymore," says the actor in a pun-riddled script by producer Harold Baim, before name-checking the city's other major industries including fishing, ship-building and papermaking.
Other sides of the city's life are not forgotten from a montage of Grampian Police, its pipe band, salmon fishing on the Dee, the blooming rose gardens of Duthie Park in the  day and then Union Street shoppers, dodging the council's buses in their green and cream livery.
The short ends with Telly going full Kojak mode with "so long Aberdeen… and here's lookin' 'atcha."
His "look at" had its origins in a mundane fact of life for cinemas in the early 80s. If you remember those shorts and travelogues which were screened while you were gulping down Kia-Ora, they weren't there just for fun.
They had to be shown by law, to help bolster the UK film industry from the flood of American movies in an act first brought in in 1927. These "quota quickies" were often cheap and poor quality,
Harold Baim, was the king of these shorts from the 1960s on and, knowing they would be shown alongside major feature films shot in California, he wanted them to look as cinematic as possible, shot on widescreen – and only on sunny days.
Which is probably why Aberdeen was so glorious when Telly took a look at it – with the city council sending around 50 or 60 copies to cities around the world as a showcase for Aberdeen as the oil capital of Europe.
The city also looks new, vibrant and exciting when it featured in another short documentary made 10 years before the Kojak actor's star turn. Despite lacking a big name, the educational film – simply called Aberdeen  – was recently named as one of the "top 10 most watched films" in the BFI's Britain On Film project, funded by the National Lottery.
One thing completely missing from the 1970 film, though, is any mention of oil, in a glimpse into the world before Black Gold was a thing in the north-east, when fishing, farming and papermaking were king.
Produced as a documentary for schools in the colourful Cities Of Scotland series, it traces Aberdeen from its earliest origins up to the then ultra-modern city of the 70s.
Watched 50 years on, one striking thing is, for all we think it has changed, just how much the city of half a century ago looks like the one we know in 2020.
A bustling shot of Union Street – and those green buses again –  looks very familiar, albeit you can see the sign for the old ABC Cinema, shoppers are still flocking to C&A's, Willerby Tailoring,  and the fashion in the summer sunshine is very, well, 70s.
Other echoes of lost landmarks include a crowd sitting in the warm sunshine in Union Terrace Gardens watching a concert in the long-vanished bandstand.
In 1970, a full-on market is still pulling in shoppers to the "old world atmosphere" of the Green, "once the original borough market and later in the 19th century a fashionable part of the city."
A look at local schools gives an insight into education of the day – including a swimming lesson in a packed pool that would give health and safety experts a fit today. The documentary says "The people of Aberdeen and the north-east have always laid great store on a sound education, so the city is well-endowed with fine schools and colleges."
To prove the city's  "progressive and pioneering school system" it shows footage of pupils in hands on lessons at Walker Dam Infant School and the now vanished Summerhill Academy.
The harbour features prominently, too, although here it is not oil but fishing that takes centre stage with the market in full swing, boxes of fish on the quayside and ice being loaded onto fishing vessels to preserve the catch at sea. The only oil mentioned is "fish oil refining".
Another lost industry is Rubislaw Quarry. The film shows quarrymen carving out stone, with an alarming lack of PPE, from the place that produced "the granite to cobble the streets of London in the 18th century" while telling viewers "from this hole was carved the beautiful city" of Aberdeen.
It wasn't all work back in 1970, of course. The golden sands of the silver city are shown crammed tight with sunbathers and holidaymakers, highlighting its heyday as a tourist resort.
And Hazlehead Park is put firmly in the spotlight, especially as home to Aberdeen Zoo, opened only four years before the film was made, but closed in 1977 and still much lamented by many Aberdonians today.
Footage shows visitors getting up close and personal with seals, chimps and parrots under the ethos that "the animals appear free and natural as one of the basic aims of the zoo is to have them among people and not separated by concrete and iron bars."
The film is peppered with fascinating facts about Aberdeen's origin. Did you know St Machar had a dream he should build a church where the river was shaped like a shepherd's crook so that's why the cathedral is where it is? Or that King James IV in a letter to the Pope asking permission to build a university in Aberdeen described the locals as "rude, ignorant and almost savage."
How about Grampian Police being the first to pioneer radios in patrol cars?
The film concludes by contradicting King James IV. "The people of Aberdeen are warm-hearted and proud and generous, despite popular belief."
"Aberdeen is a place of beauty, a city of contrast, with a humour of its own. A place to be remembered."
Which really does underline how little has really changed in 50 years.
TELLY SAVALAS
Instantly recognisable as the tough New York City detective, Kojak, Telly Savalas was born in the Big Apple in 1922.
The son of Greek immigrants he and his brother used to sell newspapers and work as shoe shine boys to support their family.
In 1941 he joined the US army and served in the Second World War before being discharged in 1943 after being severely injured in a car crash.
After the war he hosted a TV series for ABC News called Your Voice Of America, then became a senior director of news special events for the station.
He wasn't even thinking about an acting career until asked if he could recommend an actor who could do a European accent. When his friend couldn't make it, Telly covered for him and ended up being cast in an episode of Armstrong Circle Theatre.
From there he became in demand as a guest star on TV shows including Naked City and Sunday Showcase, before graduating to films. His movie debut saw him playing a cop alongside Burt Lancaster. The two of them teamed up again for Birdman of Alcatraz, which saw Savalas nominated for an Oscar and Golden Globe for best supporting actor.
Other notable films included The Greatest Story Ever Told, playing Pontius Pilate where he shaved his head for the first time and kept it that way for the rest of his life. He was also in The Dirty Dozen, The Scalphunters, On Her Majesty's Secret Service and Kelly's Heroes, with Clint Eastwood.
He became a household name and global star through Kojak, the tough detective with a taste for lollipops (the actor ended up with three cavities because of the gimmick) and his unforgettable catchphrase "Who loves ya, baby." It was one of the most imitated sayings around the globe during the 70s.
During the show's five year run, Telly earned an Emmy and two Golden Globes for best actor in a drama series.
In 1975, he branched out, briefly, into a chart career, with his spoken word version of If, reaching number one in the UK.
After Kojak was cancelled in 1978 Telly's career waned and he appeared in many smaller film and TV roles and commercials on US television.
The actor, who was married three times,  died in 1994 the day after his 72nd birthday, due to complications of bladder cancer.