Pot-bellied Fifer Jocky Wilson became the king of the darts world but should it have been Sir Jocky?
Jocky's greatest rival Eric Bristow became the first darts player to be honoured by the Queen when he was awarded an MBE for his services to sport in the New Year's Honours List in 1989.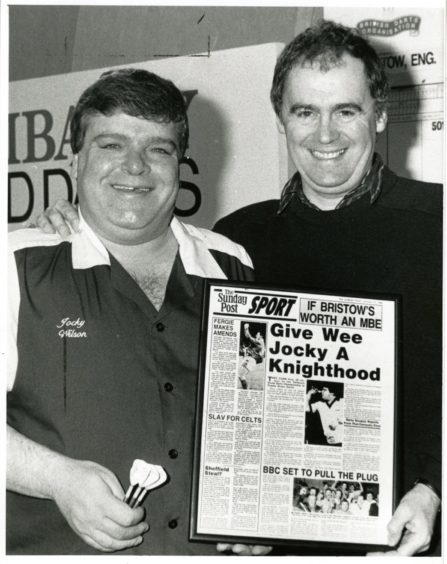 Jocky would go on to defeat Bristow in the final to clinch his second world title at Lakeside which prompted the Sunday Post back page to proclaim: 'If Bristow's worth an MBE give wee Jocky a knighthood'.
Legendary darts commentator Sid Waddell presented the Kirkcaldy arrows ace with a framed copy of the back page at the World Championship.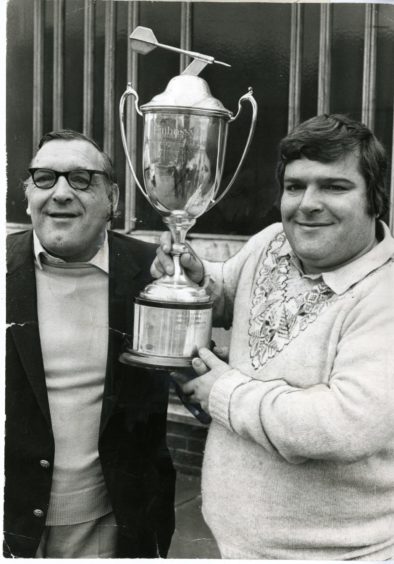 The campaign is being remembered to mark 25 years since Jocky made his final TV appearance when he lost to Nigel Justice in the second round of the World Matchplay in 1995.
He never formally announced his retirement from darts but simply departed from the sport and returned home to Kirkcaldy where he was declared bankrupt in 1998 and then survived on a disability allowance.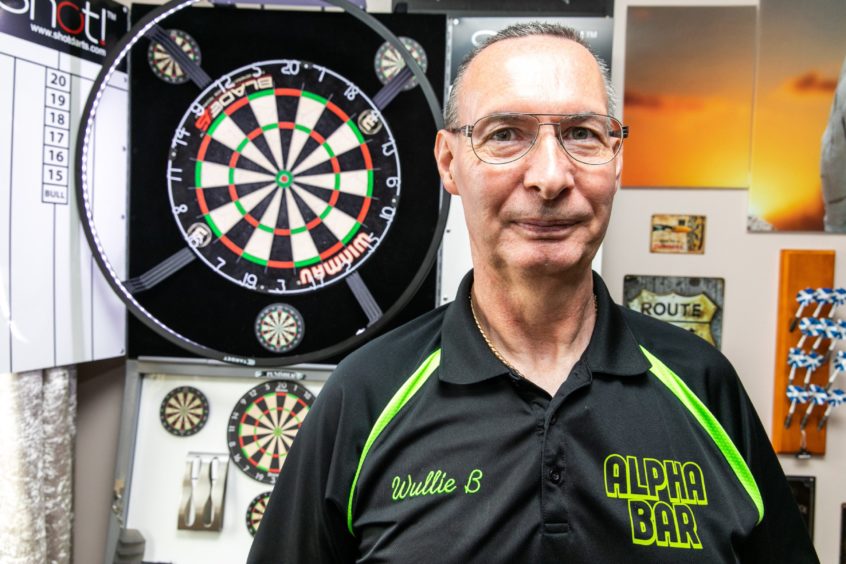 Jocky's friend Wullie Burness, who runs the Jocky Wilson Appreciation Society Facebook page, said Jocky's legacy should be honoured with a statue in his home town of Kirkcaldy.
He said: "I first met Jocky in 1975 and in 1977 I beat him in the final of the Kirkcaldy Singles then we played together in 1978 at the Alpha Bar in Kirkcaldy where we won the Scottish Evening News Championship.
"The next year we played for the Path Tavern which was a great team and we both played counties for Fife.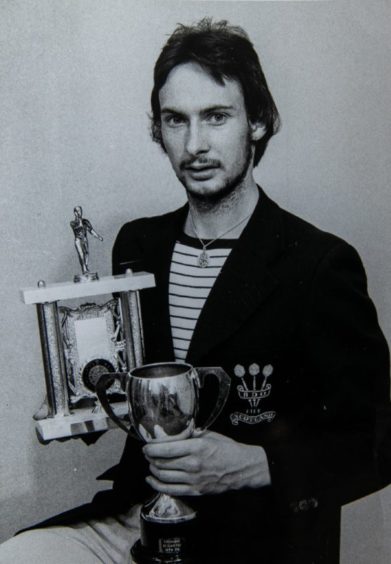 "Jocky remains loved by everyone as he was one of a kind and no-one will surpass what he brought to the game in excitement and character.
"He was one of the greatest darts champions of all time and if only I had taken on being his manager he would have been more at ease with his game.
"One day we were playing in Denmark and he asked me to manage him but I said no as I was enjoying my darts at that time and it would have taken a big commitment to manage him.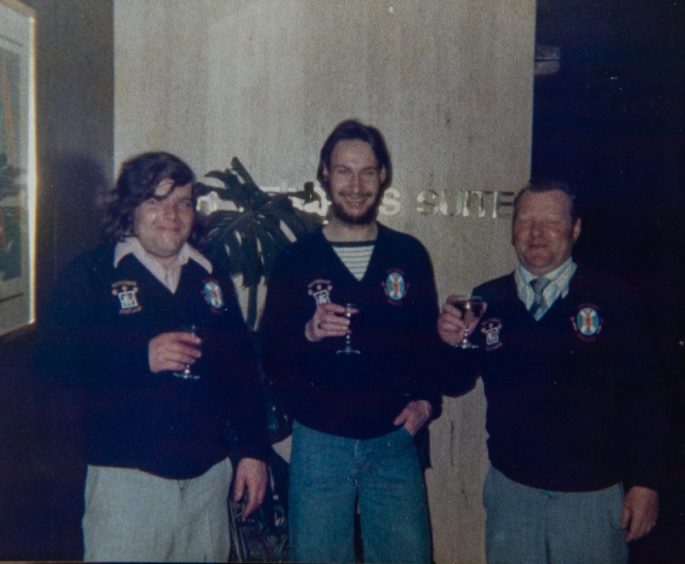 "At darts Jocky will never be bettered.
"Jocky captured the public imagination as the most unathletic player on show.
"But if there was ever a poll on Scotland's greatest sportsman he would be up there at the top as everyone loved him.
"An admiring Scots poet wrote proudly of him: 'He's sixteen stain of fat and pain'.
"It would have been something if he had got a knighthood and well-deserved just like Andy Murray who got one after winning Wimbledon."
Wullie said 'old school' darts is long gone and the game nowadays is completely different from Jocky's heyday in the 70s and 80s.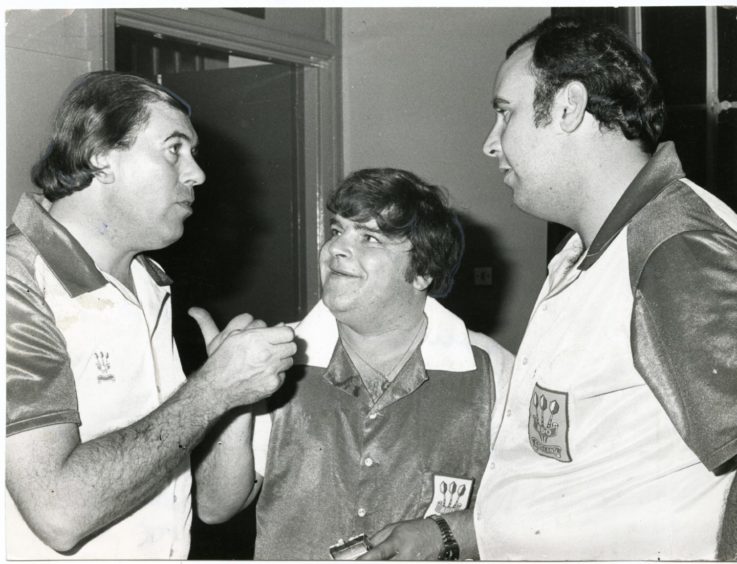 "There were great players back then with character and style but Jocky was unique," he added.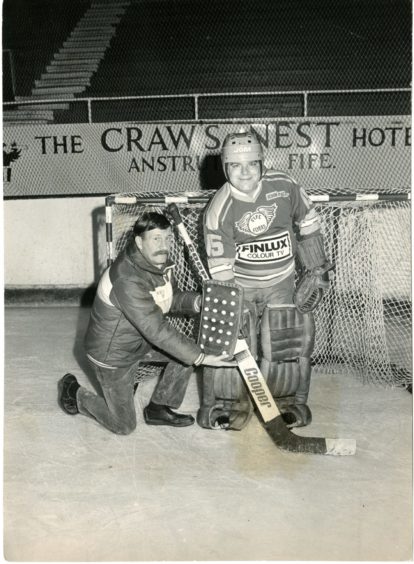 There have been regular suggestions over the decades that his amazing achievement should be formally recognised in his hometown, but none has been forthcoming.
A statue in his honour is one of the ideas which has been floated in recent years, although it has previously been ruled out, due to the expense.
---
'My gran told me the English poison the water'
John Thomas Wilson was born in March 1950.
His parents were deemed unfit to raise him and he spent much of his childhood in a home.
He began playing darts in a local pub in Kirkcaldy where the landlady supported him by giving him a used board to practise on.
Jocky served in the British Army from 1966 to 1968 and also worked as a coal delivery man, fish processor and a miner at Kirkcaldy's Seafield Colliery.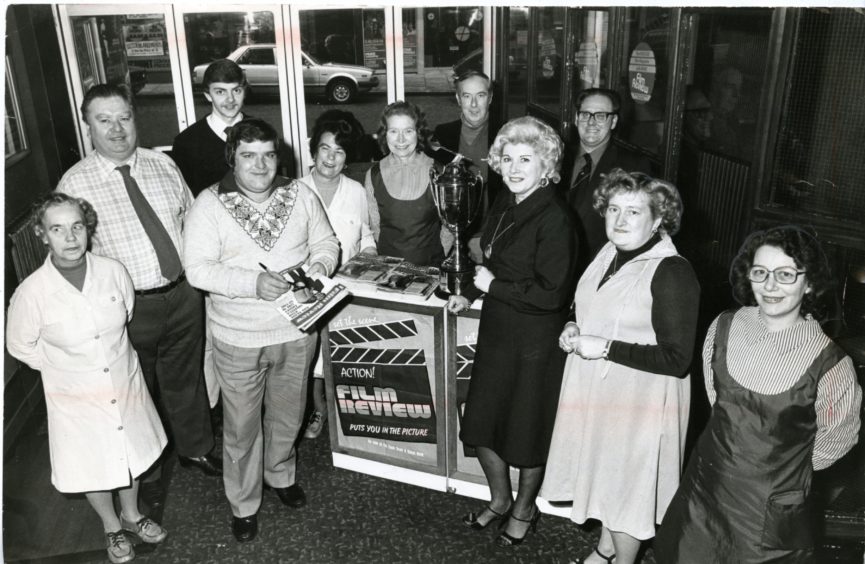 However, it was a spell out of work which was to prove the catalyst to Jocky achieving darts greatness when he entered a competition at Butlins in Ayrshire in 1979 and won the top prize of £500.
His success convinced him that he should turn professional and by the end of that year he was in the top eight in the world.
When Jocky threw a double 10 at the Jollees Cabaret Club in Stoke-on-Trent in January 1982 to win the world darts title, his life changed forever.
His 5-3 defeat of the legendary John Lowe elevated the 31-year-old Scot to household-name status during an era when his sport was attracting regular terrestrial TV audiences in excess of eight million.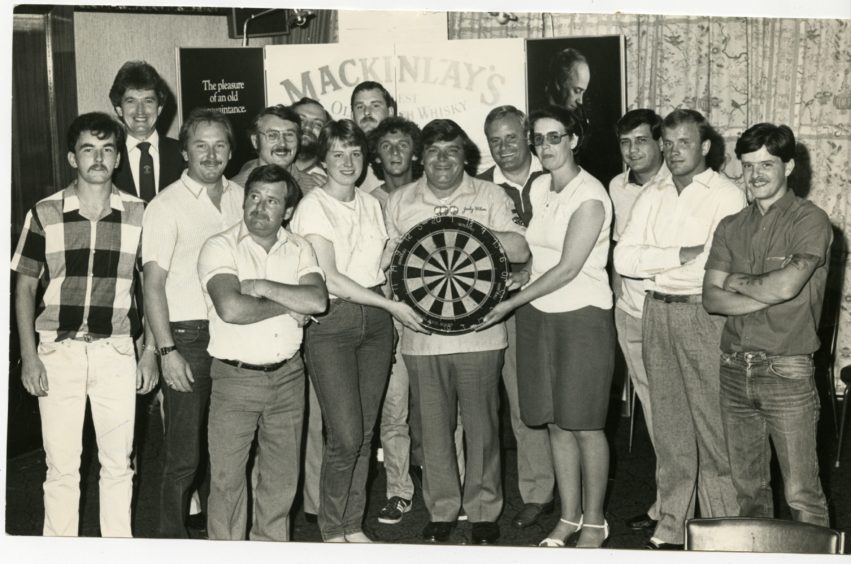 "They'll be singing, they'll be Highland flinging, all over Scotland for this lad," Sid Waddell proclaimed.
Jocky handed his darts when he came off stage to his friend Jimmy Skirving who played in pubs with him such as the Alpha Bar and the Lister.
Later that year, Jocky was temporarily banned from competing in tournaments after he allegedly threw a punch at an official during a championship.
It was at the time of the Falklands War and the incident was taken to be a reaction to Jocky being under intense pressure because he was married to an Argentinian woman named Malvina (the Spanish name for the islands).
He was known as Gumsy because of his constant sweet-eating and refusal to brush his teeth. He once said: "My gran told me the English poison the water."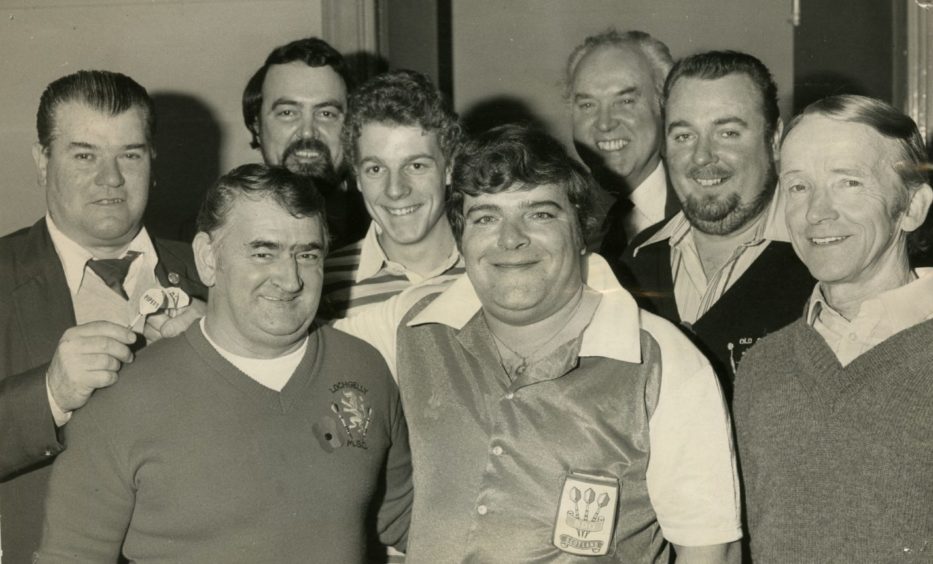 He had lost his last tooth by the age of 28 and, following the 1982 triumph, Jocky paid £1,200 for dentures, though he never took to them.
He complained that they made him belch when he was drinking and, once while celebrating a victory, they flew out of his mouth and on to the oche.
Jocky's regular alcohol intake during his heyday at the oche in the 1980s was lager chased by "seven or eight vodkas to keep my nerves so that I can play my best".
After defeat in the 1984 world darts semi-final to Dave Whitcombe he fell off the stage.
Jocky kept downing the pints, his game got poorer and he eventually lost 5-4.
But when the cameras turned round he'd disappeared.
Jocky was so drunk he'd fallen off the stage.
"Vodka has been Jocky's downfall," said Jocky's manager Mel Coombes.
"He's been with me for a year now.
"I've taught him to eat, 'cos he never used to bother."
Other Jocky anecdotes include the time he kicked Bristow's leg before they were due to play, forcing his pal to shake hands on stage with a bleeding shin.
His second world championship victory against Eric Bristow in 1989 had been a reward for Jocky's incredible consistency at the tournament.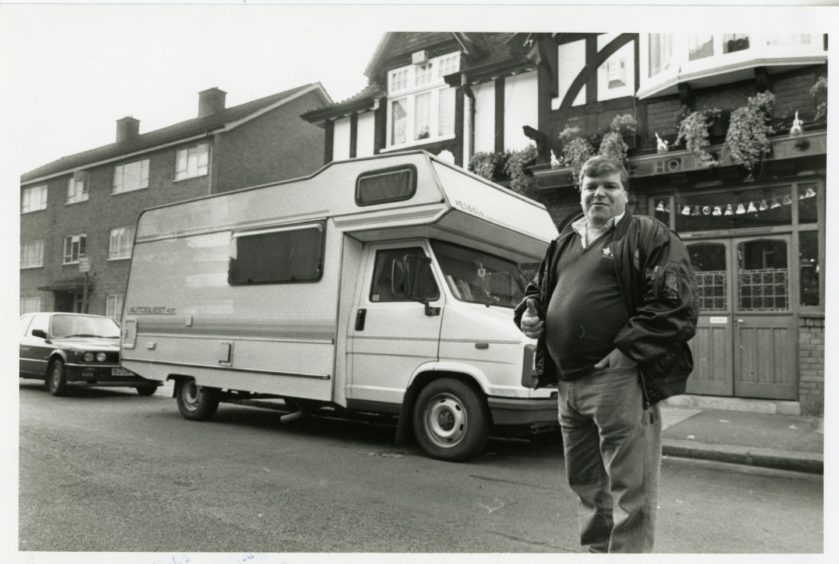 From his debut in 1979 until 1991 he managed to reach at least the quarter-finals on every single occasion.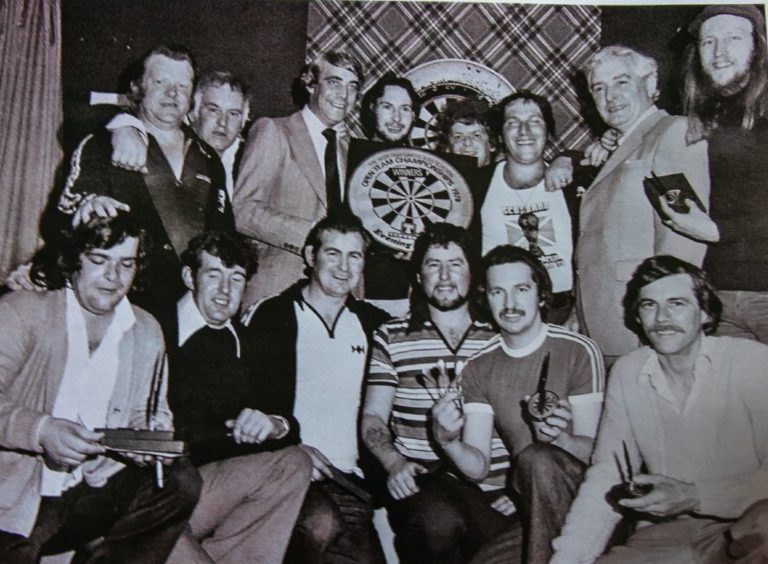 Alan Warriner missed eight match darts to put Jocky out of the tournament in the second round.
"I'm lucky to be still in the tournament," he said.
"But I'm not finished.
"You watch me go now."
The 1989 World Championships would be the first where players could not drink alcohol on stage and was also the Fifer's last taste of success in any major tournament.
In the early 1990s, Jocky was among the players who broke away from the British Darts Organisation to form the now, more lucrative, Professional Darts Corporation, which helped the sport shed its working-class image and attract a new generation of fans.
Game Shot! The day Jocky Wilson went from double tops to Top of the Pops
His place in the national consciousness was confirmed when his picture featured on Top Of The Pops in 1982 as a joke while Dexy's Midnight Runners performed Jackie Wilson Said.
Jocky was the reigning darts world champion while Dexy's were enjoying great success and performing the follow-up to Come On Eileen.
Lead singer Kevin Rowland recalled: "For a laugh, we told the producer to put a picture of Jocky Wilson up behind us.
"He said 'but Kevin, people will think we made a mistake.' I told him only an idiot would think that."
The story of the "embarrassing mix-up" became part of the TOTP narrative to the extent that, when Jocky died in 2012, the incident featured prominently in his obituaries.