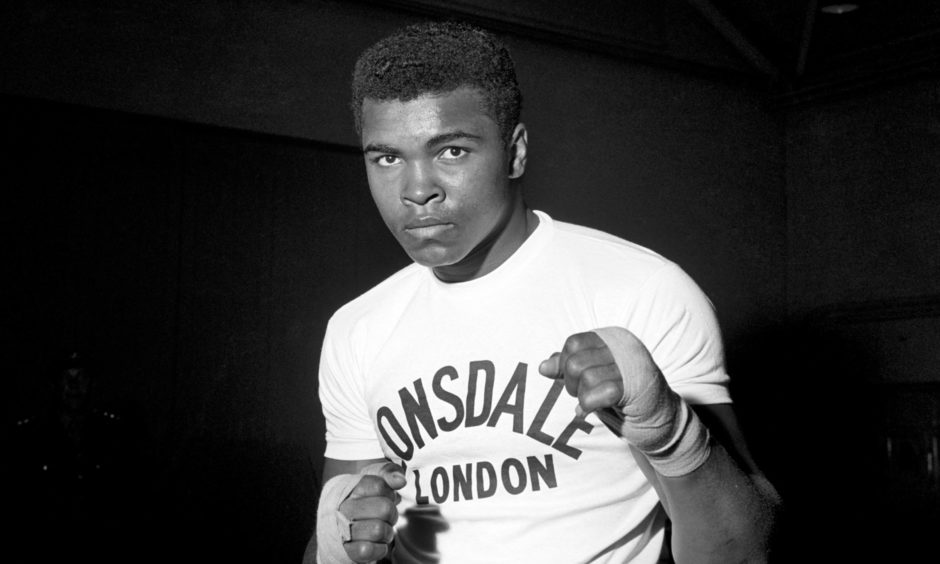 He's the pugilist whose popularity far transcended sport and whose verbal jousts with the likes of Michael Parkinson and Hugh McIlvanney turned him into a household name.
But, long before he was Muhammad Ali, the man born Cassius Marcellus Clay in Louisville in Kentucky was feasting on fistic opponents, surging to an Olympic gold medal in Rome in 1960, proving his worth as a professional sportsman and coining phrases which would be gobbled up by journalists with a Bunteresque relish.
Nowadays, more than half a century later, it is generally assumed that Cassius Clay became Muhammad Ali overnight. The missing months during which he was known as Cassius X have all but vanished from the chronicles.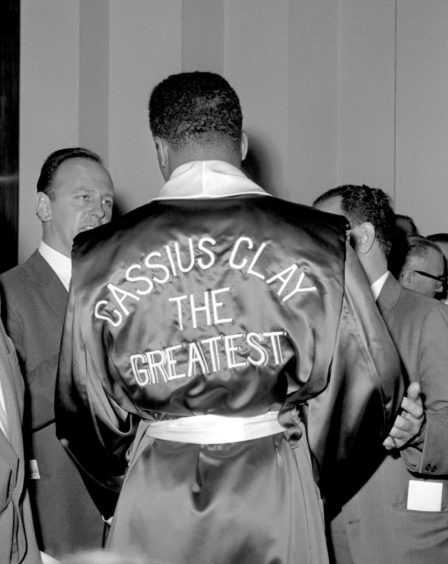 Yet, as Perth-born writer and broadcaster Stuart Cosgrove has highlighted, in his new book about the most famous fighter who ever entered a ring, the transformation from Clay to Ali happened in the midst of a turbulent period of American history, one which mirrored current events in the United States as black and white culture collided.
You can almost smell the liniment and sweat and hear the classic songs of Tamla Motown when you start reading Mr Cosgrove's work Cassius X; it paints a redolent picture of the myriad events that took place in Miami during 1963, even as Clay trained at the 5th Street Gym for his world heavyweight title clash with Sonny Liston.
It was there that he began to embrace the ideas and attitudes of Black Power and the firebrand preacher Malcolm X became his spiritual adviser. And it was there that boxing promoters rubbed shoulders with Mafia bosses and Miami became a haven for Hollywood celebrities, Motown stars and a hotbed of intrigue.
The author, who has already produced critically-acclaimed books about music, admits he was quickly caught up in the melting pot where The Greatest boxer thrived at the beginning of his stellar career.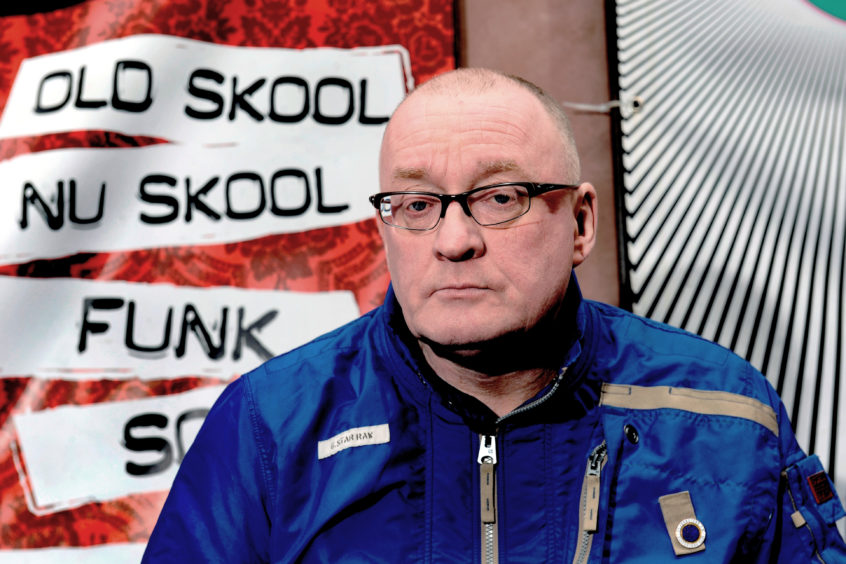 Mr Cosgrove told me: "Cassius X was the name that the young boxer had prior to his full acceptance into the Nation of Islam and his given name of Muhammad Ali.
"His conversion was a process not an event and it took place over two years. My book focuses on the period 1962-63 as he rises up the heavyweight rankings and regularly attends a small local mosque in Miami near his gym.
"In 1962, Cassius Clay and his teenage brother Rudy drove north to Detroit for a Nation of Islam Rally in the Motor City.
"They did not travel with the full blessing of their parents. Cassius's mother sang in the choir of her gospel church and could not imagine a road that led away from Christianity. But both parents sensed they were losing control of their sons and that the magnetic power of a rally in the north proved too powerful.
"Cassius was slowly but surely heading in a different direction, embracing Islam, a cult that thrived in the prisons and ghettos, but which had never occupied centre stage in African-American society. Unlike the creed of Dr Martin Luther King, it did not believe in non-violence and would not turn its cheek in the face of racial discrimination.
"Casually at first, and then with a growing sense of devoutness, Cassius read the newspaper Nation's newspaper, 'Muhammad Speaks' and on Sunday evenings, when he had finished training at the 5th Street Gym, he would lie on his motel bed listening to Miami's Radio Station WMIE, which carried a syndicated sermon by the Nation's leader Elijah Muhammad.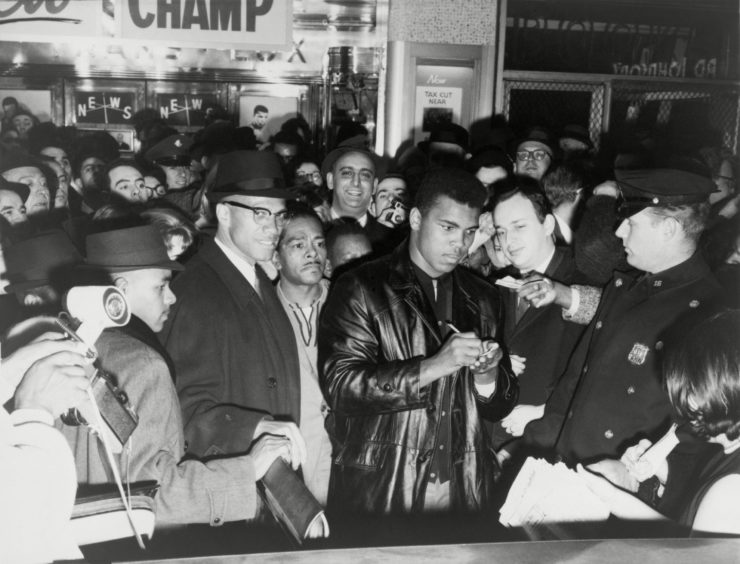 "It was in Detroit, inside the Shabazz luncheonette where Cassius met the charismatic Malcolm X and it was the start of a relationship that impacted on both their lives.
"Initially, their friendship was one of mentor and student. Cassius once said: 'Malcolm was very intelligent, with a good sense of humour, and he was a wise man. When he talked, he held me spellbound for hours'.
"Then as the circumstances around them changed it became a relationship fraught with complexities, ticking down to tragedy."
The Sixties were the decade of assassination. Even as Cassius X was climbing up the global boxing ladder, the world was mourning the death of John F Kennedy in Dallas and Dr Martin Luther King would suffer the same fate five years later.
Malcolm X, the charismatic figure who was one of the most prominent members of the civil rights movement, was preparing to address the Pan-African Organisation of Afro-American Unity at the Audubon Ballroom in Manhattan on February 21 1965 when he, too, was violently murdered by gunmen, with the subsequent autopsy identifying no less than 21 different wounds.
Muhammad Ali was shocked when he heard the news, but, as Mr Cosgrove's book emphasises, he himself had became a notable campaigner for civil rights by the time his friend was killed. As the years passed, his beliefs grew stronger and he was happy to go to jail rather than take part in the Vietnam War.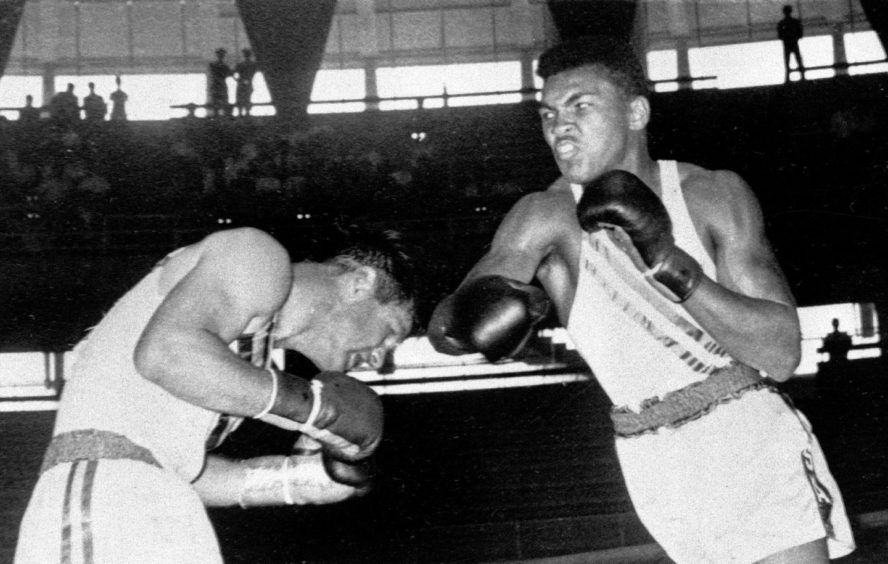 But, while these were all deathly serious aspects of his life, the boxer never forgot the power of showbusiness, providing entertainment – and giving photographers the opportunity to capture memorable images.
As Mr Cosgrove says: "One bizarre fact that fascinates me is that Cassius always carried a roll of gaffer tape in his pocket. If he ever met a photographer who lacked inspiration, he would use the gaffer tape to tape up his big mouth shutting it with a X.
"It made a great photo and was full of meanings – some obvious, others more hidden.
"He understood very early in his career that photographers held the key to unlocking America's magazine market.  As he crept up the heavyweight rankings, Life magazine and Sports Illustrated commissioned a freelance photographer called Flip Schulke to photograph Cassius at the 5th Street Gym in Miami where he trained.
"The two men talked excitedly about photography, and Cassius asked what kind of photograph would get him onto the cover of Sports Illustrated.
"Schulke described a photo-session he had recently completed that had been shot underwater. Then, without skipping a beat, Cassius told him that he trained every morning under water in the pool at the local Sir John Motel.
"Life magazine responded positively and gave Schulke enough encouragement for him to drive a car loaded with scuba-diving equipment, underwater cameras, and diving weights to the Sir John swimming pool for what turned out to be a landmark moment in boxing history.
"Cassius, who could NOT swim and had never trained underwater, took to the pool, punching furious upper cuts up through the water.
"The photographs, now known as The Arc of Bubbles, became classics of sports photography, they were given a spread in Life magazine, and were the beginning of Cassius's realisation that photography was a key to visibility in America's burgeoning magazine industry.
"He began to befriend photographers as if they held a special power and, in the years ahead, he became the most photographed sporting personality ever."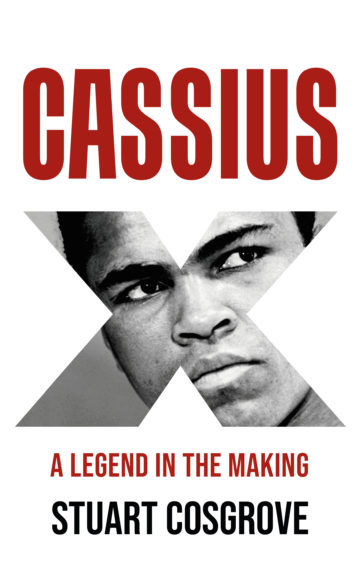 The book is packed with these evocative snapshots from the apotheosis of his days as the king of the world. Later, in the 1970s, Muhammad Ali would grow more prickly and aggressive in his attitude to criticism – as was illustrated when he lost his rag with Michael Parkinson during a controversial TV outburst.
But, in the 60s, before he was soured by racism, by his imprisonment and jaundiced by the rancid underbelly of the sport he dominated, he was in his element amongst the biggest names in the music industry with whom he became friends,
Mr Cosgrove, an expert on soul music and its part in sparking social change, has depicted this relationship vividly throughout the pages of his latest work.
He said: "Cassius was, in many ways, one of the most famous witnesses to the first days of soul.
"He was a teenager in the days of R&B and bore a strong facial resemblance to the famous king of the Twist craze, Chubby Checker.
"Inevitably, he became a very public advocate of comedy dance moves and fell in love with Chubby Checkers' label-mate Dee Dee Sharp who had a hit with 'Its Mashed Potato Time' when she was dating Cassius in 1962.
"By the time he fought Sonny Liston for the Heavyweight Championship of the World crown, he was personal friends of Stevie Wonder, Ronnie Spector and Dionne Warwick.
"When he arrived in Detroit to attend his first Nation of Islam rally, Cassius X found a city bristling with excitement, tense with racial difference and on the cusp of reinventing black music.
"He was a compulsive record collector and already owned several Motown records, even although the 'sound' that would make it famous was still in its infancy.
"One song in particular had come pounding on to his radar – it was Mary Wells's boxing-themed love song – 'You Beat Me to the Punch', written by Smokey Robinson which reached No 1 on the R&B charts later in 1962."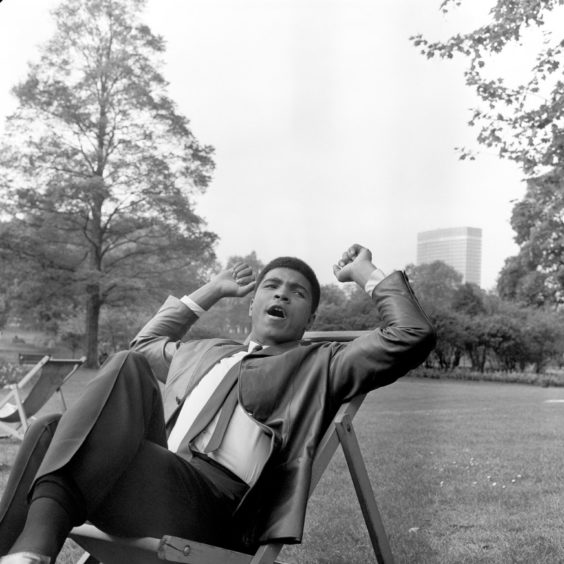 Here was an anthem which struck an instant chord with the fellow who floated like a butterfly and stung like a bee. Somebody who, despite having to battle with Parkinson's syndrome later on, possessed a near balletic grace at the height of his powers.
Muhammad Ali might have died in 2016, at the age of 74, but his legacy lives on. He never rejected an autograph request after being snubbed by one of his idols, Sugar Ray Robinson, and the political and sporting worlds joined forces to pay tribute to a remarkable human being when he finally succumbed four years ago.
Mr Cosgrove has provided a compelling reminder of why he made such an impression.
Cassius X is published this month by Birlinn Books.