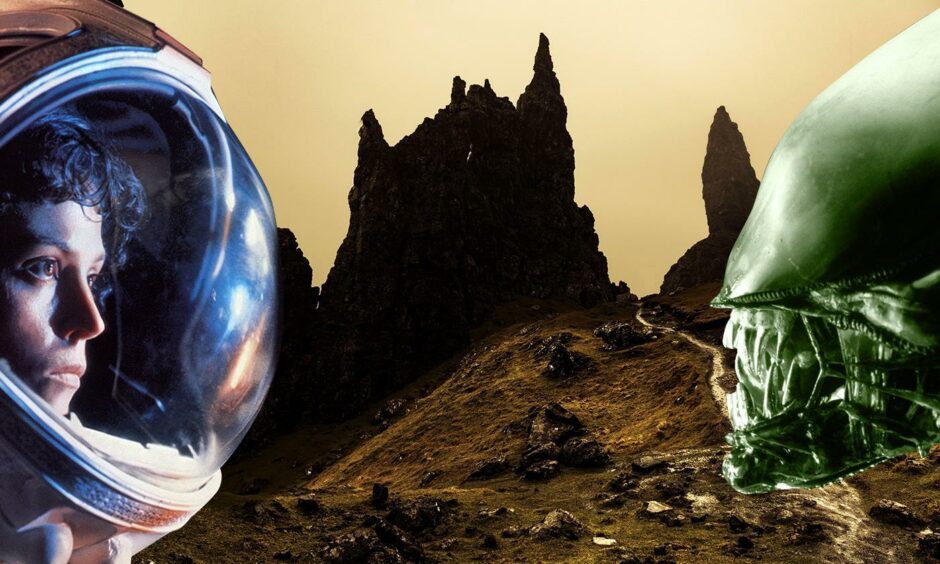 To most people, the island of Skye is stunning, majestic, glorious, maybe even magical, depending on the light and the weather.
But to a film maker like Ridley Scott it goes much further than that.
The ethereal setting takes on a deep cosmic significance, potentially offering answers to the origins of humanity.
Scott chose locations around the Old Man of Storr on Skye to shoot his Alien prequel, Prometheus in 2012.
Unlike many Highland film locations which are used to suggest somewhere else, Skye plays itself in the movie.
Archaeologist Doctor Elizabeth Shaw (Noomi Rapace) and her partner Charlie Holloway (Logan Marshall Green) find evidence of yet another star map in a cave at the Old Man of Storr.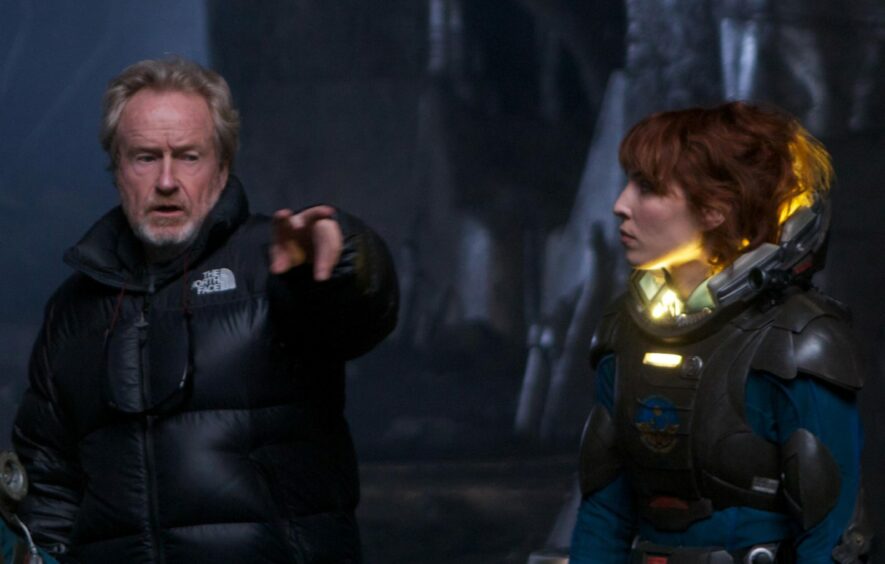 It's 2093, some 27 years before Alien takes place.
The archaeologists secure funding from Peter Weyland (Guy Pearce) of the Weyland Corporation to journey on the spaceship Prometheus to the distant moon of LV-223, hoping to find answers to humanity's origins.
There's a downside, of course.
What they learn could also lead to Earth's extinction, and along the way one of the most chilling and iconic of movie monsters comes into being — the chest-bursting xenomorph.
Once they set foot on LV-223 they find a mysterious, complex structure of dark, cavernous chambers full of threat, and an intricate underground system of enigmatic tunnels.
Scott created in Prometheus both a prequel and the original alien story, which he described as the very DNA of the first Alien.
Prometheus depicts the so-called Space Jockey in Alien as a member of an ancient race nicknamed 'Engineers' by the starship crew, and suggests that they engineered 'xenomorphs' as a biological weapon.
It was back in 1979 that the terrifying Alien took the film world by storm, producing a string of sequels and making Sigourney Weaver a superstar.
Weaver had been in Woody Allen's Annie Hall and done other work, but it was as Warrant Officer Lieutenant Ellen Ripley that she made her claim to greatness.
In space no-one can hear you scream
Alien was set in 2122, the story of commercial spaceship Nostromo on a return journey to Earth with seven crew on board.
They are wakened by the vessel's computer, Mother, which has detected a transmission from moon LV-246.
As they have been ordered, they have to land on the moon and look into it, but their space vehicle gets damaged.
Some of the crew find a derelict alien craft and enter it, losing contact with Nostromo.
One of them finds hundreds of weird egg-like objects and, when he touches one, something inside leaps out, breaks through his helmet and attaches itself to his face.
The crew break the rules by allowing him back on board Nostromo with the creature still on his face, and things go awfully downhill.
Weaver revealed in 2019: "I think what attracted me to Ellen Ripley was she was a character who was originally written as a man.
"They changed it to a woman, not for any feminist reasons but because they thought, 'No one will ever think a woman will survive.'
"So the film didn't play on the fact she was a woman. She didn't have these scenes in which she was suddenly vulnerable, she didn't throw her hands up and wait for someone else to save her – there's no time when you're surviving, all you do is try to live for one more minute."
Other-worldly Skye
Skye has been the location for many other other-worldly movies, possibly even inspiring James Cameron's lush paradise of Pandora in Avatar (2009).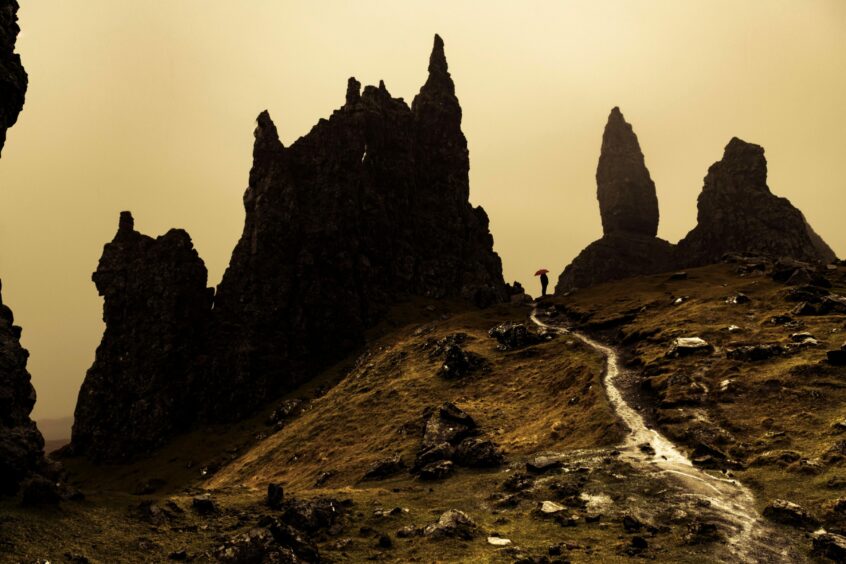 The Old Man of Storr has also inspired directors heading back in time, with Michael Fassbender as Justin Kurzel's Macbeth (2015) seen riding past it.
The Old Man also features briefly in Snow White & The Huntsman (Rupert Sanders, 2012) and as 'Summerisle' at the start of the cult classic The Wicker Man (1973).
Another dramatic Skye location, The Quiraing, also features in Kurzel's Macbeth, while sequences of the 2007 fantasy film Stardust (Matthew Vaughn), with an ensemble cast featuring Robert de Niro, Michelle Pfeiffer and Ricky Gervais, were shot at the Quiraing on the eastern face of Meall na Suiramach.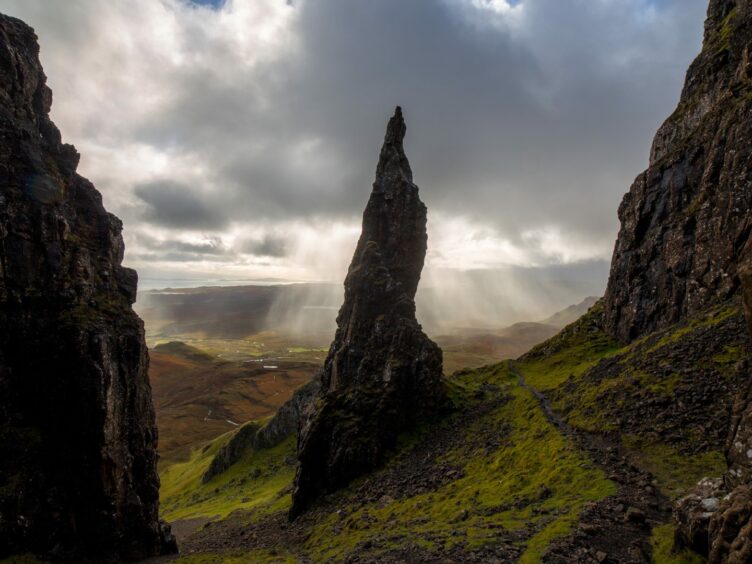 Stephen Spielberg also used The Quiraing, albeit digitally enhanced, as the backdrop to The BFG (2016).
In Mike Hodge's 1980 version of Flash Gordon, Skye's Broadford Airfield stands in for an airstrip in Dark Harbor in Vermont's Green Mountains.
The jagged, dramatic Cuillin Hills featured in Highlander (1986) while the curious landscape of the Fairy Glen inspired the fantasy-adventure Stardust (2007).
There's no doubt that Skye will continue to inspire the wildest flights of creativity in movie-makers for decades more to come.
You might also like:
10 years since Skyfall: Celebrating James Bond's Highland heritage
Celebrities land as SAS Who Dares Wins is filmed on small island