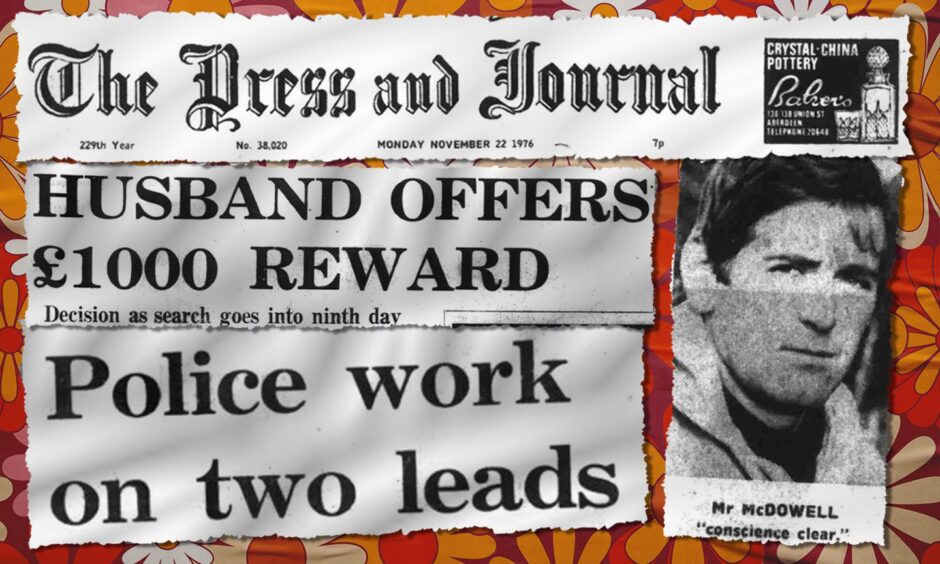 On this day 47 years ago, it was day nine of the search for missing Renee MacRae and her three year old son, Andrew.
We have the benefit of hindsight now as to how the decades have played out since. It's a little over a year since chief suspect 80 year old William MacDowell went on trial and was convicted for the murder of Renee and Andrew in Inverness in 1976.
He died on February 15 this year, less than five months after he was convicted.
The trial and its outcome is well-documented, not least by the P&J. 
But what was the feeling on this Monday in 1976, as the frantic search continued?
Renee's estranged husband, builder Gordon MacRae had just offered a £1,000 reward for information leading to the discovery of their whereabouts.
He told the P&J: "I have decided to do this to try and discover where Renee and Andrew are. It is a little incentive for someone to come forward.
"I don't know whether it will have any success. It will be up to the police to decide if the information is valuable enough to qualify for the reward. It must lead to the discovery of Renee and Andrew.
"Time is getting on and this is a terrible strain. I hope the police will get a break this week."
We now know it was a vain hope.
Meanwhile, around 400 searchers continued the hunt.
A fleet of Army lorries and specially chartered buses took them from police HQ, then in the Perth Road Inverness, down the A9 to the spot near Dalmagarry where Renee's burnt-out car had been found.
Soldiers had already searched about 20 miles of roadside from Renee's Cradlehall Park home down the A9 to Tomatin.
The search would now be concentrated on side roads leaving from the A9.
Supt Robert Kemp urged the search party to take their time, walk slowly and keep together.
"We are looking for anything—a button, a buckle, coat, scarf, hankie, a shoe… anything that is foreign to the ground you are searching."
Time also proved this to have been a red herring.
Gordon MacRae said he believed MacDowell and Renee had been planning to go away for good that weekend.
MacDowell said if this had been the case it was only in Mrs MacRae's mind.
A rumour had emerged that Renee could be in the Middle East, but both men denied it.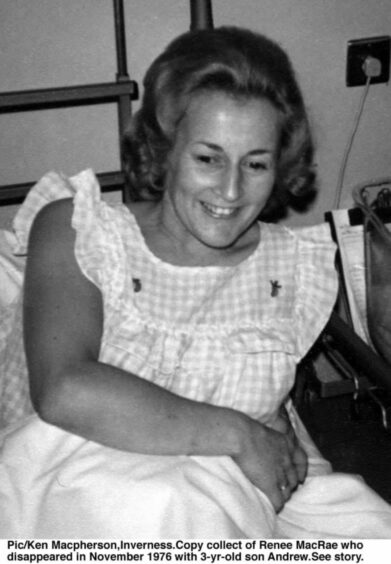 In another heart-breaking detail in that day's P&J report, the MacRae's elder son Gordon, aged 9, thought his mum was in Kilmarnock with her sister.
Mr MacRae said: "We are keeping the papers from him."
Mr MacRae also decided not to join the search, "in case of proving an embarrassment to the police.
" 'People would be paying more attention to me than the search,' he said."
Meanwhile, the police were following two leads, the P&J reported.
A mystery man with a drooping Mexican-style moustache had apparently been seen in the front passenger seat of Renee's car.
He was reported driving in Inverness with Renee seven to 10 days before her disappearance.
Now there was a more definite sighting, this time at about 10.15am in Telford Street Inverness, the day before Renee and Andrew disappeared.
Four people had come forward in response to an appeal, but denied being the person in the car.
But a much more significant lead had come to light.
Gordon MacRae's company secretary William MacDowell, 35, admitted that weekend that he had been Renee's lover for four years.
They used a secret phone signal to indicate when one should contact the other —and McDowell said he had good reason to believe Renee was alive because he had received two such signals since her disappearance.
William MacDowell claimed clear conscience in Renee MacRae case
Significantly, as the P&J reported: "He agreed fingers were being pointed at him, but said his conscience was clear."
McDowell said they had a tentative arrangement to go away for the weekend.
"If I made the telephone call it was on. I didn't make the call. I wish to God I knew where she was and I pray they are all right."
MacDowell's wife Rosemary had found out about the affair, but had decided to stand by her husband, as the P&J reported on day nine of the search.
Ten years later, Rosemary would blurt to police under questioning: "I don't know what you are getting on to me for. I never stabbed her or whatever happened to her."
And in 2022, at MacDowell's trial, KC Alex Prentice probed her again on this statement.
He asked Mrs MacDowell: "Were you telling the truth?"
Astonishing reply
"Probably," came the reply.
The advocate repeated incredulously: "Probably?"
Visibly agitated Rosemary responded: "After 48 years, I cannot remember exactly what went on.
"Of course I told the police the truth. I need to sit down. I'm getting dizzy."
The stabbing detail became a turning point in the case against MacDowell.
Renee and Andrew's bodies have never been found.
More on the Renee MacRae murder case:
Renee MacRae murder accused told reporter his missing lover was still alive after hearing their secret phone signal
Renee MacRae murder accused seen scrubbing boot of car in days after disappearance, court told
Sarah Bruce: How the Renee MacRae case is a part of Inverness's DNA
More from our On This Day series: