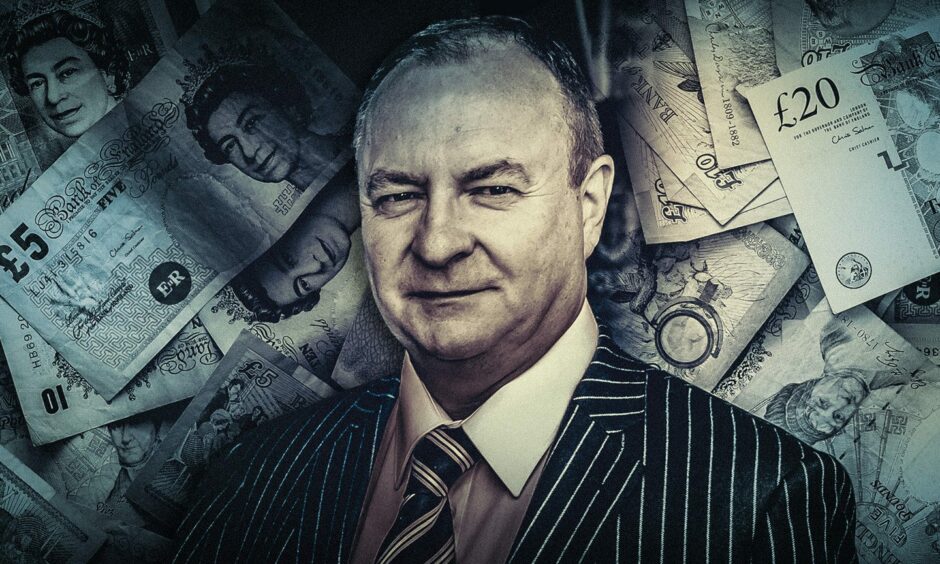 Alistair Greig had enjoyed a long and successful career in the finance sector, earning the trust of thousands of clients.
But somewhere along the line, the 66-year-old turned from respectable financial adviser to merciless crook, fleecing devastated families out of their life savings.
Greig was jailed for 14 years in April 2020 after being found guilty of conning more than 180 people out of more than £13 million, reduced to 10 years on appeal in May 2021.
While New York had the famous Wolf of Wall Street, the North-east had its very own Crook of Cairnbulg, operating from the remote Buchan village where he lived until his downfall.
Part One: Alistair Greig's scam
Greig committed the fraud in the 13 years leading up to 2014, when police and a financial watchdog swooped on the office of his firm, Midas Financial Solutions (Scotland), on Little Belmont Street, Aberdeen. So how did Alistair Greig scam his victims?
It was a classic Ponzi scheme.
Named after the 1920s US businessman Charles Ponzi, who carried out this kind of con, the mastermind takes other people's money and pledges to pay them a generous return in time.
Investors withdrawing their money are actually paid with funds from newer investors, and so on. Problems start when you don't have enough new money coming in at the top of the funnel to pay those at the bottom of the funnel.
In this case, many investors – made up of North-east businessmen, retired couples, and young folk – were even told their original investment had grown. So they simply reinvested more money, all the time believing it was safely tucked away, gathering interest.
The only problem is, it wasn't. 
Before turning to fraud, Greig's career in the finance sector brought such success his big spending didn't arouse suspicion to anyone around him.
And those close to Greig believe it was probably this rubbing of shoulders with big spenders that led to him pursuing a life of crime.
One source, who asked not to be named, told us of the time Greig attended a work conference in Aberdeen and met a pal at an upmarket bar afterwards to wind down.
The pal greeted Greig with dozens of bottles of Moet Champagne that would add to an eye-watering bar bill.
That friend was none other than Edwin McLaren, now aged 54, of Renfrewshire, who was jailed for 11 years in May 2017 after being convicted of a £1.6m mortgage fraud.
The trial lasted for 320 days – the longest in UK legal history. McLaren would persuade innocent people to sign over their houses to him in a complex scam.
According to court papers published after the sentencing at the High Court in Glasgow, the largest sum obtained in this way from a single transaction was £187,846 – from Stewart and Barbara Mitchell, of Peterhead.
One source told us: "Greig and McLaren had worked together many years ago, though McLaren wasn't involved in any of Greig's scams, and vice versa."
Some believe Greig grew envious of the lavish spending of those around him, and so went down a criminal path to show he could keep up with the Joneses.
One of those close to him told us they were baffled when the police revealed the extent of Greig's offending, because Greig had once reacted with rage when he discovered another former colleague had committed fraud.
That associate compared Greig's transformation from law-abiding businessman to master criminal with the actions of Walter White, the science teacher turned drug dealer in hit-US crime series Breaking Bad.
Another source told us Greig was a big fan of gangster movies, particularly The Godfather.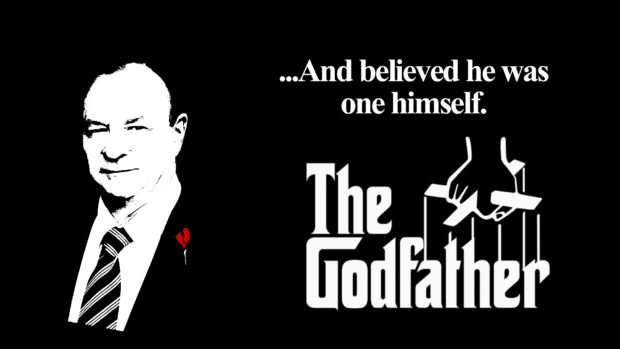 According to a senior source close to this investigation, Greig got the idea for his fraud from a genuine Royal Bank of Scotland scheme.
The source said: "RBS offers a product called a treasury bond which allows customers to put money in for three-to-nine months at a high rate of interest.
"The minimum RBS was accepting for this scheme was £1m. That was out of Greig's reach, but it's where he got the idea from."
In 2006, Greig left Park Row Associates and founded Midas Financial Solutions (Scotland) Ltd, operating out of an office on Little Belmont Street, right in the heart of Aberdeen just off Union Street.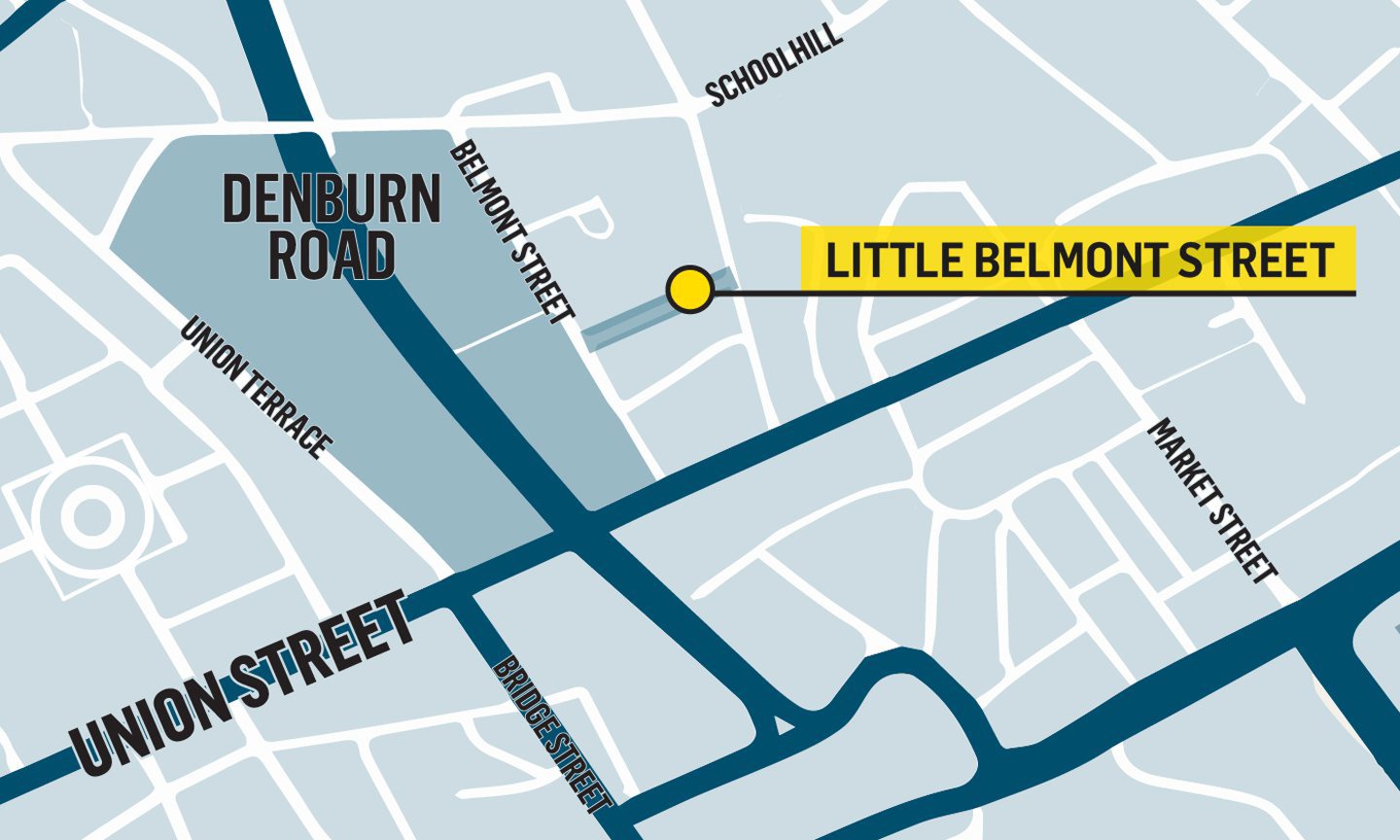 Much of what went on there was genuine business and Greig exploited that façade of legitimacy for his own ends.
The senior source said: "Midas offered mortgages, pensions and other products. The scam was a sideline that seemed to start up.
"If people had sold a house and had some equity then it would be casually mentioned by their financial adviser 'oh well, Alistair Greig has got this fund. If you're just going to sit on your funds for a few months, then why don't you put it in that scheme?'"
Midas staff would tell clients the scheme was for "highly valued" Greig customers, who then felt special – part of an exclusive club.
The source said: "The money was given to Midas by the victims due to the relationships they had built up with their financial advisers.
"It went into a separate Midas account – not the main one. Greig controlled that separate account."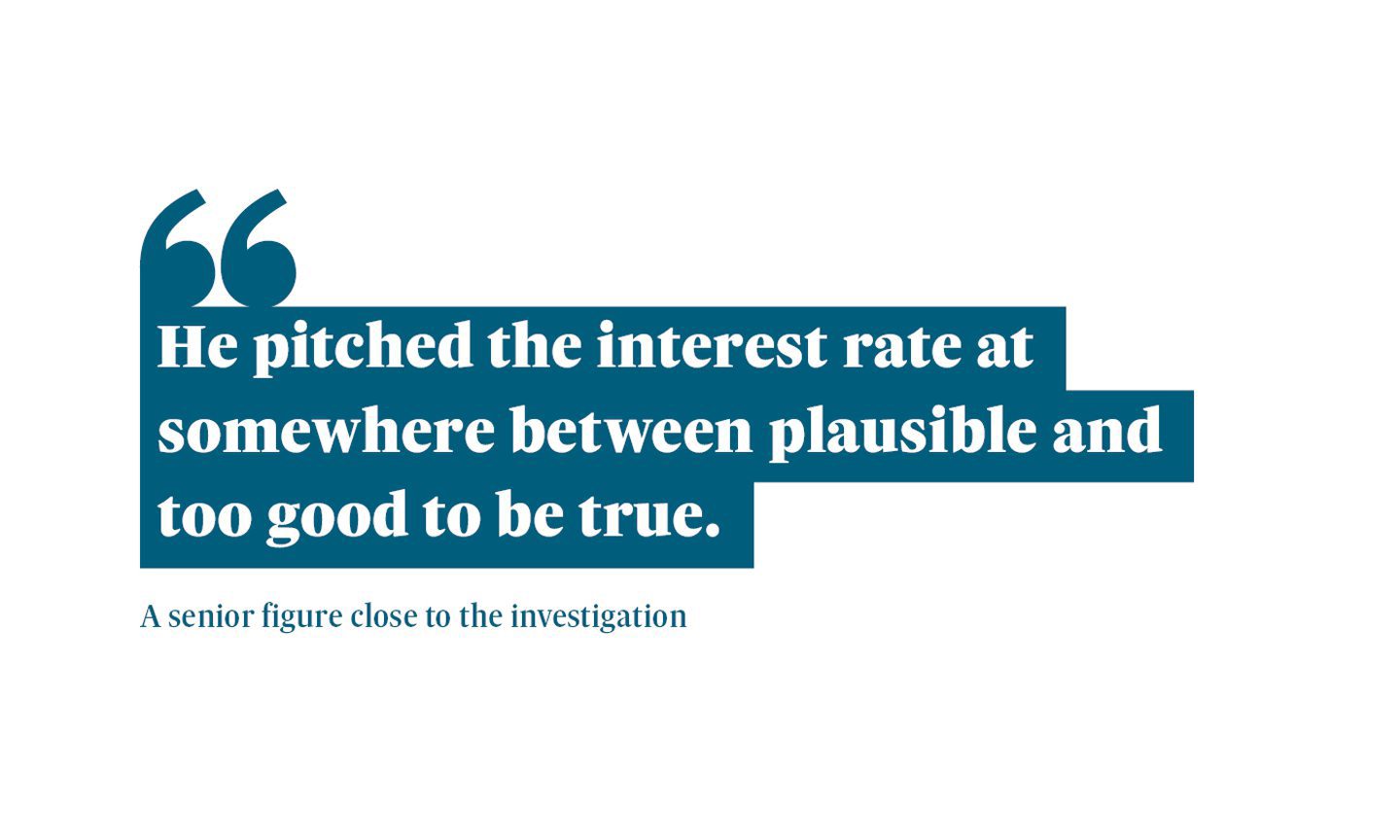 Clients were told they could get up to 12% interest – a high amount at any time, especially when you realise that during the period most of Greig's crime was carried out the national interest rate was just 0.5%.
Yet here was Greig, an experienced financial adviser, offering rates of up to 24 times that.
One of those with intimate knowledge of the fraudster's acts, who asked not to be named, claimed one victim was offered a 60% interest rate.
The source added: "What Greig basically did was name whatever figure he thought would work."
Another insider – a senior figure close to the investigation – said: "He pitched the interest rate at somewhere between plausible and too good to be true."
When victims decided to invest, Greig asked them to write cheques to companies such as Midas Aberdeen or Midas Financial – names similar enough to Midas's actual name to not arouse suspicion, but different enough for the funds to be diverted into Greig's personal slush fund.
Some investors made a profit – and that was key to the scam's success.
The Midas touch couldn't last
Police Scotland's DCI Iain McPhail, the senior investigator on the case, said: "Numerous people have had returns from the scheme and walked away – but those returns are the life savings of someone else.
"It also adds the little bit of element of truth to the scheme by Greig – that they are getting returns, so they are much more likely to invest more money."
Another senior source, who was close to the investigation, said 40 people who invested did not come forward to give a statement because they got their money back – along with their interest – paid out from someone else's investment.
The source added: "You can see that might not sit comfortably with them wanting to give a statement. You can see how that might weigh on someone's conscience."
Greig utilised those early "success stories" to rope in victims.  People would wax lyrical about the return they got to family and friends, who in turn contacted Midas and invested their money.
Sometimes, Greig's unknowing staff pitched the scheme at networking events, gaining new investors as they went.
Graham Hudson was a member of a networking group called BNI, where Midas financial adviser Allan Milne, now aged 65, attended to give speeches to bankers, managing directors and tradespeople.
'(Alistair) Greig was the only guilty party'
Mr Hudson became a victim himself.  He told us: "BNI has four or five chapters in the Aberdeen area. It allows people attending to assist each other.
"Mr Milne would be there every week. He would talk about other things but, once every two or three months, he'd say 'we have this great facility with RBS, so if you have in excess of £20,000 to put in, the rates of return are better than other investments available'.
"Everyone who I know who invested did so after developing a trust with the Midas advisers.
" It took me four years of doing little bits and pieces of business with Mr Milne before I trusted him with a large amount and everyone else was the same.
"That's the thing that annoys the victims the most – that they trusted Midas staff. Some people have died because of this."
Police said Greig was the only guilty party. The scam went on for the best part of 14 years.
Greig was finally snared in 2014, but our investigation has revealed a watchdog missed three chances to stop him earlier.
A senior source close to the investigation told us: "The tales of bounced cheques and broken promises tended to be towards the end of the scheme in 2014 when members of Midas staff were being fobbed off by Greig.
"In these cases, it is like a house of cards or a domino effect."
And it inevitably fell to the ground.
Part Two: The Lifestyle
Before that house of cards came crashing down, life was good for Alistair Greig in Aberdeen. Very good, indeed.
As he counts down the 3,650 days of his sentence, he will be able to spend around £15.50 a week behind bars, but things were not always so bleak.
Our investigation, which involved working with police, prosecutors and those close to Greig, told us he would socialise with people who lived a lavish lifestyle.
Those close to Greig and to the investigation told us he had a penchant for sport, fast cars – and the summer high life.
For it was during those warmer months where Greig's spending would come into its own.
When police searched Greig's properties, they found a receipt for services purchased from £120,000 on Dorset-based events company Corinthian Sports.
Living the high life from Aberdeen to Monte Carlo
On the firm's polished and professional looking website, the business describes itself as providing "the highest quality, tailored sports and corporate hospitality packages".
The homepage displays a sleek marketing video showing glamorous women, sharply dressed men – all complete with smiles, while sipping Bollinger Champagne as they are treated to a private performance from a DJ.
These revellers are shown scoffing snacks brought to them by waiters on board the 35m-long DXB luxury yacht in Monte Carlo.
Accompanied by his wife Judi and other friends, family and work colleagues and associates, Greig would attend some of the biggest sporting fixtures of the high season.
One source close to the investigation has confirmed that Judi, 65, knew nothing of the fraud until police swooped on her then husband.
The mum of two left him immediately and ended up homeless, and now works behind the till at a convenience store in Aberdeenshire.
But before the net closed in on Greig, his social group attended some of the biggest sporting fixtures in Europe, including Royal Ascot – famous for its association with Her Majesty the Queen – and the highest calibre of racing, including the prestigious Gold Cup.
Greig's  whistlestop tour of sporting highlights also included the British Grand Prix held at Silverstone – a centrepiece of the annual Formula One racing calendar.  He also attended the prestigious Wimbledon tennis championships.
The source said: "He used a company, Corinthian Sports, on a variety of occasions for a number of guests for Ascot races and Silverstone with a total cost of £120,000."
There were also holidays in Italy, Singapore and other far-flung destinations.
On face value, the expense wasn't out of keeping with his perceived professional standing, but some did query how he could afford such grandeur.
One source close to Greig told us he would pay for people to go on holidays with him and tell those who queried the cost the group was splitting it, knowing that was a lie.
And it was luxury all the way, as Greig splashed the cash on VIP boxes and the best viewing points for many events.
The source added: "A lot of spending went on classic cars, and the businesses that he and Judi ran.
"There were corporate hospitality trips to Manchester United. He took hospitality boxes at Aberdeen Football Club and at other games around Scotland."
The couple would spend many weekends driving down the M6 to enjoy lunch at an eatery opposite Old Trafford football ground before watching Manchester United play from an executive lounge, enjoying another meal and having a night in a hotel, returning home the following day.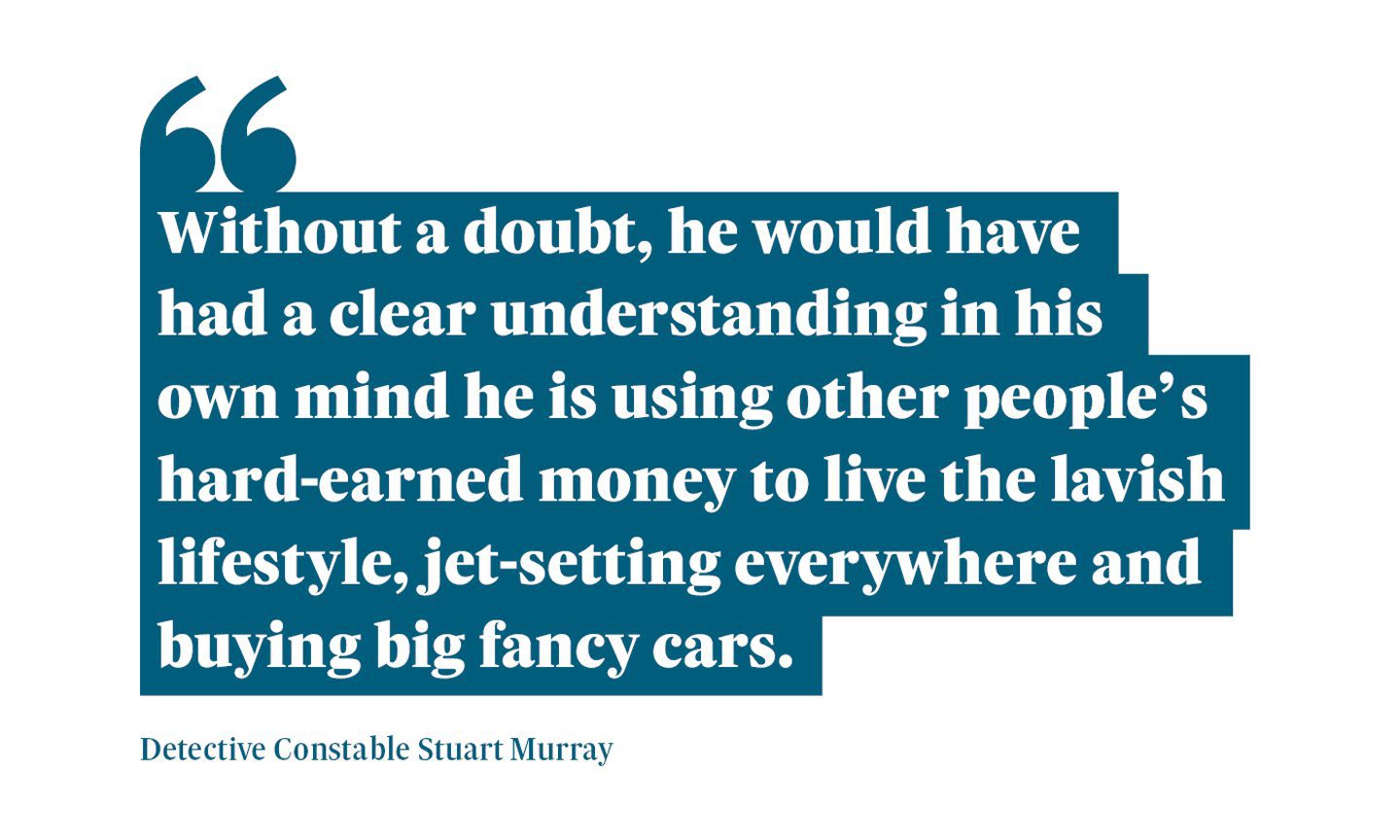 Investigators believe Greig used the flamboyant lifestyle as a public show for clients.
The source said: "His attitude was 'I'm a successful businessman, look at me – you can have faith your money is being well looked-after because it's worked out well for me.'"
Further purchases were to follow.
On one occasion, he made a decision to spend £200,000 within 20 seconds.
Greig was in the Cornish town of Bude staying with people he knew when he noticed a house for sale across the road.
He decided right there and then to buy it, and stayed there only a handful of times before selling it on.
Then in 2013, he set up his own classic cars company from his new home in Boston, Lincolnshire.
Investigators believe he injected some of his victim's cash into that firm, AJZ Classic Cars.
He bought a Jaguar, a high-end Bentley and Range Rover. No expense was spared.
Greig was also a collector of rare football matchday programmes. Even when the net was closing in, Greig took loved ones on a holiday to Rome.
'His family had no idea what he was up to'
One source close to the investigation said: "Looking back on the timeline, and all the bank statements from that time, that holiday came when the game was up and he knew he'd be caught.
"Perhaps it was one final time to spend time with his wife and the children before it all ended.
"His family had no idea what he was up to and thought it was just a nice getaway."
While running his fraudulent empire, Greig didn't hide in the shadows and featured in a newspaper article heaping praise on RBS in 2003.
Seventeen years on, those comments look bitterly ironic as we now know Greig was abusing RBS's name so he could thrive off his victims' woe.
Detective Constable Stuart Murray, who was also involved in the investigation, said Greig was almost living a double life, fronting a wholesome public image while wrecking the lives of hardworking North-east residents.
DC Murray added: "Without a doubt, he would have had a clear understanding in his own mind he is using other people's hard-earned money to live the lavish lifestyle, jet-setting everywhere and buying big fancy cars.
"That was the sole purpose of this scheme for him – and he would have been well aware of that.
"It became apparent that Greig was using the money from the Ponzi scheme to progress his businesses, renting out flats and various things.
"He had a number of property portfolios across Aberdeen that he was using the money for."
DC Murray's boss DCI McPhail said: "He could never account for this spending and the logical conclusion is that it was funded by the misery of his victims."
And there were many of them.
Part Three: The Victims
It is hard to state the true number of people conned out of their savings by Alistair Greig. Perhaps he is the only one who will ever know. 
One of the difficulties in finding an exact number is that some victims may never have come forward, out of embarrassment.
Some victims were untraceable and a small minority may never have noticed missing funds, due to chaotic financial management or due to vulnerabilities such as dementia.
Another factor is different organisations have compiled figures relating to victims for different purposes.
These were listed in documents presented as evidence in Greig's trial as part of a "joint minute" – papers containing information both the prosecution and defence agree are true, and presented in court as evidence.
Individuals may not be included on various lists because they passed away before the trial began or because they did not want to be involved in the court cases – often because they did get their promised return from Greig and felt guilty after learning their profit came from other people's misery.
To underline this point, the Financial Services Compensation Scheme told us 194 people applied for compensation, though seven were turned down.
54 of Greig's victims lost everything
Some of those may not have been witnesses in the court cases, or they may have been family members listed in the court case as one "victim" but who were able to claim for compensation separately under finance law.
Almost all the victims hail from the north-east, people who had made an honest living as fishermen, farmers, self-employed business owners and even financiers.
One man with detailed knowledge of the case said Greig also fleeced people living in Bristol, Australia and Singapore, though no such claim formed part of his prosecution.
We have trawled through hundreds of pages of court documents, including papers from Greig's criminal trial and from a civil case brought in London by some of his victims.
Court records show Greig's victims gave him a total of £10.3m and only got back £2.5m. Fifty-four of them lost everything.
In court, Greig was found guilty of accepting £13m of deposits and of obtaining £12.9m by fraud.
One man, Bruce Sellar, paid in £25,750 – and got just £50 back.
The youngest Gemma Watt – at the time prosecution papers were gathered in 2015 – was aged just 22 – while the oldest was aged 88.
At least two of the victims passed away between the end of the fraud in 2014 and the court case in 2020.
A senior source close to the investigation said: "We know a number of victims were frustrated by how long it took to bring the prosecution, but this is one of the biggest frauds known in the Scottish legal system and time was needed to cover every detail."
The first documented victim was Peter Duff, who deposited £85,000 in 2006.  One court record said: "Mr Duff reinvested his original deposit and topped up the total amount deposited over (seven years).
"Mr Duff has lost approximately £200,000 as a result of the Midas scheme."
There were other horror stories – tales that ripped families and communities apart.
One man and wife invested and got the promised pay out, so recommended it to the woman's father, Donald Ross, who put in £286,300. He got just £59,174 back.
Another victim was Brian Mackenzie, the managing director of Inverurie-based Mackenzie Life Jacket Conversions.
The 62-year-old, who had made money inventing a money-saving gadget for life jackets, heard about the scheme at a business networking event Graham Hudson described earlier.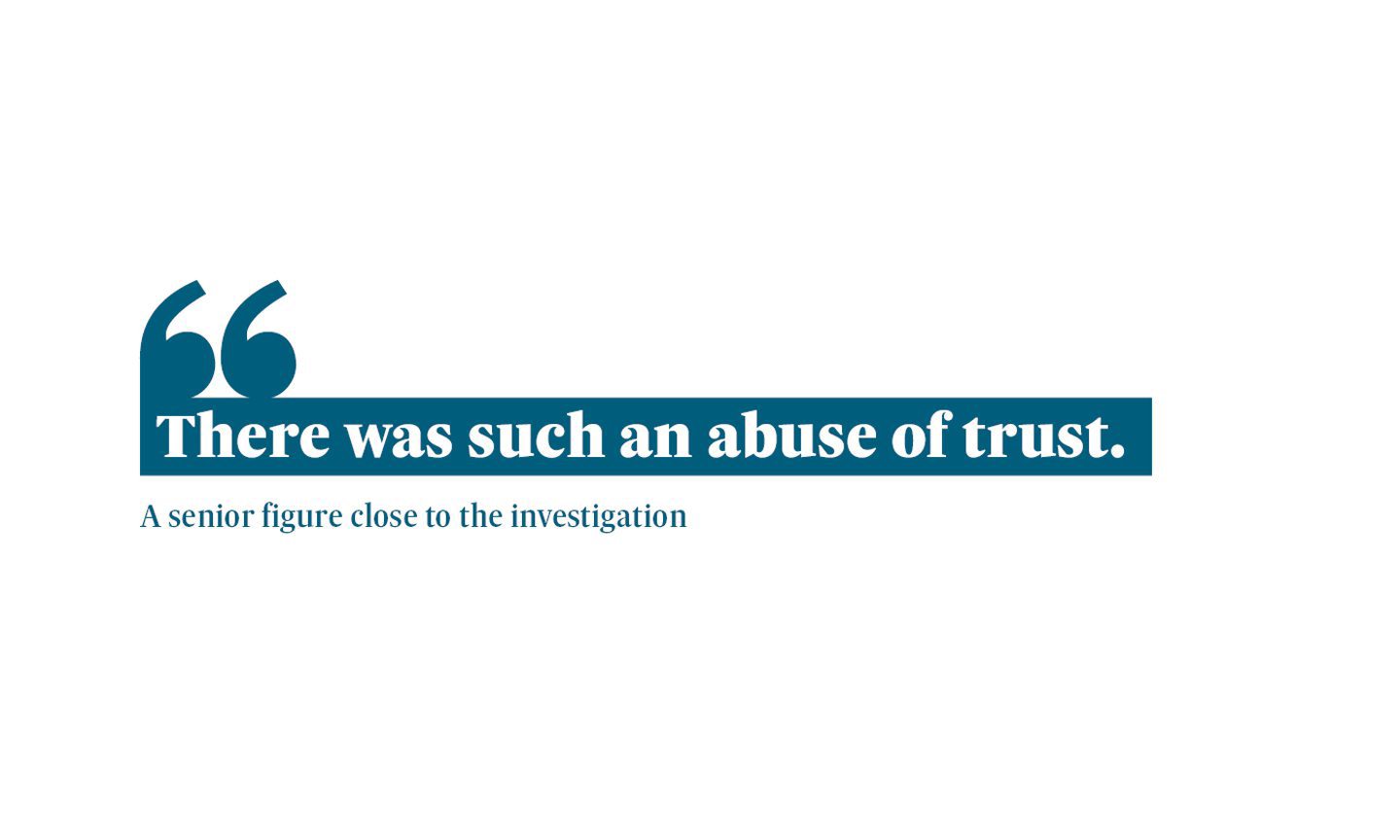 There, Mr Mackenzie dealt with Midas director Allan Milne, who did the hard work while Greig indulged on the proceeds of his crime at his £290,000 sprawling six-bedroom house in the picturesque village of Cairnbulg.
There is no suggestion Mr Milne did anything illegal: Prosecutors have said Greig was the only person associated with the case who committed crime.
Mr Milne had built up a business relationship with Mr Mackenzie over the years, helping him access a number of legitimate financial products.
One court document said: "Mr Mackenzie had a good and trusting relationship with Mr Milne, who told him that the scheme was something which he could not afford to miss.
"Mr Mackenzie's nephew Magnus Brown (director of Inverurie-based Mackenzie Fire Protection) also invested in the scheme."
Court documents show Mr Mackenzie's brother also invested on his recommendation – so there were altogether three people from the same family who had money invested in Greig's scam, plus two of Mr Mackenzie's friends.
Then in July 2014, Mr Mackenzie discovered something was wrong with the scheme so called Mr Milne who, according to one court document "sought to reassure him that there was nothing to worry about."
A few weeks later, Mr Milne told Mr Mackenzie what he knew about the fraud.
Angry, Mr Mackenzie said he had only invested because of what Mr Milne had told him.
"Mr Milne broke down in tears," one court document said.
Brian Mackenzie invested £155,000 expecting a 5.25% return. He got just £1,355 back.
Graham Hudson described the moment he first heard the scheme had hit the rocks.
He told us: "I remember it as clear as a bell because I was down at the Commonwealth Games in Glasgow in July 2014. I was told by Midas it was all rumour and nonsense. I felt sick."
He said Greig would almost always get others to unwittingly do his "dirty work", adding: "There was such an abuse of trust."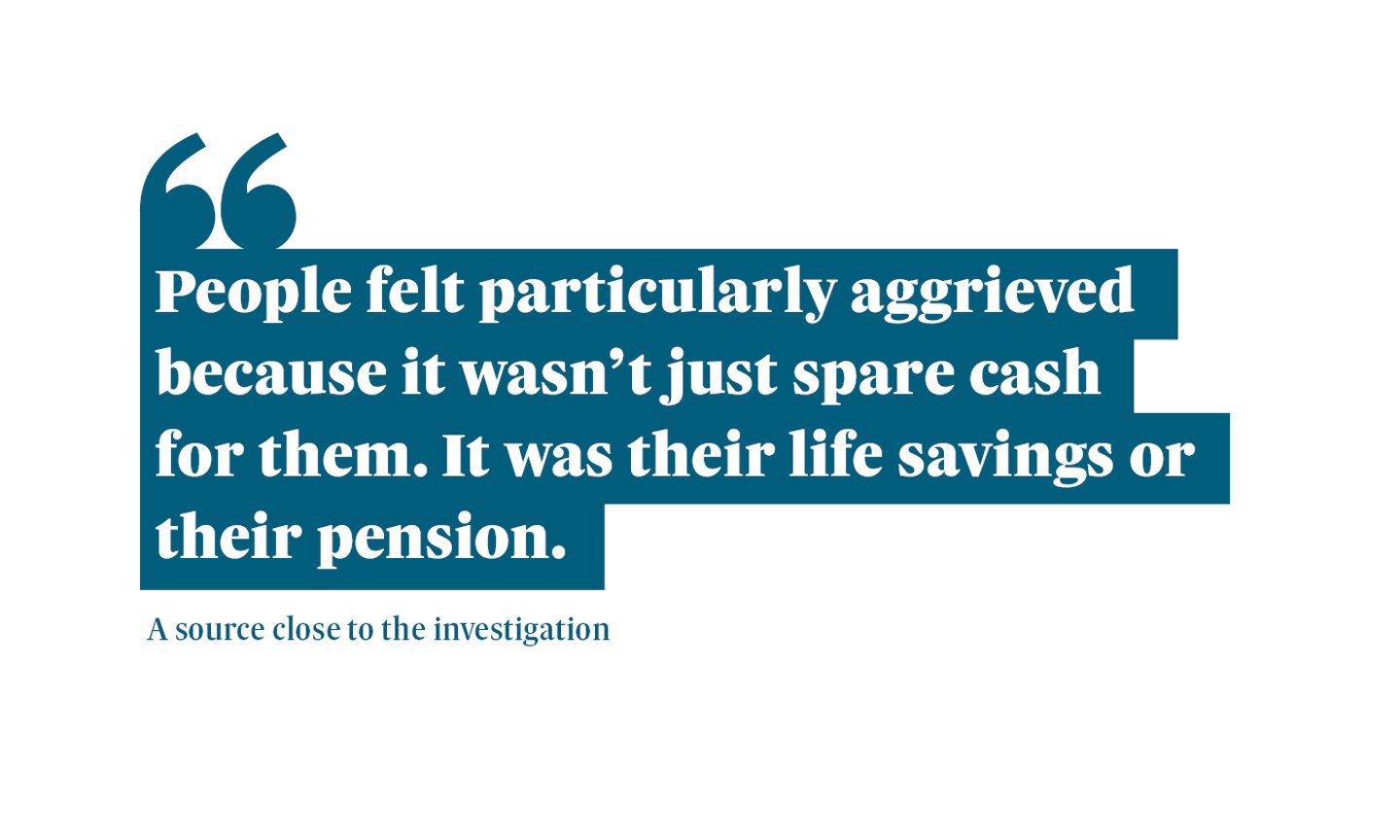 That is not to say Greig was incapable of persuading victims to hand over their funds.
One source told us: "He was a smooth talker. He could charm the birds out of the trees.
"His whole thing was making sure there was never a problem, only a solution.
"If there was someone who had an issue, he could find a solution, or knew someone who could – he was all about the deal."
Greig sold the scheme face to face to his own Midas colleague John Cutler.
One court document said: "Mr Cutler discussed the scheme with Greig, having heard about it in the office.
"He invested approximately £200,000 which had been bequeathed to him and his two sisters, one of whom was disabled.
"Mr Cutler recommended the scheme to other members of his family and to one or two clients."
It is not known whether Mr Cutler got anything back.
'There were some horrible situations'
Another source, who played a role in the early part of the investigation, said: "Greig had clients he went back a long way with.
"Some came from little networks who, having invested in this scheme and apparently having received fantastic rates of return, would tell their friends about it.
"Someone would tell their mates down the pub 'you want to talk to Alistair Greig' and, very often, they would call him.
"He would just say 'I have a special relationship with RBS. If you want to put your money in, I will share it with you.'"
The source close to the investigation told us: "There were some horrible situations.
"There were people who had invested for a sister with dementia or for an elderly relative. The proceeds were to pay for their long-term care.
"People felt particularly aggrieved because it wasn't just spare cash for them. It was their life savings or their pension."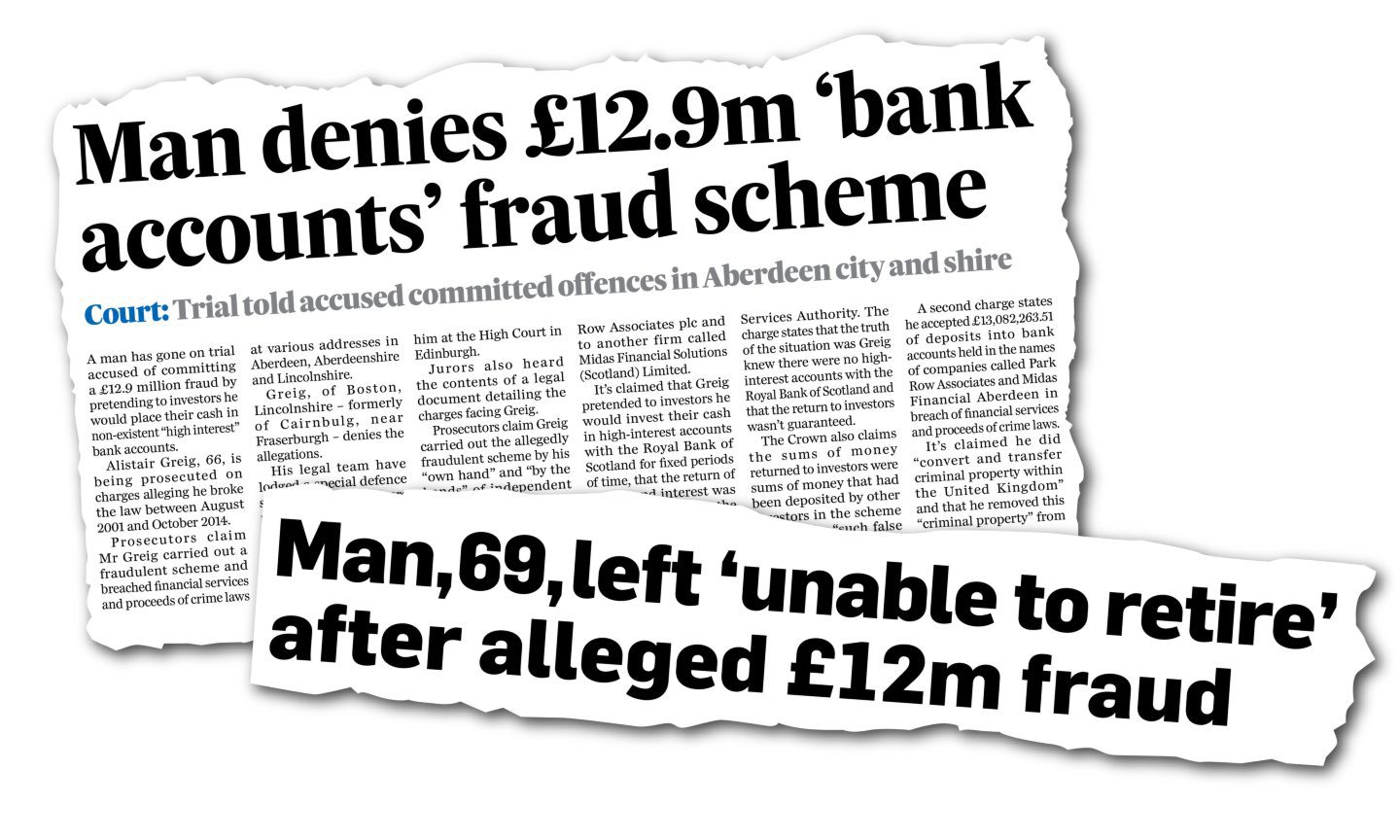 One victim, who spoke to us on condition of anonymity, lost his life savings and said: "It destroyed my life. I lost a six-figure sum. I've spent years working with lawyers to get justice.
"I've spoken to 70 other victims. This has caused a lot of stress. It's caused death for folk, strokes and cancer.
"I got a letter from the police. I thought 'This doesn't seem very good'.
"When I read it, I thought it was some kind of misprint. It was a nightmare. I've had six years of absolute misery. I was almost spewing in shock."
Another victim 69-year-old Mark Ansell, of Durris, told Greig's trial at the High Court in Edinburgh that he and his wife could no longer retire from their dog-care business as Greig conned them out of £138,000.
Mr Ansell said: "My wife has cancer. We were hoping to move to warmer climes to help with her condition but we have been unable to do that."
Another to take the stand was self-employed builder Norman Masson, 66, who lost £31,747.
He told the court becoming a victim had given him anxiety and he was planning to spend some of the money on helping his daughter with a mortgage deposit.
He added: "It's had a massive effect."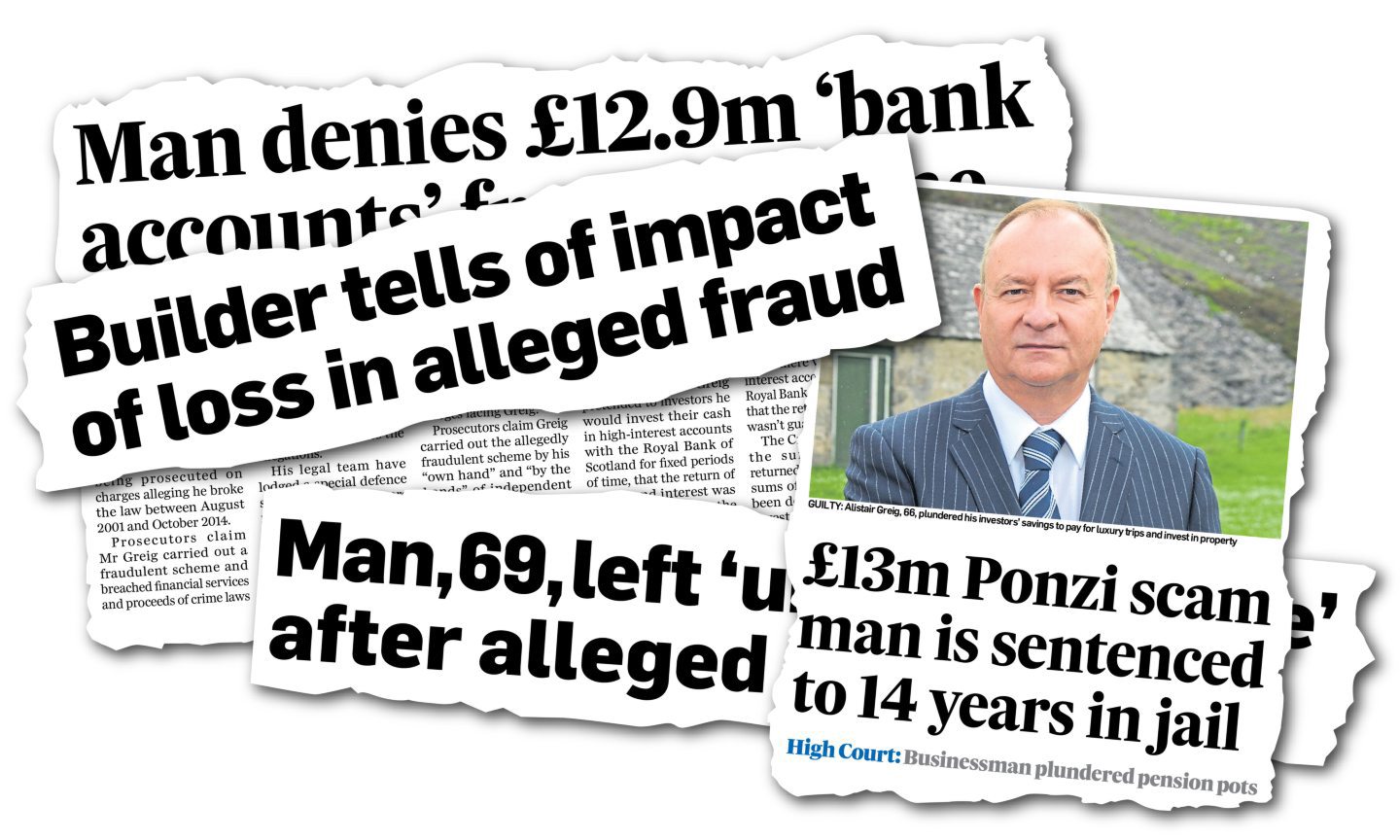 According to court records, the victim who lost the most cash was David Buchan, who was duped out of £409,353.
Court records show he deposited the entire amount on July 31, 2013,  and never got a penny back.
Another of those conned was Peterhead farmer Myles Creighton and his wife Morag, who invested £135,000 and lost all but £2,400.
Of that investment, £10,000 was paid in cash after the couple sold a caravan.
Referring to Kevin Alexander, who is listed as a Midas director up until February 2012, civil case documents stated: "In October 2014, following a press report about Midas concerning allegations of fraud, Mr Creighton spoke to Mr Alexander, who assured him everything was fine. Subsequently, Mr Creighton requested repayment but did not receive it."
There were dozens of similar heart-wrenching tales of massive financial loss across the North-east – and it was for them that police and prosecutors wanted to get justice.
Part Four: The investigation
In mid-2014, rumours began to circulate not everything was right at Midas.
Court documents show some victims contacted Midas about the rumours and were reassured, albeit temporarily.
The first real signs of trouble came in the summer of 2014 when Midas director Keith Ingram, now aged 41, raised the alarm.
He contacted a firm called The Sense Network to say he thought Midas – and Alistair Greig – were performing functions contrary to the deal it had with Sense.
One court document said: "Mr Ingram…was not aware the scheme was a Ponzi scheme."
Mr Ingram raising the alarm to Sense was crucial because Midas depended on Sense to do certain business – so it was Sense's responsibility to check Midas was doing things correctly, and to otherwise take action.
Sense alerted the Financial Conduct Authority (FCA), which executed a search warrant at Midas's office on Little Belmont Street in Aberdeen in September 2014.
The FCA then contacted officers from Police Scotland's economic crime unit, who launched their biggest ever fraud probe.
Just weeks later, officers would raid Greig's property and he would find himself speaking to detectives in a room beside his lawyer.
Ironically, Police Scotland's previous encounter with Greig was just seven months earlier – when they presented him with an award on behalf of his late grandfather.
George Greig and the 'Monocled Mutineer'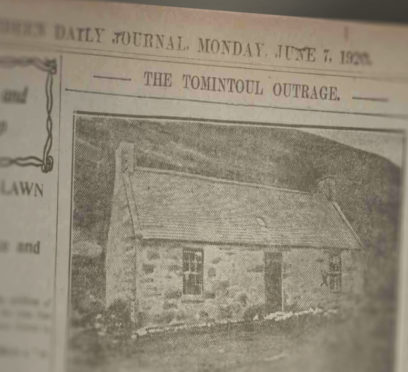 Thirty four years before Alistair was born, George was working as a police constable in the scenic Moray village of Tomintoul when he was propelled into overnight fame.
On that day in June 1920, PC Greig was called to check out suspicious activity at a bothy.
What he didn't know was inside lay one of the world's most wanted men – Francis Percy  Toplis.
Toplis  was alleged to have taken part in a mutiny of soldiers in France in 1917 and got his nickname from his days wearing a stylish gold monocle to impress the ladies while claiming to be an army officer.
The rebel soldier shot a taxi driver dead in England in the spring of 1920 and went on the run, ending up in that bothy while making worldwide headlines.
PC Greig entered the bothy – and Toplis shot him in the shoulder.
Toplis would end up being shot dead by police in Cumbria a few days later and PC Greig lived to tell the tale. He made history as the first police officer ever to be shot on active duty.
Some 94 years later in April 2014, Chief Superintendent Mark McLaren presented an official commendation certificate in memory of PC Greig to his grandson, Alistair Greig.
Greig told the Press and Journal at the time: "It's an honour to receive the award.
"My grandfather was a very respected person over the years so it's great for him to be recognised."
PC Greig wasn't the only family hero.
His son – Alistair's dad – Bill was the dux of his school – the highest-ranking student – and listed in the Army in his 20s.
The Forces took Bill all over Europe and even to Africa.
Such was his contribution to the war effort, he was awarded five medals and a commendation letter from Dwight D Eisenhower – the senior US military general who would later become president.
Bill went on to marry Dorothy and they had three children – Ialeen, David and Alistair.
He died peacefully at Inverurie Hospital in 2007 at a time where his son's criminal enterprise was – unbeknownst to many – riding high.
But it came crashing down on November 11, 2014 when police searched four homes – two were in Fraserburgh, one was in Aberdeen and the final one a detached house in the leafy Lincolnshire suburb of  Sutterton near Boston, purchased for £249,500 in March 2010.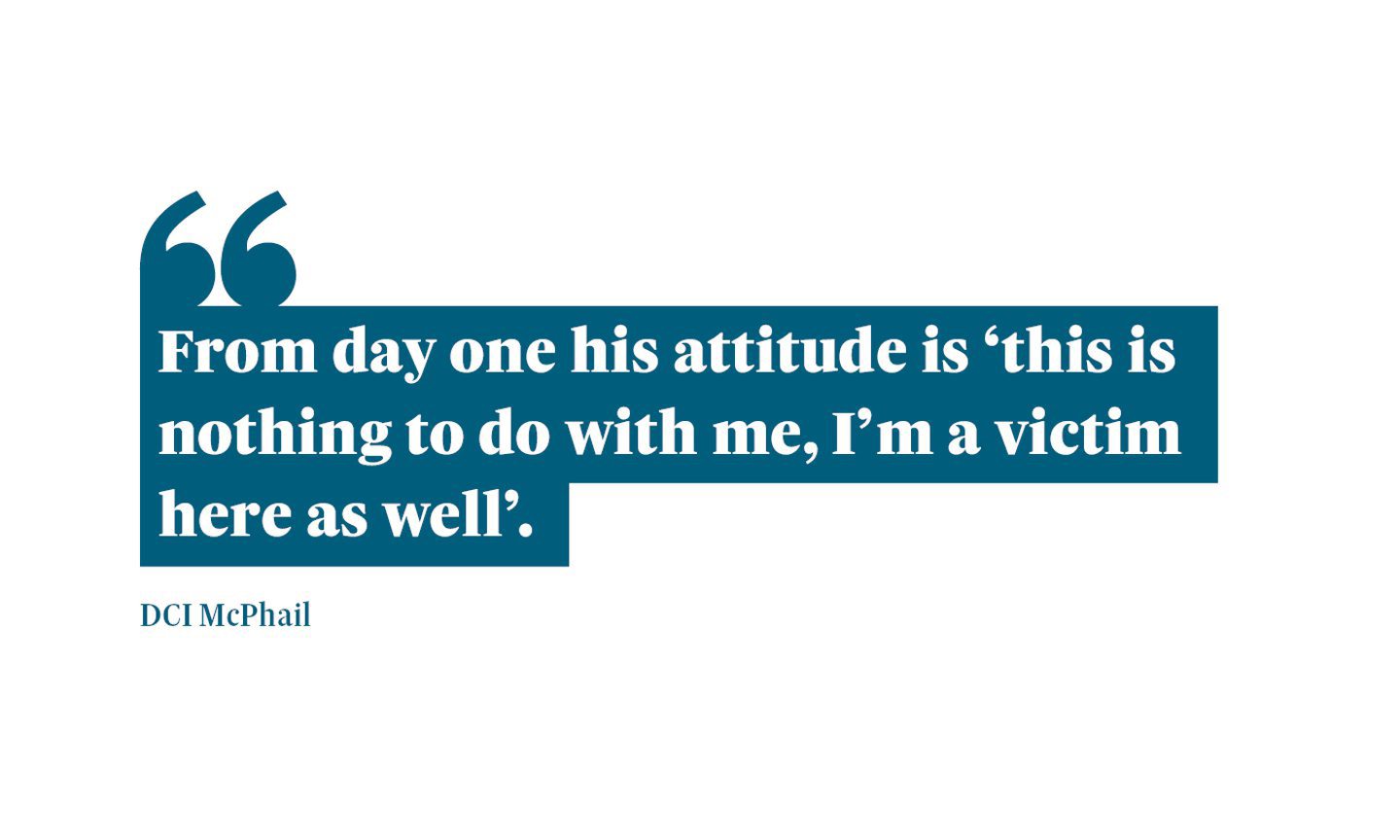 DCI Iain McPhail said: "He [Greig] was living in Boston at the time.
"He does have extended family in Boston. He moved several years before this was found out and moved back and forth [between Lincolnshire and Aberdeen].
"We didn't know if Greig would be present at any property.
"If word filtered back to him before we were getting opportunity to see documentation, there was massive concern he would take steps to cover his tracks a wee bit more than what he had done."
Police found so much material it took 14 months to sift through before they could take it to prosecutors and it took a team of 40 officers to work on the case.
DCI McPhail said: "I don't think in Scotland there has been anything on that scale."
One source close to Greig told us he went into hiding in England – ducking investors who got wind of the raids and wanted to know where their money was.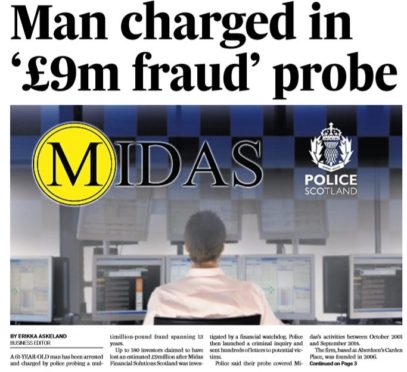 Greig even told Colin Stewart, the relative of two victims, he was in Italy and would sort it out as soon as he got back.
After the searches, Greig went into defence mode. He wouldn't be interviewed but agreed to come in to read a statement to police.
DCI McPhail said: "[His explanation was] he had his own separate clients, that he could basically provide any losses they incurred and that all the other advisers [within Midas] had their own clients that they were responsible for."
But Greig's story was flawed and he eventually withdrew cooperation, giving "no comment" interviews and blaming unspecified third parties.
DCI McPhail said: "From day one his attitude is 'this is nothing to do with me, I'm a victim here as well'."
Meanwhile, Greig won a legal bid to unfreeze his bank accounts, despite the investigation against him still going on.
According to one source, he used that window of opportunity to refund family and friends money they had lost.
The source said: "It's hard to know why he did that – whether it was in the hope he could then prove to the authorities that his intention all along was to give them their money back, or whether it was just to ensure people will want to speak to him when he comes out of jail.
"Either way, he didn't try to refund any of the other victims, the ones who weren't his friends or family."
It is understood that Greig also contacted tenants of holiday homes in two coastal towns in the Highlands to tell them to pay their rent directly to him – despite a previous instruction to those tenants to pay their rent directly to a bank, to pay off a loan Greig's company had taken out.
As the police investigation continued, the biggest challenge for officers was informing the victims.
They knew of 184 and making that initial contact would require time and great sensitivity.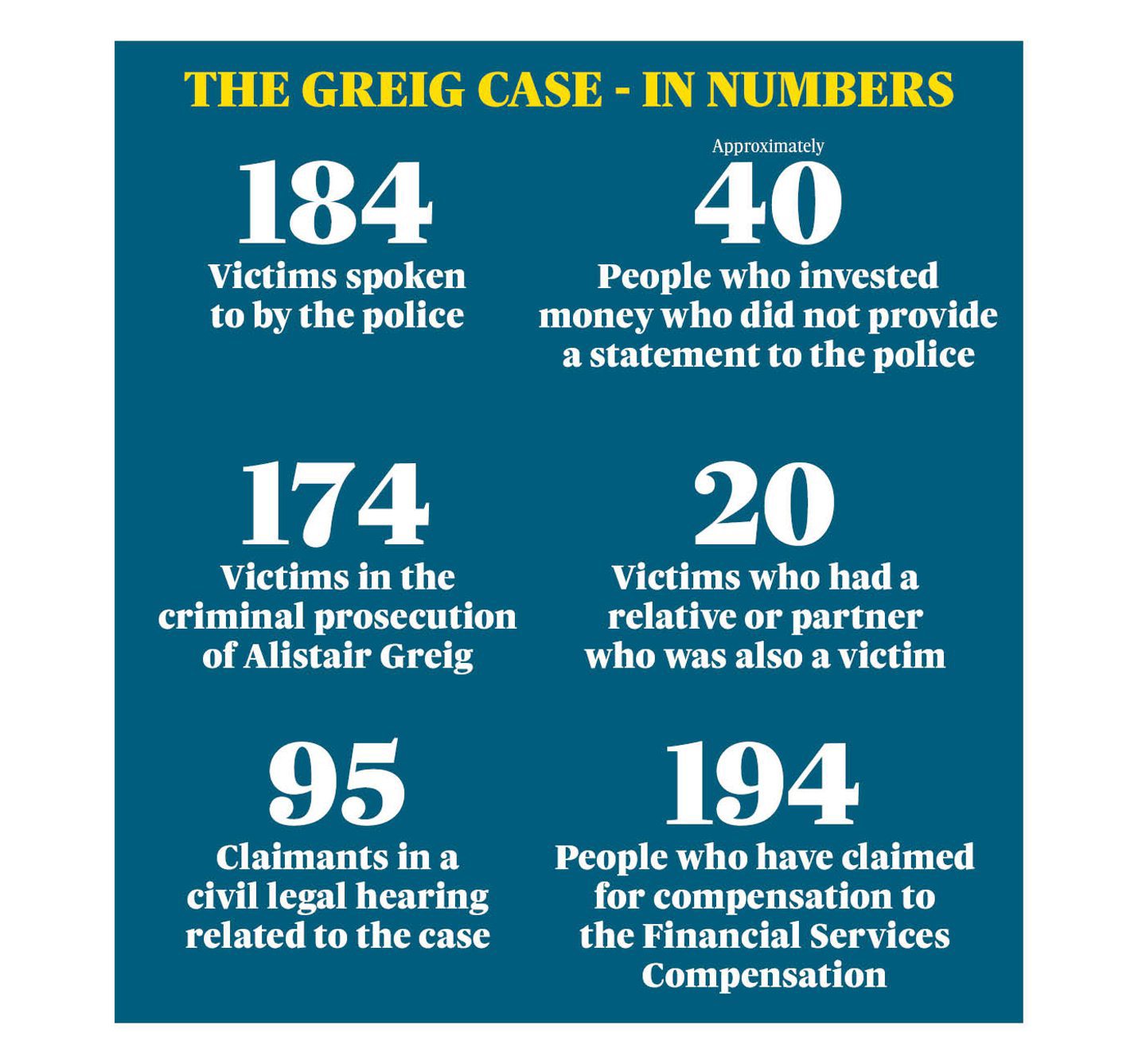 DCI McPhail said: "We had initial phone calls with every single victim.
"What I wanted to do was have that first personal touch to folk so they understand 'we're here, we're doing our best to help, but bear with us because it's going to take a lot of time to do it because of the sheer volume of witnesses and statements to take'.
"Most of them were totally unaware there was anything wrong."
Victims each filled out a police survey and the next stage was boots on the ground, with police visiting each of them, taking statements and recovering documents.
"Such was the scale of the task, detectives had to ask other police departments for help.
DCI McPhail said: "We managed to secure the services of staff from local policing to do that with us because the time it would have taken us to do it on our own (within the economic crime unit) would have been huge.
"We had people seconded into the team for a good few months to do that. It was all  hands-on deck.
"We had people having really emotional conversations with them because this is people's life savings, this is their pensions.
"There were people who had saved up money for a family home and that is all of a sudden taken away from them."
Ensuring victims get justice
Police created a quarterly newsletter for victims and worked behind the scenes to build up a picture of Greig's crimes.
DCI McPhail said: "The people in the North-east have a lot of trust in people and that reflects on the close communities they have got.
"They put faith in Greig to manage their money with very little governance or scrutiny in relation to that.
"A lot of people got back the interest element of [their investment]. It created that trust so they were willing to invest more.
"But they don't see the money. They see a bit of paper from a letter issued every six months to say [their funds] are rolled over. People are unaware that that money isn't there."
Once police built a case, DC Murray delivered eight boxes of evidence to the Crown Office in January 2016 – and it was over to its staff to make the case watertight.
A source close to the investigation said: "Victims felt ashamed, silly and embarrassed for having fallen for it and also angry that their money has been used to fund somebody else's lifestyle.
"It's their nest egg and they have worked hard for it.  But that's what drives investigators to do their job – to make sure people get justice."
When asked if Midas staff could have known about the fraud, the source said: "Greig ran it all. There was no evidence to suggest others had been aware of, or involved in, the fraud."
All other Midas staff spoke openly and honestly to police and gave consistent stories.
Greig's also duped his now ex-wife Judi.
Robert Morfee, a lawyer for the victims, praised her for the way she reacted after police told her what her husband had been up to over the years.
In one court document, Judi, now aged 65, described her husband as "a 'very, very  controlling man, no-one would dare not do what he said'."
The document added: "Greig was unquestionably 'the boss' of Midas. The evidence showed that he was an accomplished and persuasive liar and manipulator of others."
Mr Morfee, a now-retired consult for Cubism Law, told us: "Judi was a heroine. She is a good egg. She was a tremendous help to the victims.
"It's unfair to say she was part of the fraud. She was a housewife who did what her husband said, believing he was honest. He was manipulative. She was a victim as much as anybody else."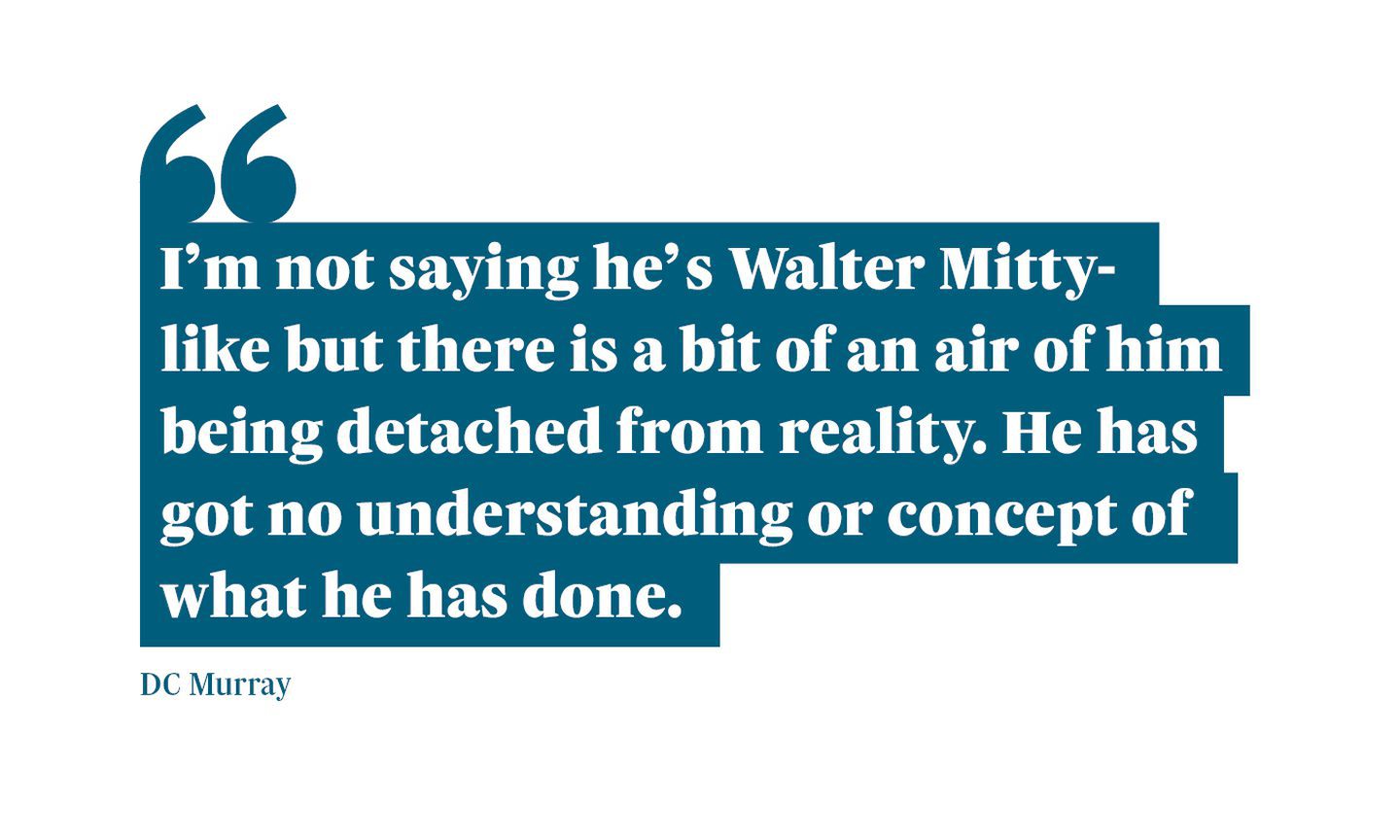 Another source added: "I can see how people may question why she didn't know about her then-husband's actions, but he was an expert conman. I think sometimes he even conned himself.
"When you look at this case, Judi was key in providing the victims with enough information so that they could get compensation. Without her actions, they would all be a lot worse off.
"When the criminal enterprise ended, Alistair went to ground in England, while his wife was left staying in Collieston in Aberdeenshire with victims knocking at her door. She was sympathetic and helpful towards them."
Colin Stewart has spent years campaigning on behalf of the victims as Greig conned his parents, James and Mabel Stewart, of Portlethen, out of a total of £340,000.
When Colin found out about the loss, he flew back from holiday to spring into action – and one of the first people he spoke to was Judi.
Colin told us: "The help Judi gave was crucial in the case.
"It would have been easy for her to go to ground but her moral stance – to help the victims in any way she could – is admirable."
Finally, the case reached court at the start of 2020 – five-and-a-half years after the first searches were carried out at Greig's property.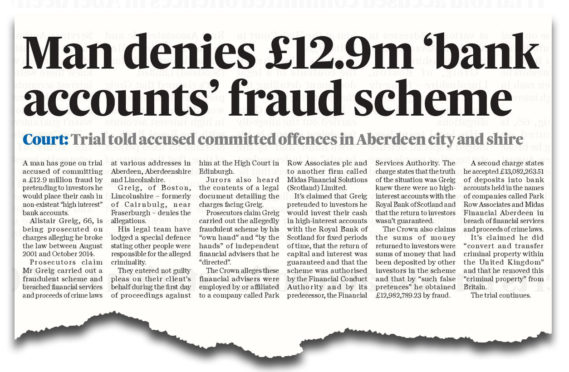 Greig denied a string of allegations so it went before a jury, which had police a little worried.
DCI McPhail said: "When it goes to trial there is always that thing in the back of your mind 'is there something technically going to come out or something going to be exposed that we've not thought of?'
"We were really comfortable that we hadn't overlooked anything, but the fear is always there."
Police and Crown Office staff left no stone unturned – and there would be no Houdini act for Greig.
A jury at the High Court in Edinburgh found him guilty on April 15, 2020.
For many, the only surprising thing about the court case was that Greig continued to point the finger elsewhere.
DCI McPhail said: "His defence is total pie-in-the-sky nonsense. I don't know if he was putting his head in the sand hoping it goes away."
DC Murray added: "I'm not saying he's Walter Mitty-like but there is a bit of an air of him being detached from reality. He has got no understanding or concept of what he has done."
To add insult to injury, Greig had to watch from the dock as Judi – who he had betrayed over many years – sat in the public gallery alongside the victims, who she had provided support to.
One source told us Greig did not think his ex-wife would be there, but Mr Stewart contacted her to say Greig would be taking the stand, so she travelled from Aberdeen to Edinburgh especially to see what he had to say.
The source said: "When he saw her there in the public gallery, sitting with them, he was not best pleased.
"It was almost as though he saw that as being betrayed – and as a bigger issue than the fact he was about to be put behind bars for a long time."
Mr Stewart said: "Judi and I even socialised in a group that night, while Alistair was in the cells."
'It's probably the largest we've had in Scotland for a fraudulent scheme'
Greig was jailed for 14 years, though it was later reduced to 10 years on appeal.
On sentencing Greig, Lord Tyre, said: "It is all the more astonishing that even now…you continue to deny responsibility and to claim to be dumbfounded at having been convicted.
"If that is truly your position, I can only conclude that you are as adept at deceiving yourself as you were at deceiving the victims of your fraudulent Ponzi scheme."
DCI McPhail said: "I felt utter delight at the sentence. It's double what I expected.
"It is probably one of the highest sentences we've ever heard of in relation to fraud or a Ponzi scheme in Scotland or the UK.
"I was pleased mainly for the victims. The way they conducted themselves in the trial period, in spite of all the hardships put onto them by Greig."
DC Murray added: "We were absolutely delighted with the sentence, but there was relief as well, because of the concern about technicalities.
"You've also got the 184 victims in the background. The sentence gave something to them."
The source at the centre of the probe said: "I was pleased the sentence was a very large one.
"It's probably the largest we've had in Scotland for a fraudulent scheme.
"When the verdict comes it does not bring victims the closure you might get in other kind of cases, because they still lost money."
Some of the gloss was taken off that celebration by the appeal, which Greig's legal team won as they successfully arguing similar fraudsters had been jailed for less than 14 years and that his own health was failing.
A judge reduced his sentence to 10 years.
Part Five: The Missed Opportunities
So how did Greig get away with such a massive crime for so long?
According to one associate of Greig, he was never seen using a laptop or a smartphone, and would only use an old Nokia, while instructing others to send emails on his behalf.
That would make the paper trial trickier to follow should anyone in authority come snooping.
He also had a façade of innocence.
One source told us that, when he discovered a former colleague had been jailed for fraud, Greig was "beside himself with rage".
"He couldn't believe someone would be so reckless – so for him to follow that path surprised everyone," the source added.
Those who knew Greig told us how he had a gift for duplicity.
"If you don't know there's something to look for, you can't find it."  
Though he knew Judi was married when they met while working together he charmed her and left his wife for her.
One source told us: "Even after that, he would cheat, deny everything, then win the woman back with charm. Going from Jekyll to Hyde and back.
"Yes, he could be a real charmer, but there was definitely a nasty side to him, and people tried their best to keep away from that. In many cases their livelihoods depended on it."
A source at the heart of the investigation told us: "It only ended because of a whistleblower.
"That was down to the structure of the fraud.
"It wasn't being advertised, it relied on word of mouth to flourish and the funds were being siphoned into a slush fund, so auditors couldn't see it.
"Without Keith Ingram alerting the Sense Network, it is hard to tell how long it would have gone on for.
"If you don't know there's something to look for, you can't find it.
"Greig had done it for 13 years and, unless everyone wants their money out at the same time, it keeps going."
A civil case in London brought by 95 of Greig's victims found Sense did nothing wrong. That decision was upheld on appeal.
The Supreme Court did not grant permission for a further hearing.
In a statement sent to us, Sense director Stephen Young said: "Sense was also a victim of Alistair Greig's dishonesty.
"By the time Midas joined the Sense Network in 2007, Greig had been running his scheme for over six years.
"Sense discovered the scheme and reported it to the FCA and the police. Their investigations quickly showed that it was a Ponzi scheme.
"We have always felt genuine sympathy for those deceived and defrauded by Greig.
"We are also pleased the High Court in Edinburgh saw fit to impose a 14-year sentence on Greig."
That sentence was later reduced to 10 years.
A source, who was in contact with Sense staff throughout the investigation, told us: "If Sense knew something was amiss earlier, it would have gone in heavy handed and found the smoking gun.
"But if you don't know there's something to look for, you can't find it."
The source added Sense incurred a £500,000 legal bill and the case took a heavy toll on the health of its staff.
"Just being associated with the awful thing those victims went through, it was horrible for the people at Sense," said the source.
While the courts were satisfied Sense acted as best as it could and that Midas staff did not act illegally, we can today reveal the Financial Services Authority (FSA) missed three opportunities to snare Greig much earlier than 2014 .
And one of the oversights was down to a misplaced email.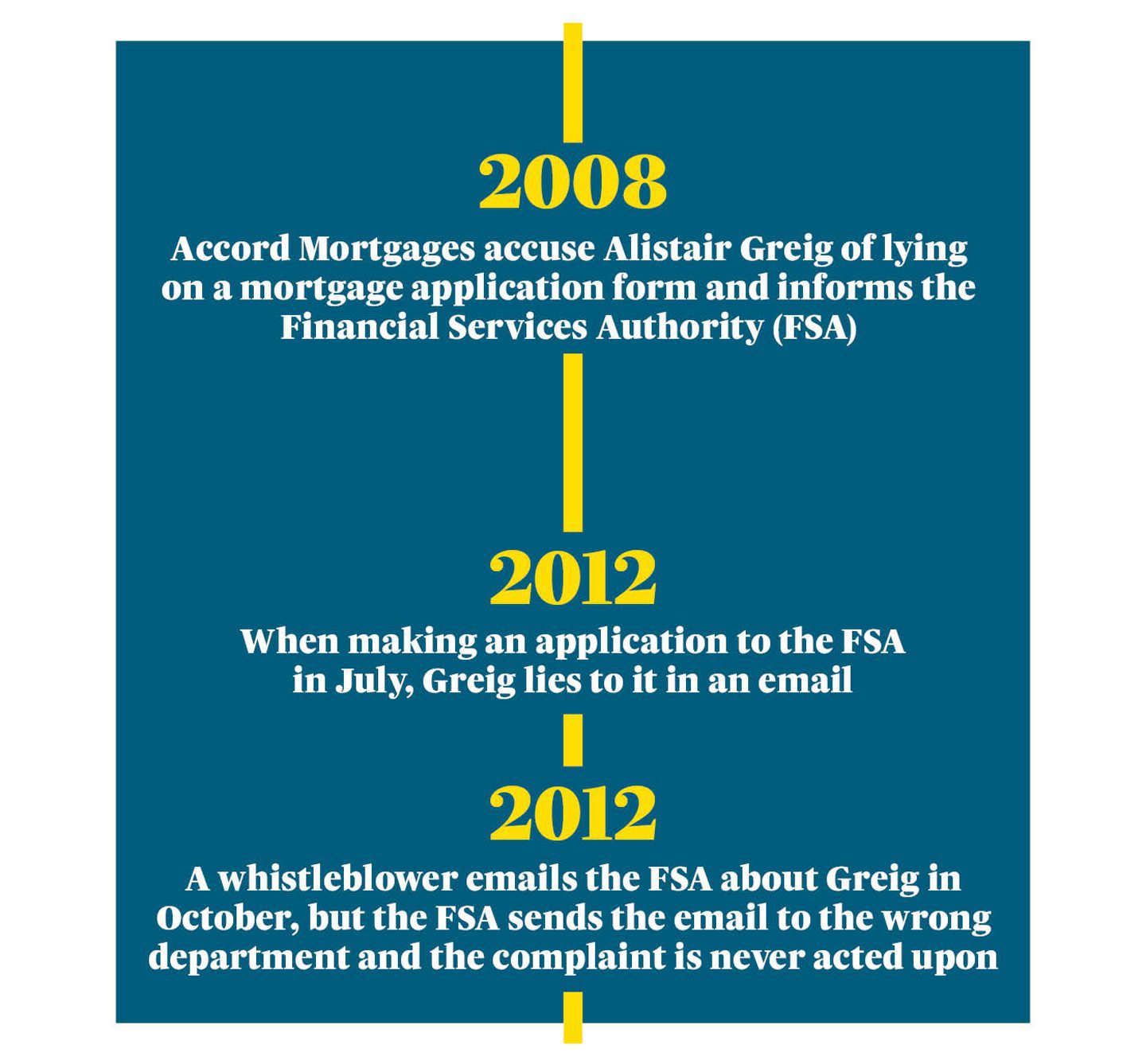 The Financial Conduct Authority (FCA), which replaced the FSA in 2013, has now apologised in writing to Greig's victims after a watchdog recommended it do so.
Only two of Greig's documented victims had money invested in his scheme before the FSA missed the first opportunity to catch him.
Accord Mortgages, part of the Yorkshire Building Society, threw him off its mortgage lending panels after accusing him of mortgage fraud in 2008.
Yorkshire Building Society told the FSA about this – but the FSA failed to look into Greig's other activities.
Robert Morfee, a now-retired consultant for Cubism Law, complained to the FCA in February 2019 on behalf of Greig's victims.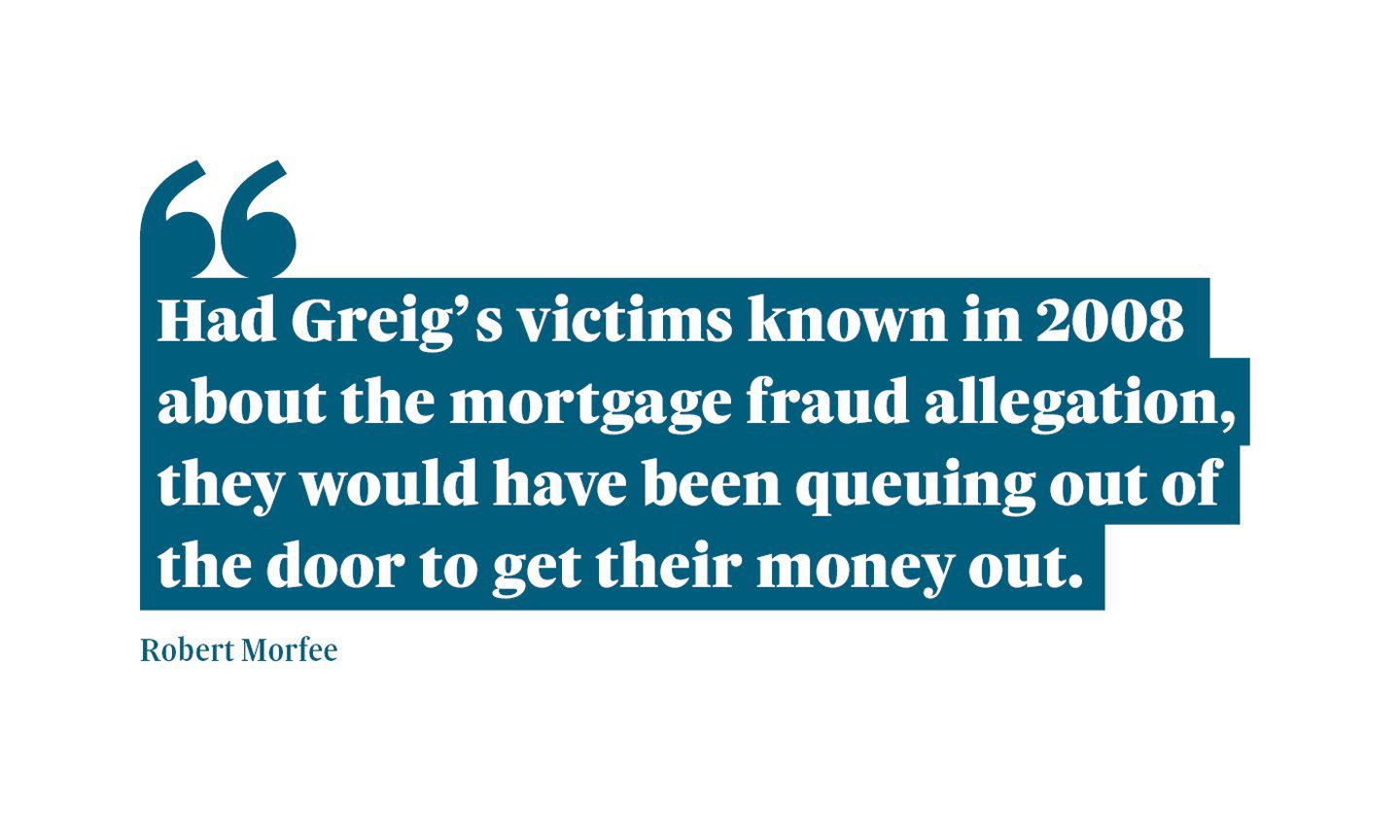 However, the FCA claimed the matter was investigated "in a timely manner and in line with process at that time."
Unsatisfied by that defence, Mr Morfee complained to the Financial Services Complaints Commissioner Antony Townsend who said: "I was surprised when I learned this.
"The fact that a major building society felt it necessary to remove (Greig) from its panels because of concerns about (his) integrity might be seen as a good reason for the regulator to make significant further inquiries."
A second missed opportunity came in July 2012.
On that occasion, Greig emailed the FSA and wrote: "I can confirm I have never been removed from a mortgage panel."
Given what we know happened to Greig in 2008, this was an audacious fib. But astonishingly, the regulator let it slide.
Mr Morfee said: "This we know is a lie. Yet FSA failed to act on this knowledge."
The FCA said the investigation was "thorough" and in line with process at that time.
But Mr Townsend said: "It appears the FSA…decided to take no further action on the grounds that nothing had significantly changed since 2008. In my view, that was a judgement which was not defensible."
The third missed opportunity came when whistleblower Richard Evans, of Banff-based Structured Financial Planning, contacted the FSA in October 2012.
Mr Morfee said: "The FSA took the decision not to take any action. This allowed the scheme to operate until 2014".
'There is no question that the two errors were significant ones'
As if that gaffe was not bad enough, the explanation for it makes things even worse.
Explaining the error, the FCA said a case file should have been opened and added: "However, a case does not appear to have been opened" and this was likely due to Mr Evans's email being directed to the wrong department.
As a result "no task was generated for anyone to take the issue forward. Consequently, the referral email was unnoticed and no follow-up action was taken," said the FCA, which added that its systems have since improved.
Mr Townsend added: "The FSA did not intervene on three occasions: the first was a consequence of its policies, and I cannot consider that further; but the second and third were in one case a deliberate decision not to investigate further and in the other an administrative error.
"There is no question that the two errors were significant ones."
One victim, who asked not to be named, said: "The FSA did a terrible job."
Now living in New Zealand, Mr Morfee told us: "It is absolutely outrageous what has happened. It should be a national scandal in Scotland.
"Had Greig's victims known in 2008 about the mortgage fraud allegation, they would have been queuing out of the door to get their money out."
Mr Morfee has called for a judicial review into the FCA's decision not to compensate the victims for their legal expenses.
Separately, most of the victims have received up to £85,000 each from the Financial Services Compensation Scheme (FSCS).
This is because, during a a civil court case in London, the scheme was officially classified as an "an investment".
It is understood one of the key drivers in establishing that classification was Greig's now ex wife, Judi, who provided assistance to the victims after she discovered his scam.
Philippa Hann, managing director of litigation at Clarke Willmott, who has also advocated for Greig's victims, said: "There clearly were red flags in Greig's behaviour.
"Where the FSA had noticed Greig had lied to it about being thrown off a mortgage panel, it ought to have removed the permissions for him to have any access (to people's funds). Had it done that, far fewer people would have been affected by Greig's fraud.
"Could the FSA have done better? Yes. Does the FCA have an incredibly difficult job? Yes. They are taking steps, but there are problems. They have apologised to the victims."
She said it was unfair 95 of Greig's victims who brought that civil case will receive the same level of compensation from the FSCS as those who did not, as they will have to pay high legal fees.
The civil action cost around £1.5 million – around £15,800 for each for those 95 claimants.  On the subject of a possible judicial review, Ms Hann suggested the mental toll could be too much for some of them.
She said: "The clients have been through so much. It's taken them six years of having their expectations raised and dashed."
She said, in order to protect investors in future, finance firms should be compelled to take out comprehensive insurance policies.
An FCA spokeswoman declined to comment on the case.
Ms Hann said: "One of the issues is the FCA is so secretive. There would be merit in it being more open. It ends with distrust on all sides. It is to its detriment because it does some really good work."
Explaining what could happen next in the case, Mr Morfee said: "Those are legal proceedings that could be taken in the form of a judicial review. Whether the clients will do that, I do not know, I've suggested it."
Orkney and Shetland MP Alistair Carmichael is among several north-east politicians campaigning for the victims to recover their legal costs.
Several debates have taken place at Westminster on the topic but the victims are no nearer to persuading the FCA to stump up the cash.
Part Six: The Case Goes On
In May 2021, the man behind what has been described as Scotland's biggest ever fraud won his legal bid for a reduced sentence.
Alistair Greig had instructed solicitors to seek leave to appeal to the Scottish Court and Tribunal Service (SCTS) – and his case was heard at the Appeals Court in Edinburgh.
The judges decided to reduce his sentence from 14 years to 10 on the grounds that his health is failing and that other fraudsters who had committed similar offenders had received shorter sentences.
DCI Iain McPhail said: "Greig is still denying it to this day.
"Again, that just demonstrates the kind of individual he is. He has got no thoughts for anybody else, only himself."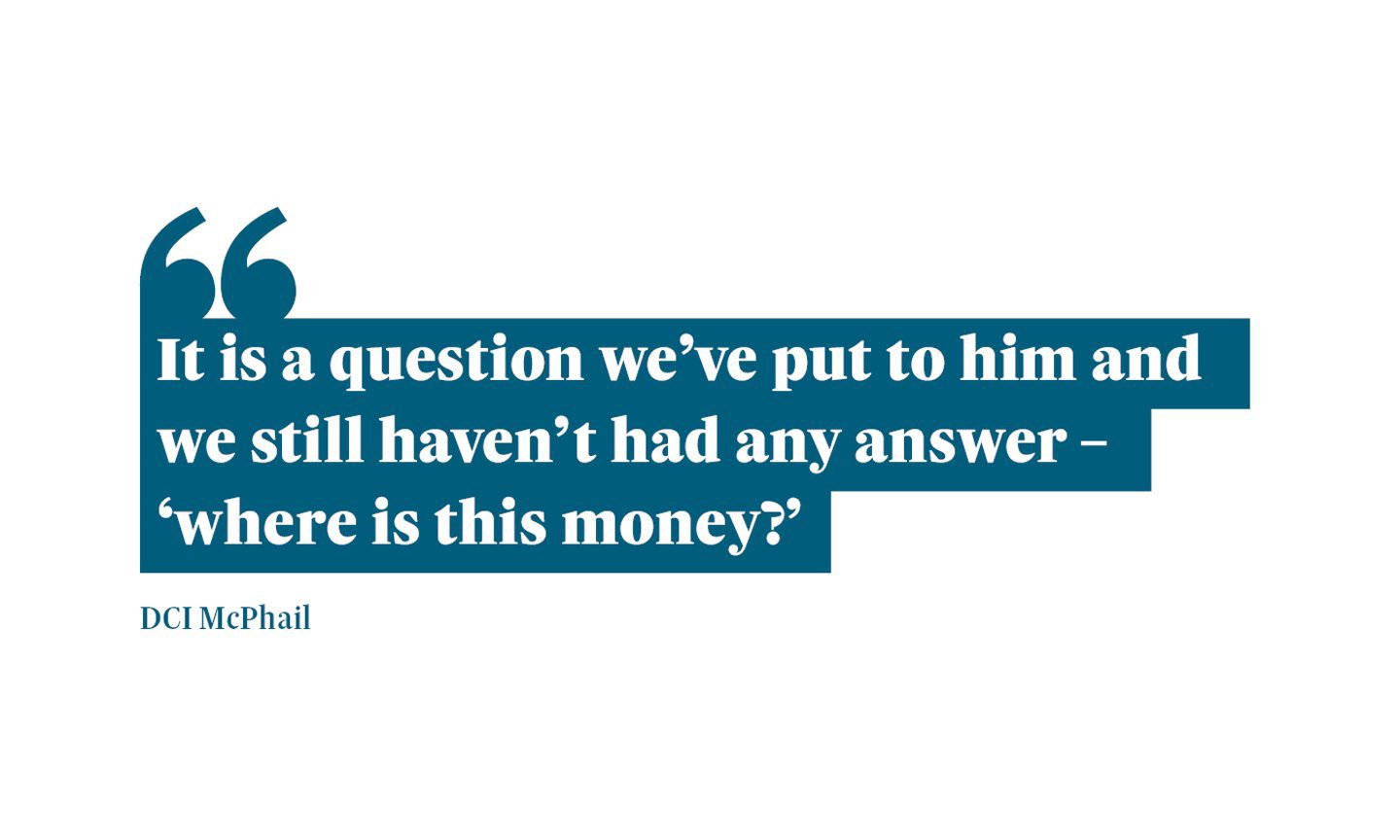 Meanwhile, we can now reveal that 194 people applied to the Financial Services Compensation Scheme (FSCS) for compensation, claiming they were a victim of Greig.
The maximum each claimant can be awarded is £85,000.
An FSCS spokeswoman said: "FSCS has paid compensation for around 180 claims, paying out around £9.3 million.  Seven claims are in progress and seven were unsuccessful.
"If your readers believe they have been a victim…they can submit their claim to FSCS via  fscs.org.uk"
Meanwhile, the victims had been hoping they could receive more compensation once the Crown's forensic accounts had trawled Greig's bank accounts and asset list.
They had established Greig had £830,000 – but they had to prove it was directly linked to his crimes.
But those hopes were dashed in March 23, when a judge ruled Greig only had £814.33 that could be returned.
And even that paltry sum will fund the legal system rather than go to the victims.
The only glimmer of hope is that, if prosecutors discover any more of the victims' money in Greig's accounts, another confiscation hearing could take place.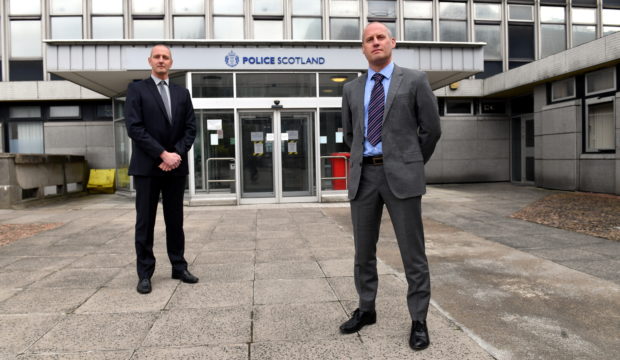 L-R DC Stuart Murray and DCI Iain McPhail. Image: Kami Thomson / DC Thomson.DCI McPhail said: "It is a question we've put to him and we still haven't had any answer – 'where is this money?'
"Greig wasn't particularly cash rich and didn't have a number of assets that were identifiable for restraint and seizure.
"I think there is money elsewhere. In an effort to support the victims to try to get a better recompense and to give them some closure, we'll continue to look at this.
"If there is any further information that comes from anyone reading this in relation to any assets Greig may have, that would be something we would very interested in."
When asked if Greig could have money stashed away abroad, DCI McPhail said: "Absolutely."
DC Stuart Murray, who also worked on the investigation, added: "[Police] can't just go and restrain foreign bank accounts – there's a lot of red tape.
"If Greig is not taking responsibilities for his crime, I would ask him to tell us where the money is if he's got any.
"If he is able to give us any information in relation to that it is something we would absolutely speak to him about if he was willing to do that."
It is understood some of Greig's victims have received a share in approximately £380,000 on a pro-rata basis from the FCA – funds left in the Midas account when it was dissolved in September 2017.
Graham Hudson, a victim in the case, said: "The compensation is welcome, but the legal fees will account for a chunk of it."
Several politicians from all sides of the political spectrum have supported the victims' fight for more compensation.
North East MSP Kevin Stewart, and Scottish local government minister, has written to the UK Government's Economic Secretary to the Treasury John Glen to look at the compensation aspect again.
Mr Stewart wrote: "I believe it is wrong that those who took up the fight [by funding the civil case] and were rightly awarded compensation should be out of pocket due to the legal expense of doing so.
"I would hope you would agree that it is unacceptable that those who took up the fight against injustice should not be worse off.
"Therefore, I am asking that you take the necessary steps to ensure that the authorities can compensate those who have been left out of pocket."
The UK Government's Treasury ministry has declined to comment on the matter.
However, Treasury Minister John Glen has said that it is ultimately up to the FCA to make a decision in line with its protocols, and the FCA has said it will not compensate victims further.
Call police on 101 or  Crimestoppers on 0800 555 111 with information.
---
Go behind the scenes with investigations reporter Dale Haslam and discover how the King of The Swindlers came together.
If you would like to make a comment in response to this series, please email dale.haslam@ajl.co.uk to contact our reporter Dale Haslam.