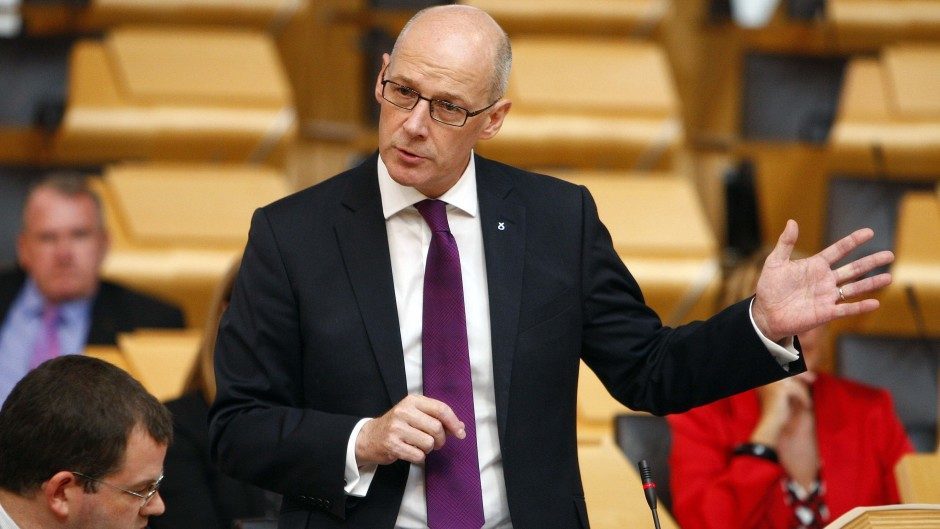 John Swinney faced down hostile MSPs to insist he is "wholly confident" pilots of the controversial Named Person policy had kept within the law.
The national roll-out of the scheme – which assigns a "state guardian" to every child in Scotland – has been delayed for a year after the Supreme Court branded elements of it unlawful.
Highland Council has been running a pilot of the service – in which a health worker or senior teacher is allocated to under-18s as a single point of contact for wellbeing issues – since 2010.
The trial of the scheme in the north came under increased scrutiny after the death of toddler Clyde Campbell.
A Press and Journal investigation has found that the named person – a health visitor – overseeing the welfare of the Inverness youngster only got in touch with the family four times.
Yesterday, north-east MSP Ross Thomson asked for a guarantee from Education Secretary Mr Swinney that the law had not been broken by local authorities.
But, giving evidence to Holyrood's education committee yesterday, he said: "Much as it has been alleged over the years, I do not run every local authority in the country.
"Local authorities are self-governing bodies that must take their own decisions. We provide guidance and we have done so, but each local authority must take its own decisions."
Earlier in the session, he agreed that he was "wholly confident" that local authorities had not fallen foul of the data-sharing provisions because "all local authorities must act within the law".
In July, the UK Supreme Court found that some provisions of the system could breach the European Convention on Human Rights.
Judges said the scheme as a whole was "legitimate and benign", but ruled sections on how information on children would be shared were incompatible with Article 8 of the convention, which protects families from unjustified interference from the state.
Mr Swinney denied the policy, which was due to be rolled out last month, would create a "cottage industry for bureaucracy", saying public sector workers were already implementing the practices the scheme formalises.
A three-month period of "intense engagement" on amendments to the legislation is to take place before the new implementation date of August next year.
A Highland Council spokeswoman said: "The Supreme Court decision related to the information-sharing provisions in the Children and Young People (Scotland) Act 2014.
"These have not been commenced yet.
"The ruling does not relate to existing practice in Highland and elsewhere, which is covered by a range of legislation, and primarily the Data Protection Act and Human Rights Act."