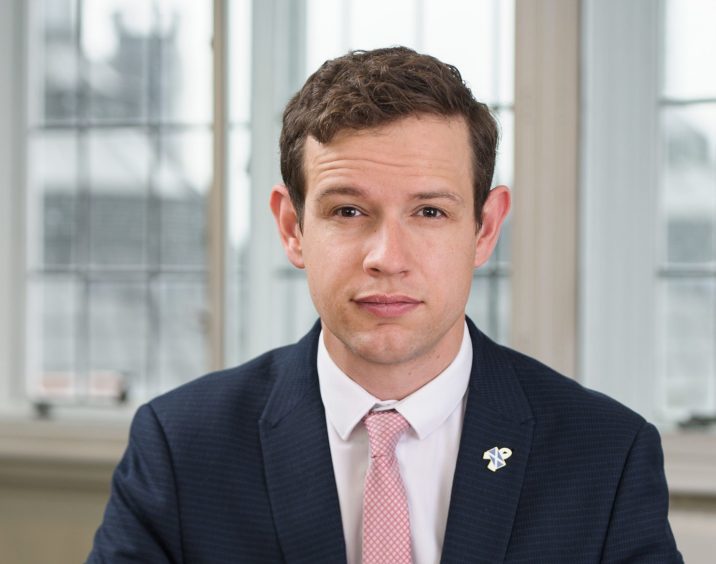 Amidst Brexit uncertainty one thing is becoming clearer each day: people and businesses in Scotland and across the UK are keen to see a plan put into action to protect our economy and retain our opportunities for trade and growth.
Many people of differing political opinions agree membership of the single market benefits the Scottish economy, particularly in financial services, tourism, and food and drink.
Having easy access to do business with 500million people is not something to be shrugged aside as part of unknown negotiations, as the UK Government would like.
Access to the single market is also important for the oil and gas industry. Last year over £750m worth of goods were exported to Norway through Aberdeen harbour or airport. While Norway may not be in the EU it is in the single market.
Withdrawal would raise doubts over contracts worth hundreds of millions to our vital oil and gas supply chain based in the North East of Scotland. Market across the continent and particularly around the North Sea is significant and we must fight to keep unhindered access to it.
It is galling that rather than providing clarity that industries are crying out for, the UK Government is blatantly prioritising jobs and employment in strong vote Leave areas such as Sunderland.
Theresa May and her Cabinet have bent over backwards making deals for Nissan there, whilst ignoring the legitimate concerns of industry in Scotland. No deals or negotiations have happened for businesses north of the boarder, we simply have the mantra that 'Brexit means Brexit' repeated over and over.
This week the Scottish Parliament voted on a SNP resolution regarding our continued membership of the European market.
It could happen two ways: soft Brexit with no EU decision influence but access to the single market, or a flexible deal where only England and Wales withdraw but allow Scotland and Northern Ireland to keep access to single market nations.
In an utterly bizarre turn of events the Tories and their former coalition pals the Liberal Democrats voted against the motion and called on the SNP to 'make Brexit work'.
In a way it is nice to see the Conservatives admitting that they have far more confidence in SNP to come up with a working plan, but perhaps they could apologise for their infighting in Westminster creating this mess before asking Nicola Sturgeon to clean it up. And how did Scottish Labour vote? They abstained.
It appears their Scotland branch is neither for nor against membership of the single market. Only the SNP and the Greens supported the call for Scotland to retain unhindered access to the world's largest market.
Meanwhile in Westminster the Prime Minister tacitly acknowledged, and without a hint of irony that in 2014 many people in Scotland voted No due to the alleged uncertainty that an independent Scotland could stay in the EU.
A lot of "Better Together" promises have not been kept, but Theresa May's reminder that they have broken one of the biggest ones is a bit of an own goal.
At the same time she and her party say the SNP should rule out a second independence referendum because of 'uncertainty.'
Thanks to the UK government economical and constitutional uncertainty is the only thing we can say will happen with a degree of certainty. An independence referendum doesn't create uncertainty it would present Scotland with a choice and the opportunity to get away from the damage a hard Brexit would do to our economy.
It would be irresponsible for the SNP to rule out a future referendum, especially if it is the only way Scotland could avoid the economic self-harm of Brexit.
Five months have passed since the UK voted to leave the European Union and yet still we are faced with a wall of silence from number 10.
There are press releases and public statements abound to try and clarify the mixed messaged of UK Government ministers that usually go along the lines of "Minister X was simply expressing his/her personal opinion."
And so the wall of silence looks set to stand, at least until May 2017 when the UK Government seeks to trigger article 50. Having lost once in courts already, the UK Government is appealing to the Supreme Court to allow them to use the archaic powers of royal prerogative rather than face a vote in the House of Commons.
The Tories don't seem to know what Brexit means, but more worryingly they seem to have forgotten that in the meantime they are meant to be running country.
Buy North East
The Buy North East campaign is an excellent initiative to boost the local economy and help businesses adapt and survive in difficult economic times. With backing from both the private and public sector its aim is to ensure that as much as possible money spent on procurement by companies in the North East should stay in the North East.
Even a modest increase in local procurement would see millions of pounds added to the North East economy. That money will then hopefully be spent on more local goods and services creating a virtuous circle to the benefit of businesses big and small and those who work for them.
Our two councils along with Scottish Enterprise should be commended for this scheme. As should the Chamber of Commerce and Aberdeen Journals for their prominent support. To those businesses that have signed up, well done. To those that haven't, have a look.
But the sentiment shouldn't stop at procurement. Christmas is the key time for the retail sector and as we buy gifts for our loved ones let's keep the Buy North East message in mind. We are lucky to have some fantastic independent shops in our region. Let's use them not lose them.
Trump
The US elections are a truly global event as the world waits to see who will take the helm of its most powerful country.
Eight years ago much of the world was thrilled by the election of Barack Obama. So high were the expectations he was awarded the Nobel Peace Prize before even taking office. For a whole host of reasons those expectations were set so high they were impossible to achieve.
Fast forward eight years and the election of Donald Trump has been met with an overwhelmingly negative response. Many a grim prophesy has been made for what the future holds with him in the oval office.
Few will disagree that the campaign rhetoric went way beyond what we have come to expect, and that his comments on women and immigrants in particular were beyond the pale.
Let us hope that in the same way that President Obama failed to meet the sky high expectations placed on his shoulders, let us hope the grim predications of President Trump are equally impossible to achieve.
Callum McCaig, Aberdeen South MP and the SNP's energy spokesman at Westminster.