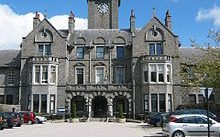 An NHS Grampian stroke unit which uses occupational therapy to help rehabilitate patients has been praised in a major new report.
The Woodend Hospital service uses occupational therapists to help cut recovery times and keep people out of hospital.
The report, produced by the College of Occupational Therapists, praises the scheme for reducing admission and discharge delays, as well as reducing the time patients spend in hospital.
Stays in hospital have been almost halved from 55 to 28 days thanks to the stroke unit, according to the report.
Some of the tasks undertaken by occupational therapists at the unit include giving advice in falls prevention, arranging home adaptations and helping patients find support services so they can recover at home.
Julia Scott, chief executive at the College of Occupational Therapists, said: "I would encourage health boards, integrated joint boards and local authorities to look at valuable examples like this one that show how early intervention by occupational therapists can make a real difference to people's lives whilst saving NHS Scotland money."