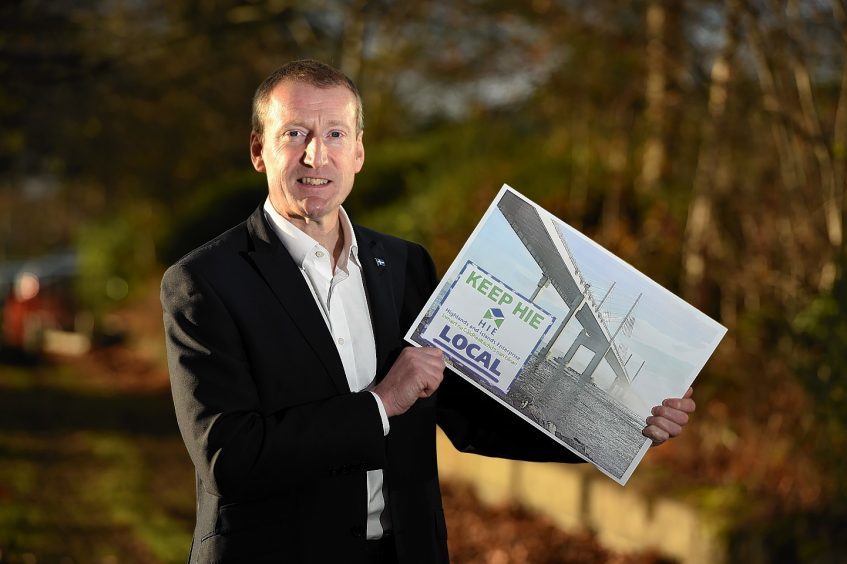 A defeat in Parliamentary is a true test of any government.
How do ministers respond to it? With humility? Accept the verdict? Or play for time with warm words but no commitment to accept the vote?
The latter course of action has been the Scottish Government's approach to this week's defeat of their plan to abolish the local board of Highlands & Islands Enterprise. The Economy Minister Keith Brown is now offering talks and discussions. But he has not publicly accepted that he lost the vote and the argument.
The P&J has given the HIE Board's future much coverage. And rightly so. The SNP do not understand why the region opposes their desire to abolish a local board and replace it with a pan-Scotland centralised monolith in the central belt.
Have they learned nothing from the botched centralisation of Scotland's police forces? Do they not notice the controversy over a Dundeebased fire control room covering the north of Scotland?
So what now emerges will be a genuine moment of assessment on the SNP. A sensible minister would accept a Parliamentary defeat where only his whipped troops voted for him. Greens, Tories, Labour and Lib Dems all argued to keep HIE's Board.
Keith Brown has so far ignored all of us who live and work in the region because we are not SNP. Now is the time for Brown to demonstrate some humility and drop this bad plan.
I suspect Alex Salmond would never have let this happen. He was an arch pragmatist when First Minister.
When the opposition threatened a vote of no confidence in the then hapless education secretary, Salmond moved her before a vote could happen. It was a lesson in minority government.
Salmond would not have let a Highland SNP backbencher dangle in the political wind as Sturgeon did to the excellent Kate Forbes. She made a spirited speech defending the indefensible. But Kate should never have been put in this position by Nicola Sturgeon and Brown.
Parliament knew the SNP were in trouble. Not just because the opposition, for once, agreed on an issue. But because those called to speak for the SNP included Ian McKee and John Mason.
Both represent Glasgow seats. McKee is Brown's ministerial bag carrier. Hell would freeze over before he would criticise the SNP. And it was not just slavish loyalty in Holyrood.
The SNP group on Highland Council fell to new depths of nationalist sycophancy by opposing a motion in their own council that called for the HIE boards retention. Orkney Islands Council and Shetland Islands Council both voiced concern to the SNP plan.
As did the majority of Highland councillors. But if you have SNP stamped on your forehead, then heaven forbid any demonstration of rational, independent thought would be possible.
HIE has been a demonstration of two things. Shockingly bad politics from a party who used to be very good at this. And a command and control operation from Bute House. People in the know, civil servants, journalists and trusted confidants all say this Scottish Government is Nicola.
Team Nicola is the only show in town. Able, sensible politicians such as former Health Secretary Alex Neil are sacked because they have their own mind.
To be part of Team Nicola is to show unadulterated commitment to the cause. The HIE board fiasco demonstrates that. Sturgeon whipped her Highland MSPs to vote for something they would never have countenanced in opposition.
The stories of unhappy SNP MPs at Westminster, hiding on the banks of the Thames from their constituents, are now legion. But none have shown any desire to publicly call out their own government. And no wonder. SNP candidates all signed a gagging clause saying they will obey the great leader.
So here are the facts. The SNP lost the vote. They are a minority. Parliament has spoken. Holyrood has said keep the HIE board. There is no clever compromise available to Sturgeon and Brown.
Anything less than a complete acceptance of Holyrood's democratic decision will be to defy the will of the democratic majority. Now, and not after months of procrastination, waffle, discussions and talks about talks, the SNP Government should say they accept the argument to keep HIE's board.
IS HISTORY ABOUT TO REPEAT ITSELF?
Fishing communities know their history. They have been on the end of politics for decades. Edward Heath's Tory government traded the industry away in the 1970s when Britain joined the common market.
Is history about to repeat itself? Theresa May's Brexit speech this week set out her negotiating position as the UK leaves the EU. In a little-reported passage, she cited industries who would want a good deal for the UK. German exporters, French farmers and Spanish fishermen.
May believes that as we buy Audis and white wine from the Loire, European governments will cut us a favourable deal on trade. But Spanish fishermen? The Prime Minister believes they want to continue fishing around Scotland. She is right. Of course they do.
And she is now prepared to concede that in the forthcoming negotiations. Great. Our industry who voted overwhelmingly to leave the EU, believe that better times are ahead out of the EU and away from the hated Common Fisheries Policy.
The PM says it will be just fine for the Spanish, and therefore presumably the Dutch and French to continue fishing as they have for decades. That does not sound a good deal for the Scottish fishing industry. Are the Tories about to sell us out again?
SIR ALEX WAS THE LONG-TERM WINNER
The psychology of politics is one thing. But football is a different world. The Liverpool boss Jurgen Klopp is a master. He is cheerful, positive, great on television and is a match in every sense for the super egos of the premiership led by the irrepressible Jose Mourinho.
Last weekend's titanic 1-1 draw at Old Trafford was the beautiful game played not very beautifully. But, for drama and sheer excitement, it took some beating. Klopp is not the first to sit in the Anfield hot seat and know his way around a psychology textbook.
When Liverpool came to Pittodrie in 1980 to play the Scottish League Champions in the European Cup, they were managed by a wily old fox called Bob Paisley.
In the pre-match press conference, Paisley praised Gordon Strachan as one of the best midfield players in football. By all accounts, it got to Strachan. Mind games were something that Paisley understood and deployed.
A young Alex Ferguson became adept at the same tricks with devastating effectiveness at both Pittodrie and Old Trafford.
Liverpool won at Pittodrie all those years ago. A team including Alan Hansen, Graeme Souness and Kenny Dalglish could look after itself. But Sir Alex was the long-term winner. He never looked back.
Tavish Scott, Scottish Liberal Democrat Shetland MSP