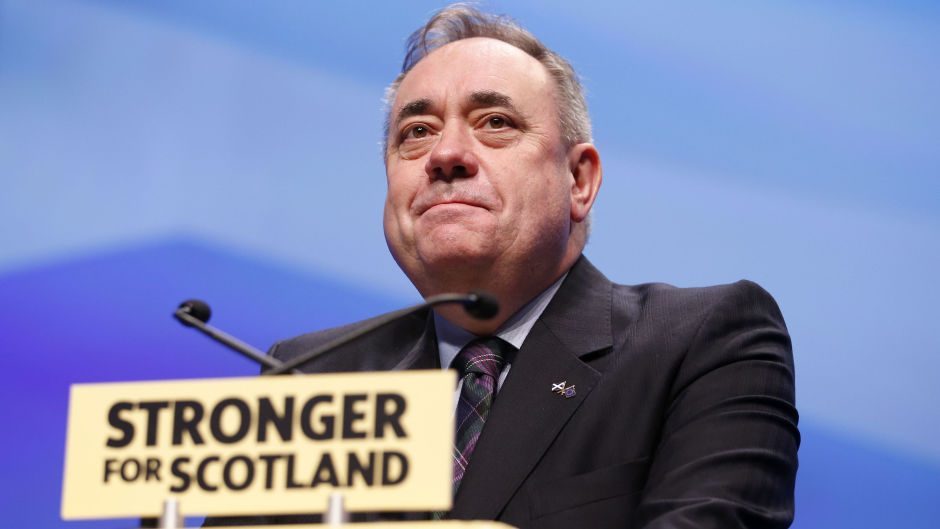 Alex Salmond has refused to rule out a potential third spell as SNP leader, saying "never say never".
Speaking during his LBC radio phone-in programme, the former First Minister was questioned on what would happened if Nicola Sturgeon was to step down as party leader.
With Ms Sturgeon looking increasingly likely to announce a move towards a second referendum on Scottish independence at the SNP conference in Aberdeen next week, pundits are already speculating who could take over if her gambit fails and she chooses to resign.
Mr Salmond has emerged as an early favourite to take up the position for a third time but he said today that his return remains "unlikely and far-fetched".
He told host Iain Dale: "There's two things I'd say; firstly Nicola Sturgeon, I believe, will hold an independence referendum and win it, and will be the first First Minister of an independent Scotland.
"My suggestion has been the likely date as a year come September, but it could be three months later or whatever, within the timetable for Brexit.
"Secondly, if I remember correctly, even Jesus only had a second coming, I don't think I'm going to have a third coming as SNP leader."
Pushed on whether he would rule it out, Mr Salmond said: "Well, I learned a long time ago to never say never in politics but I expect Ms Sturgeon to be First Minister of Scotland for some time to come, and I also expect her to be First Minister of an independent Scotland."
However, Mr Salmond has previous in playing down leadership ambitions.
In 2004, he said: "If nominated I'll decline, if drafted I'll defer, and if elected I'll resign." One month later he began his second spell at the helm of the party.