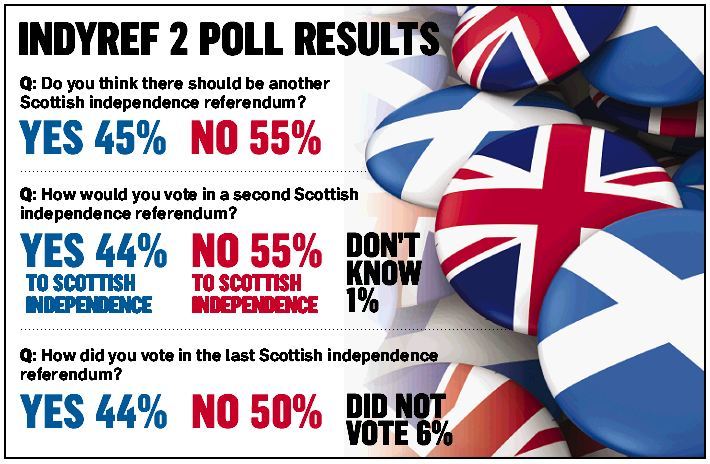 An exclusive poll has revealed that 55% of Press and Journal readers would reject Scottish independence in a second referendum.
Nearly 1,000 readers responded to the P&J's questions in a set eight-hour poll yesterday, and 55% indicated they were both against a second independence vote and separation from the Union itself.
Meanwhile, 45% of respondents backed First Minister Nicola Sturgeon's plans for another ballot late next year or in early 2019.
The survey found little change in people's attitudes since the first referendum on September 18, 2014 – with 44% in favour independence, 1% remaining undecided and an unchanged 55% preferring to remain part of the UK.
On that occasion, the results of the P&J survey were representative of how Scotland voted across the whole country.
The P&J launched the snap poll just hours after Ms Sturgeon announced her government was already drafting the legislation required for a referendum, which she confirmed could happen within two years.
Every local authority area in Scotland voted to stay in the EU at last June's EU referendum, but the country still faces the prospect of Brexit.
Ms Sturgeon revealed her decision to hold another referendum yesterday morning and argued Scotland that faced two diametrically-opposed alternatives.
She said this was: "A choice of whether to follow the UK to a hard Brexit – or to become an independent country, able to secure a real partnership of equals with the rest of the UK and our own relationship with Europe.
"I can confirm that, next week, I will seek the authority of the Scottish Parliament to agree with the UK government the details of a section 30 order – the procedure that will enable the Scottish Parliament to legislate for an independence referendum."