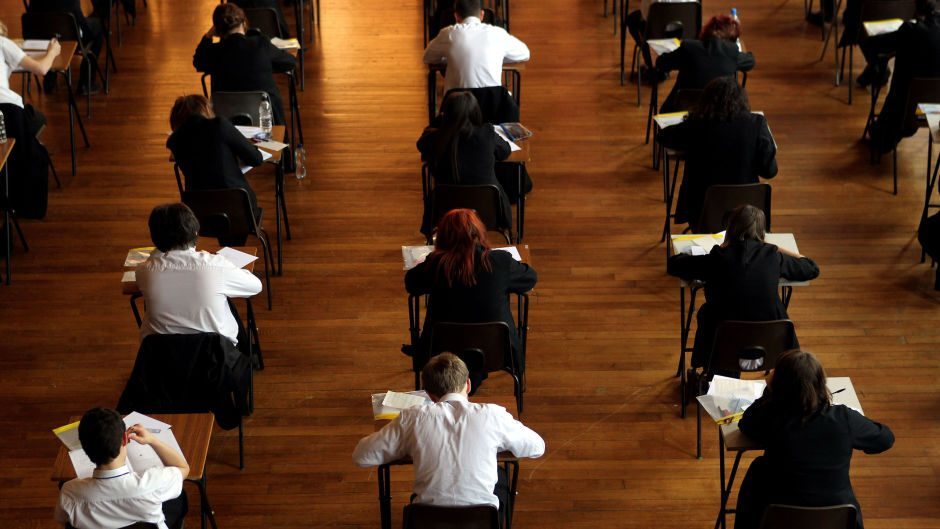 There will be tears today as envelopes and text messages containing long-awaited exam results are opened – whether of happiness, disappointment or just relief that this rite of passage is now over.
For many young people, these letters will determine their future for the next few years. Will they get to go to their first choice university? Do they have the grades they need to pursue a technical career? Some might just need a break after all the stress to recalibrate and consider their options.
Scotland's children deserve the best, and successes will be celebrated across the country.
However, today will also be a reminder of those let down by the system, whether by the attainment gap or teacher vacancies, preventing them from achieving their potential.
First Minister Nicola Sturgeon made improving Scottish education her defining mission two years ago, when she asked to be judged on her government's ability to close the gap in exam grades between the richest and poorest.
Two years on, Education Secretary John Swinney has handed more power to head teachers to choose subjects, hire staff and potentially gain fairer funding.
New national standardised assessments are also being introduced from August.
But he has also come under heavy fire for a drop in standards for maths, reading and science in the Programme for International Student Assessment (Pisa) figures released in December.
And the attainment gap remains a gulf – only 52% of primary four children in Aberdeen are achieving the expected level of writing skills compared to 91% in Perth and Kinross.
Still, results from Aberdeen are expected to show steady improvement, with the majority of pupils gaining a pass in both English and maths.
Ex-rector of Dingwall Academy Graham MacKenzie said he believed education reform through Curriculum for Excellence (CfE) had made a positive difference for pupils and the vast majority would have results to be proud of.
He said: "John Swinney has proposed more power be given to head teachers and local communities and that is hard to argue with.
"In terms of additional resources for individual schools, I think most heads are delighted but I can see why some smaller schools may find it difficult to deal with the extra responsibility. We need to find a way that's flexible.
"It's concerning any time standards drop but I do think the Pisa survey is out of date and only has a very small sample size. I certainly don't know of a bad secondary school in Highland.
"We have come a long way from the days when attainment was the be all and end all and Curriculum for Excellence has been responsible."
Aberdeenshire East MSP Gillian Martin, SNP, was a college lecturer until becoming an MSP last year and her son was in the first cohort of pupils to go through secondary school in CfE.
CfE had improved pupils' ability to deal with the real world as well as pass exams, she said, pointing to the lowest youth unemployment and highest number of pupils going into further and higher education in decades as markers of success.
She said: "From the perspective of someone who was a college lecturer up until I got elected last year, I have to say I saw a marked improvement in the ability of CfE pupils to cope with continuous assessment, self-motivated learning and peer to peer learning than was the case in the 1990s when I started teaching.
"I feel CfE provided a more rounded education which developed the soft skills and the practical application of classroom learning as well as the ability to pass assessments.
"I have to say I am of the firm belief that our children are more confident too."
Ms Martin said teacher vacancies were a worry but she was pleased with the action taken by councils in the north.
She said: "I think the proactive approach of Aberdeenshire Council and the Northern Alliance is to be commended.
"I have assisted quite a few constituents in transitioning from industry to teaching over the last year and the Transition Training Fund has helped in that respect.
"In particular I think the DLite programme, which allows those from industry to study part time to train as a teacher, is outstanding and I would like to see the number of places increased to meet the demand.
"What we of course don't want is a situation, as was the case when my husband qualified as a teacher only 17 years ago, where we have too many newly qualified teachers graduating and not enough jobs.
"It's a fine balance between the situation we have now and a situation like that."
Scottish Liberal Democrat education spokesman Tavish Scott said the issue was not CfE, which all parties had supported, but its crass implementation and continued centralisation.
The Shetland MSP said: "There is no better illustration of this than the 20,000 pages of guidance ministers threw at teachers.
"Top-down solutions and ministerial power-grabs have been deployed in response to far too many problems, without success.
"John Swinney's latest solution is to establish new regional education boards hot-wired not to classrooms but to his office."
Mr Scott said more investment was needed and Lib Dems had earmarked £500million for teaching.
Scottish Conservative shadow education secretary Liz Smith agreed, labelling the reforms a shambles.
Ms Smith was particularly scathing about the changes to unit assessments, which some schools will drop to reduce teacher workload whilst others keep them.
She said: "As teachers are already warning, pupils returning to secondary school next week are facing a shambles of the SNP's creation – a rushed change to assessment, pushed through with hardly any consultation, which now risks confusing everybody. Pupils and teachers are now going to pay the price.
"This entire chaotic reform has had all the hallmarks of this SNP government: distracted from the day job, unwilling to listen to people on the ground, and forced to spend most of its time mopping up its own mistakes.
"There now must be a concerted effort, from the Scottish Government and the SQA, to address the confusion that teachers are facing, so that the changes do not cause any more disruption as is necessary."
Scottish Labour's education spokesman Iain Gray claimed Mr Swinney was dodging the real issues of funding and recruitment.
He said: "Our education system has to be about preparing our children for the future, yet all John Swinney had to say yesterday is that he will continue to push ahead with his unpopular reforms.
"These are reforms that are not wanted by teachers, parents or educationalists.
"And frankly, until John Swinney starts to deal with the reduction in education budgets, the 4,000 fewer teachers in our schools and the recruitment crsis, he is simply dodging the issue."
Mr Swinney responded to criticism by saying his reforms will mean pupils spend less time being tested and more time learning, with a better balance between coursework and assessment.
He said: "What we'll see as a consequence of the changes that I've introduced is that young people will spend less time on assessment and more time on learning, and that's the way it should be in my view.
"And yes, in some circumstances, exams have been extended but the balance between exams and coursework has been maintained.
"So that young people, in what they do during the year, in all subjects except for maths, will be able to amass that portfolio of evidence and expertise which is fundamental to Curriculum for Excellence, to ensure they deliver the strong qualifications to which they are entitled."
A Scottish Government spokeswoman said investing £88million in teacher recruitment had resulted in 253 more teachers last year – the first substantial increase since 2007 – and a further £1million had been invested in the Scottish Attainment Fund to develop new routes into the profession, including the development of Dlite to help maintain teacher recruitment in rural areas.
She said: "Although teacher recruitment is a matter for local authorities, we recognise some areas have faced challenges filling vacancies which is why we have taken decisive action to recruit and retain teachers."
Mr McKenzie, from Dingwall, is clear what needs to be done to improve the situation.
He said: "There's still too much bureacuracy in the system needing to be stripped out and I do hope for a period of stability to allow teachers to teach."