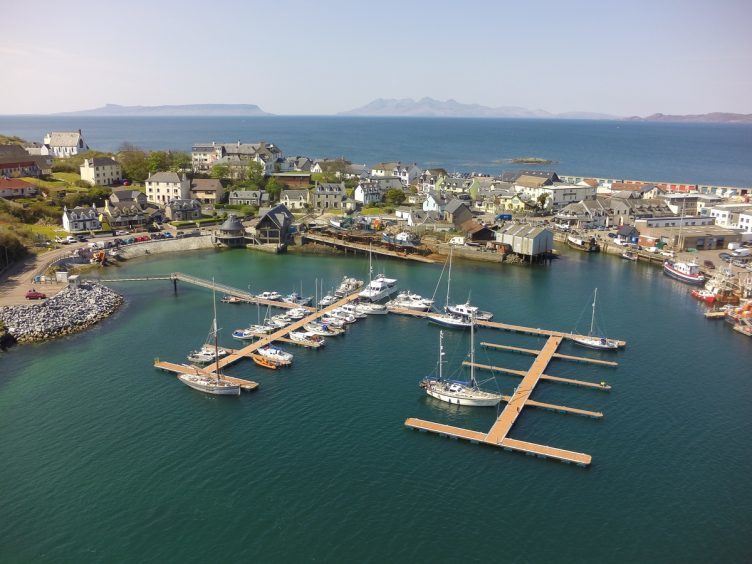 A pioneering new funding model could be used to unlock hundreds of millions of pounds of investment in the Highlands and islands.
The Press and Journal has learned that Scottish Government agencies have been holding behind-the-scenes talks with local councils and port authorities about using the "growth accelerator" system.
The model has only been used twice before in Scotland – for the £1billion Dundee waterfront redevelopment, and the £1billion St James Quarter project in Edinburgh.
But it has now emerged that it is being considered to help deliver a £66million revamp of Stornoway harbour and a £90million transformation of Mallaig harbour.
Aberdeen's city centre masterplan, thought to be worth 5,500 jobs and £1billion to the local economy, could also be in line for a boost.
The method was developed in Edinburgh by the local authority and Scottish Government to deliver a replacement for the St James Centre, winning final approval in 2016.
It involved a commitment of £61million of public cash, which would be offset by future business rates and the anticipated boost to the local economy, to pave the way for an £850million commercial development.
Similarly, in 2016 the Scottish Government pledged more than £60million towards local infrastructure and public spaces at Dundee's Central Waterfront area, to help unlock major investment around the new V&A Museum.
It has now been confirmed that schemes in Aberdeen, the Highlands and the Western Isles could be the next to benefit from the cash, with "early" talks under way.
Published this year, the 15-year masterplan for Mallaig includes building facilities for bigger boats, tripling the size of the marina and creating a slipway for watersports.
Key to the expansion will be building an outer breakwater to the north of the outer harbour pier.
A Highland Council spokeswoman said: "We have been discussing a growth accelerator model for Mallaig to see how it could support harbour expansion plans there."
A £66million vision to transform Stornoway harbour includes dredging works to create a navigational channel and pontoons for berthing and storage for up to 70 vessels, providing much-needed additional space.
It is also planned to reclaim land along the north side of Goat Island and causeway which would provide marina services, including a clubhouse, toilets, showers and yacht storage, a slipway, yacht lift and parking.
Port authority boss Alex MacLeod said: "It's just in early discussions. There's a variety of different ways it works and we're talking about it with them."
Tony Rose, infrastructure director at the Scottish Futures Trust, which is the arm's length investment body for the Scottish Government, said:  "We're working with both councils to ascertain the best funding solutions to allow essential infrastructure to be built that will support economic growth.
"Our innovative growth accelerator is one of the options."
Aberdeen's 25-year city centre masterplan is comprised of 50 projects and envisages 1,600 new homes, refurbishments of the city's shopping centres, a new foot bridge over the River Dee, a gateway linking the rail station to Union Street, an expansion of Union Terrace Gardens, and pedestrianisation of several of Aberdeen's main thoroughfares.
A city council spokesman confirmed that the growth accelerator model was being considered, potentially for delivering the entire masterplan, or individual projects.
To secure the Scottish Government cash – described as "enabling investment" – authorities must produce a business case outlining the social and economic benefits of a project, including its overall impact on the public purse.
These include potential returns from council tax, business rates, income tax and VAT, as well as job creation, any reduction in welfare spending, training opportunities and cutting carbon emissions.
The money, which can help secure much larger sums from the private sector, can also be released as certain targets are met, such as a business rates income rising to a certain level.
But it has been described as a "payment-by-results" model, with councils facing the risk that they do not get the cash if their projections are not robust.