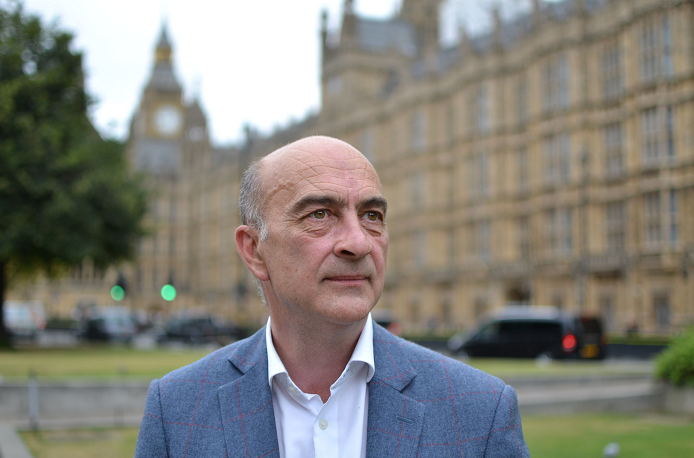 Convicted prisoners are banned from voting in the UK.
This had been an issue for Westminster, but Holyrood has now been given the power to decide who votes in Scottish elections.
And a change is favoured by some of our MSPs. The equalities committee is taking evidence on the issue with its convener, the SNP's Christina McKelvie, saying that the matter merited "careful consideration".
The case for a change falls into two categories: a legal necessity and the moral imperative. I don't buy either.
The European Court of Human Rights has ruled against the UK's blanket ban on giving convicted prisoners the vote on several occasions. Two prisoners took the matter to the UK Supreme Court, but failed in their bid to have a say at the ballot box. But many still regard a change as inevitable to comply on human rights grounds.
The topic has been around for a while.
When it was debated at Holyrood in 2013, the then deputy first minister, Nicola Sturgeon, said: "If somebody commits a crime which lands them in prison, they break their contract with society. Therefore they lose some of the rights the rest of us take for granted. That, as the law stands just now, includes the right to vote in elections."
At first glance, this looks like a rejection of the case for a change. But it is not. It is merely a statement of fact. That, as the law stands, prisoners do not have the right to vote. Time will tell where the Scottish Government really stands on the issue.
But now, Green MSP Patrick Harvie argues that change is needed. For him, it's all about human rights.
"The current blanket ban, in relation to the parliamentary franchise, is not compliant with human rights… It is unreasonable to think we will simply continue to ignore the fact that we are not in compliance.
"There's a range of ways we could go on this. We could remove the ban altogether, or we could, for example, allow prisoners to vote who are nearing the end of their sentence. One argument is prisoners who are preparing to be released ought to be faced with issues around what it means to be a fully active participant in society."
Prisoners have launched a series of legal challenges, but have not yet won the right to vote.
With Holyrood taking on new powers, Mr Harvie said there was an "absolute requirement" to revisit the issue.
Liberal Democrat Alex Cole-Hamilton goes further.
For him it's not about the law, but a fundamental moral right. He thinks that convicts should have "the right to challenge the government of the day, or hold their decision-makers to account for the conditions in which they are held".
He said: "It would be incumbent on us to try to engage with that population to take that opportunity to cast their vote, and maybe engage in hustings in prisons. I think lots of people would like to see us in prison from time to time."
On his last point, he is probably right. But not for the reasons he thinks. I'm sure that you could name several politicians you'd like to see locked up and out of harm's way…
So let's cut to the chase. Do our murderers, rapists or even housebreakers, fraudsters and muggers deserve the right to vote?
No. No way. None of them.
Prison is there to remove some from society, not to protect their right to shape society. That privilege has to be earned.
This debate should stop now. Lets not franchise the felons.
Sweet PR coup for Irn-Bru
So. Have you stockpiled Irn-Bru?
In the face of new sweetness taxes and a general move towards more healthy consumption of food and drink, the makers of our "other national drink" have slashed the sugar content.
Cue, if press reports are correct, a rush to the checkouts across Scotland as the last few cans are grabbed by consumers for fear that things will never quite be the same again. Certainly, when I was in Sainsbury's on Saturday, there was a pallet-full. Right beside the deli counter.
Messrs AG Barr are cunning souls. Lots of free advertising courtesy of this and scores of other examples of media coverage. A big boost in sales and consumption as thousands of Scots have one last sip to savour the authentic taste of the "girders".
Except, I suspect, the new lower-sugar version will taste exactly the same. It will be hailed as a miracle. A whole new round of adverts will be on their way… And, as ever with Irn-Bru's clever PR, the last laugh will be on us.
Peace in an election-free year
A very happy new year to you and yours.
I've missed my Monday musing. My regular reader says she missed me too.
So it's good to be back, relaxed, refreshed and raring to go.
What will the next 12 months bring?
There will be lots of Brexit. An awful lot of Brexit. And Trump. A heck of a lot of Trump. An excess of Trump. And a fair bit of Putin too as he seeks another term at the helm.
There will be low expectations for our footballers, but high hopes of our chances in the six nations rugby and our Commonwealth Games team will excel.
Our politicians will continue to act like politicians. We will see them squabble, play the blame game and fight like ferrets in a sack. But, mostly unseen and unreported, they will get on with their job, work long hours, often work together and genuinely try to make things better for us all.
And, praise be, this year, for the first time in a long time, will be election-free.
So whatever else 2018 has in store for you, I wish you peace and joy.