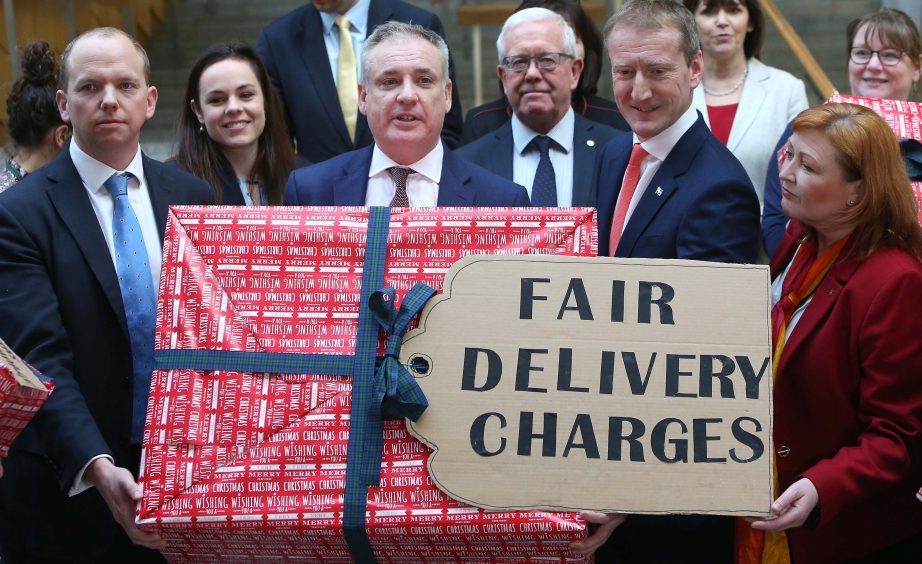 More than 120 "rip-off" companies have been reported by Moray MSP Richard Lochhead as part of a campaign to end unfair delivery charges.
The Press and Journal has previously revealed how customers in the north and north-east are being forced to shell out millions in extra charges, despite firms advertising free UK mainland delivery.
Now firms are under a double-pronged attack at Holyrood and Westminster, and UK Business Minister Margot James has ordered a UK Government review.
Mr Lochhead, whose constituents are among those facing extra fees, has referred 124 companies to the Advertising Standards Authority, as well as submitting a dossier of more than 2,000 complaints to Trading Standards Scotland and Citizens Advice Scotland for further investigation.
"It is ridiculous and completely unfair that consumers in large parts of Scotland face higher delivery fees," he said.
"Some customers have had their order refused or been told their mainland address is offshore.
"In some cases these delivery fees can be eye-watering and really hit rural families in the pocket.
"What really angers consumers is when companies advertise free delivery across the whole UK, but then say this doesn't apply if you live in the Highlands.
"That would appear to be a clear case of false advertising and I hope that the Advertising Standards Authority take action.
"I welcome the support given by the Scottish and UK governments, but we need more than just warm words – the public expect the UK Government, who have the power to regulate, to take concrete action."
At Westminster, Moray MP Douglas Ross has persuaded the Scottish affairs committee to hold an evidence session on delivery charges, which will hear from the regulator, campaign groups and delivery companies operating in Scotland.
The Conservative MP has led a debate, met ministers, and questioned the prime minister in the campaign to fix the unfair practice.
Mr Ross said: "I look forward to seeing companies who have continued to rip off the people of Scotland being held to account and hope we can finally find a solution to this problem.
"We are part of the mainland UK here in Moray, across the north-east and Highlands, and delivery companies need to realise that people are not prepared to put up with this anymore.
"I said in my maiden speech I would be doing all I could to put an end to this scandalous practice and I am determined to use all of the avenues available to me as a member of parliament to see these rip-off charges brought to an end."