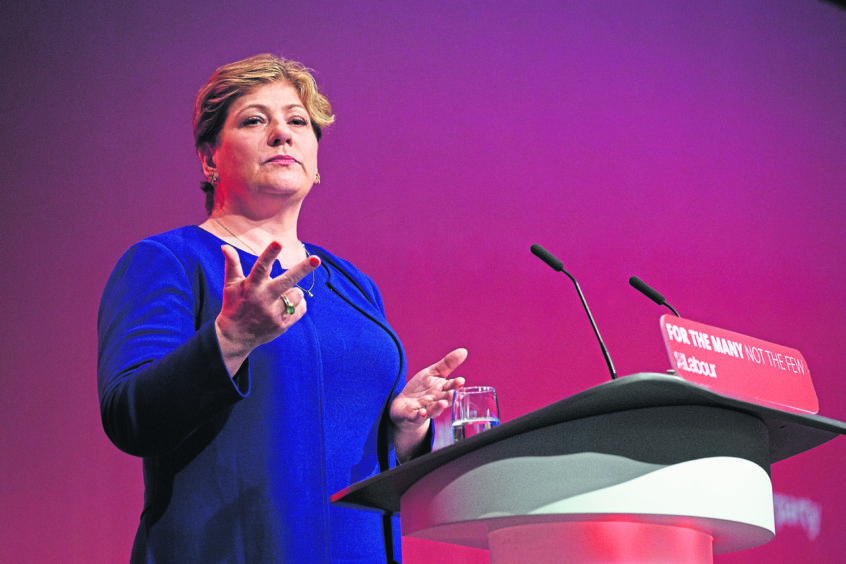 Russian cyber attacks are a greater threat than Russian submarines, according to Shadow Foreign Secretary Emily Thornberry.
Westminster's defence committee has called for the number of submarine-hunting aircraft at RAF Lossiemouth to double to counter an increasing threat from President Vladimir Putin.
Ms Thornberry told the Press and Journal she understood there was a significant threat, but avoided committing to an increase in the Boeing P-8A Poseidon fleet.
She said: "For antisubmarine aircraft, there has clearly been an ongoing issue with Russian subs coming round the top of Scotland and getting too close to important sites.
"I fully understand why there is a huge lobby to ensure we can defend ourselves against that sort of behaviour and I would be listening very carefully to those concerns."
However, the Islington South and Finsbury MP said she thought the cyber threat from Russia was a bigger issue that ought to be prioritised.
She added: "I think the threat from Russia is multi-layered and I think the greatest threat from Russia is cyber attack and propaganda.
"When we are defending ourselves, we need to look at 21st century threats really seriously and be prioritising those.
"That is not to say that when we invest in hardware we should be doing that in a halfhearted way – we do have to make sure we are as effective as we can be."
The Labour frontbencher suggested extra funding to boost the military needed to come from the other 28 members of Nato, as the UK had put in its fair share of funding already.
She said: "We need to be standing shoulder to shoulder with our Nato allies because we cannot defend ourselves by ourselves. We have been playing our part.
"I don't think some Nato allies have been stepping up to the plate in the way they should.
"We need an honest look at what the threats are against us and to make sure we're investing properly because our priority must be to defend ourselves."