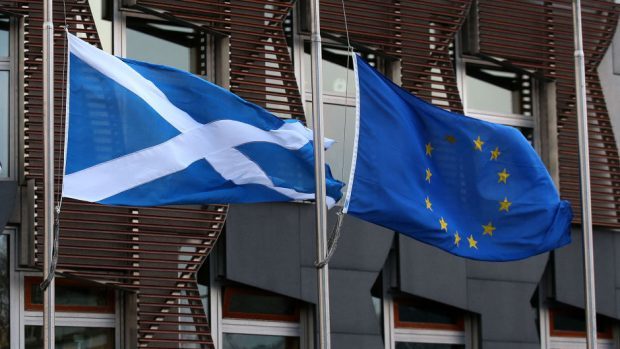 A new blueprint has been unveiled to overhaul the way referendums are organised and funded in the UK.
The proposals, tabled today in a 200-page report by Independent Commission on Referendums, could have implications for a second vote on Scottish independence if the ideas were implemented.
The panel of experts, which was established by University College London (UCL) and features former SNP MSP Andrew Wilson and former UK Attorney General Dominic Grieve, said referendums should be part of wider decision-making process, not viewed as a political "quick-fix".
It recommends that the franchise of such votes are set-out in law in advance and not subject to negotiation, that lead campaigners are designated early and subject to a "fit and proper" person test and that restrictions on government involvement during campaigns should be extended.
A review of media advertising rules has also been proposed, as well as a series of measures designed to improve transparency of campaign spending, including a searchable database.
The plan emerged amid a controversy over claims that the Vote Leave campaign broke the law during the EU referendum by exceeding legal spending limits.
Sir Joseph Pilling, commission chairman and former permanent secretary of the Northern Ireland Office, said: "It is clear that referendums have become a key part of the democratic process but a lot has changed over the past 20 years.
"The rules governing the role and conduct of referendums are outdated, not least because of the rise of the internet and social media.
"Our recommendations stem from three core points: first, that referendums are best seen as coexisting alongside, rather than replacing, representative institutions; second, that they should be conducted in a way that is fair between the competing sides and effective in giving voters the information they want; and third, that the rules should keep up with rapid changes in online campaigning."
Professor Meg Russell, director of the UCL Constitution Unit, said: "The nature of the UK's unwritten constitution means that the formal role of referendums has never been agreed and usage has developed pragmatically and somewhat haphazardly.
"This risks opening up tensions, including between voters and their elected representatives.
"The Independent Commission on Referendums has taken a really careful look at how referendums should fit within the UK's system of representative democracy and how their use can best be regulated."