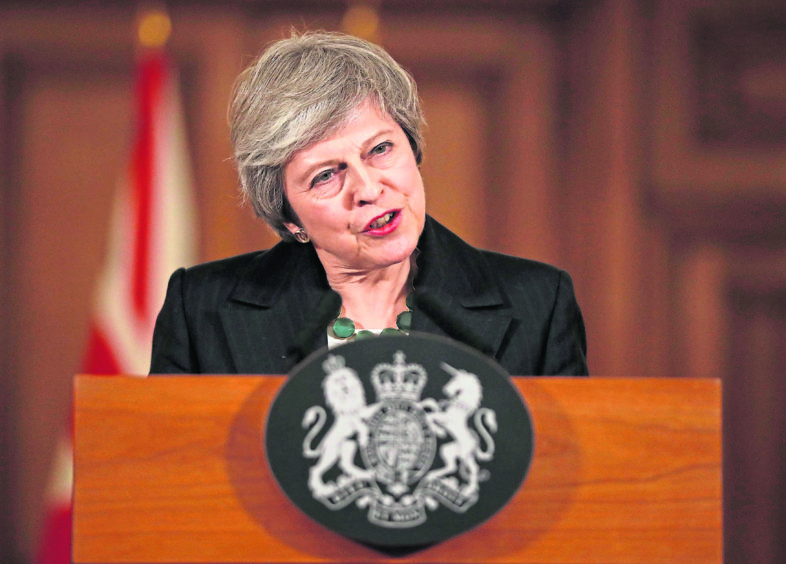 Theresa May was under pressure from all sides last night to renegotiate her Brexit divorce deal as she travelled to Brussels for further talks.
The Tory leader soldiered on after a bruising Prime Minister's Questions in which she was repeatedly urged to reconsider her plans.
She faced down criticism from Labour, the SNP and DUP MPs – without whose support she cannot command a Commons majority – as well as her own backbenchers.
But the prime minister appeared unmoved, insisting the UK will be leaving the EU on March 29 next year "come what may".
SNP Westminster leader Ian Blackford questioned whether Mrs May had listened to the first minister in their meeting on Tuesday, urging her to "go back to Brussels".
The prime minister said she had and that staying in the single market and customs union "is what we will not do".
Speaking afterwards, Ross, Skye and Lochaber MP Mr Blackford described a "real sense of panic" in a government that was "running scared".
In a further sign the confidence and supply arrangement is hanging by a thread, DUP Westminster leader Nigel Dodds attacked the prime minister over the Irish border issue.
He said the December joint report agreed between the EU and UK made clear that Northern Ireland would have the "final say on whether or not it diverged from the UK single market and was subjected to single market European rules with no say".
He added: "Why has the prime minister deleted all reference to that in the withdrawal agreement?
"Did she push the delete button?"
Mrs May said he was right about the report but insisted it referred to a decision being taken by the Northern Ireland Executive and Assembly, which is not currently in place.
Some of the fiercest condemnation came from her own MPs.
Brexiteer Andrew Rosindell said he was "deeply unhappy", urging her to "completely cut away tentacles of the EU over our cherished island nation once and for all".
Mrs May insisted her deal delivers on the 2016 referendum result.
Labour leader Jeremy Corbyn branded the "half-baked" deal "dead", adding: "It fails to give any hope that it can bring the country together again."
The PM said the alternative was "more uncertainty, more division or it could risk no Brexit at all".
Former work and pensions secretary Esther McVey, who resigned from Cabinet over the withdrawal agreement, asked for assurances the UK is leaving the EU according to the currently set out timetable "come what may".
Mrs May said she could give that assurance.